Inefficiency and fraud in healthcare and insurance has generated a ton of headlines. So a discussion about inefficiency and fraud has to include all stakeholders. That means patients, doctors and insurance companies – all must get a square deal for the healthcare system to work.
Firstly, it appears doctors are experiencing unnecessary challenges.
The Supreme Court rulings on ObamaCare didn't solve anything for doctors – the undesirable law continues to remain a challenge to doctors in multiple ways. This also means ramifications for you as a patient.
Doctors are stressed by decreasing reimbursements for patient care by insurance companies, Medicare and Medicaid.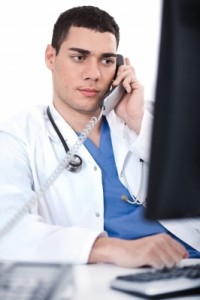 True, some doctors, who have good instincts, are better than others. It's not uncommon for a patient to be misdiagnosed only to get a differing diagnosis from a different doctor.
This underscores the need for diagnostic proof in order for them to get paid, and explains why some doctors order more expensive tests than others.
Then, there are the decisions by health insurance companies adversely affecting doctors – interfering in doctor-patient relationships by dictating care, fees and inflexible fraud regulations.
Doctors and hospitals must spend too much time and resources on paperwork. Insurance companies are only doing what they feel is best to stay in business.
It's not uncommon for doctors to decline to treat Medicaid patients – affordability is an issue for 31 percent of doctors. They aren't accepting patients insured by the federal-state insurance program, according to the publication, Health Affairs.
Doctors are turning new Medicare patients. They're only paid 40 cents on the dollar.
How ObamaCare increases costs
You might recall that the Obama Administration and other proponents promised that more low-income patients will get healthcare. However, with 31 percent of doctors now declining Medicaid patients, such patients have to spend extra time and money to find a primary healthcare provider. 
ObamaCare means costs will continue to increase. Why? ObamaCare is mandating that insurance companies accept everyone – no matter what.
Many such patients will only purchase healthcare when they absolutely need it – not before. The IRS penalty for being uninsured is less costly than the cost of premiums.
Because patients will wait too long to buy coverage, Medicare, Medicaid and insurance companies will have to continue increasing premiums – translating into higher costs for healthcare and insurance.
But the healthcare problem will worsen:
ObamaCare's $716 billion in cuts in Medicare payment to providers – doctors and hospitals – threaten their livelihoods. Their only hope is for an increase in Medicaid patients. However, many states have already announced they will not participate in the expansion of Medicaid.
Fraud prevention
At first glance, one good provision in ObamaCare is an increased emphasis on prevention of Medicare and Medicaid fraud.
Published reports indicate Medicare fraud is in excess of $60 billion. The fraud is largely perpetrated by supply houses and furtive brokers.
For instance in 2011, the nation's fraud-detection system cost $77 million. There's also new fraud-command center costing $3.6 million, which doesn't include the expense of fraud investigators across the U.S.
The fraud enforcement system has its detractors. Over the last six months of 2011, the system only prevented one check, in the amount of $7,591, from being paid to con artists.
So Senators Orrin Hatch (R-UT) and Tom Coburn (R-OK) wrote a letter to Dept. of Human and Health Services Secretary Kathleen Sebelius. They asked her to stop spending money on the system until it can become efficient. Their concerns were ignored.
Eight tips to prevent fraud
Fraud affects all of us – patients, doctors, taxpayers and the federal government.
The Federal Bureau of Investigation recommends these fraud-prevention tips:
1. Never sign blank insurance claim forms.
2. Never give blanket authorization to a medical provider to bill for services rendered.
3. Ask your medical providers what they will charge and what you will be expected to pay out-of-pocket.
4. Carefully review your insurer's Explanation of Benefits (EOB) statement. Make sure you actually received the treatments for which your insurance was charged, and question suspicious expenses.
5. Do not do business with sales people door-to-door or over the phone who tell you that services of medical equipment are free.
6. Give your insurance/Medicare identification only to those who have provided you with medical services.
7. Keep accurate records of all health care appointments.
8. Know if your physician ordered equipment for you.
From the Coach's Corner, also see:
"There are three things in the world that deserve no mercy, hypocrisy, fraud, and tyranny."

-Frederick William Robertson
 __________
Author Terry Corbell has written innumerable online business-enhancement articles, and is a business-performance consultant and profit professional. 

Click here to see his management services

. For a complimentary chat about your business situation or to schedule him as a speaker, consultant or author, please 

contact Terry

. 




Photo courtesy of photostock at www.freedigitalphotos.net