If you or your business has ever had unwarranted problems with any level of government – from ObamaCare and the IRS to local zoning ordinances – your economic freedom has being trampled.
Further, there's a connection between the arrogant trampling of our economic freedom and our unhealthy economic climate. 
A leading Canadian public-policy think tank reported that citizens in many U.S. states suffered from a decline in economic freedom during the Obama years. That's the conclusion from a study by the Fraser Institute entitled, "Economic Freedom of North America 2012." 
"Economic freedom is a key ingredient in creating prosperity," said study co-author Nathan Ashby, a professor at the University of Texas at El Paso. "States with high levels of economic freedom provide families with higher standards of living." 
Frasier Institute's body of work encompasses more than 25 years by three Nobel laureates among more than 60 scholars.
The study measured the key indicators of economic freedom in the U.S. and Canada. 
The key indicators: 
1. Size of government
2. Taxation
3. Rule of law
4. Property rights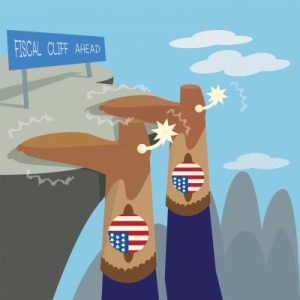 "The heavy-handed regulation and extensive overspending by Washington in response to the domestic and European debt crises not only caused America's global economic freedom level to drop, it's now affecting economic freedom levels at the state level," added Professor Ashby. 
U.S. compared to Canada 
Ironically, the report indicated economic freedoms have improved in the 10 Canadian provinces. Among 144-ranked nations in the 2012 "Economic Freedom of the World Index," Canada ranks fifth. After being ranked second in 2000, the U.S. declined to No. 16. 
"The link between economic freedom and prosperity is clear: States that support low taxation, limited government, and flexible labor markets benefit from greater economic growth," said Fred McMahon, co-author of the report. 
"In contrast, states with reduced levels of economic freedom see lower living standards for families and fewer economic opportunities," he added. 
The report noted that the average per-capita GDP in 2010 for the top 10 states was $51,737 compared to $44,889 for the remaining states. 
Delaware, the most-economically free state, ranked first among all states for having the smallest size of government and most flexible labor market – while Alaska, Delaware, and Texas imposed the lightest overall tax burdens.  
The states with low scores on these measures had corresponding low levels of economic freedom. New Mexico and West Virginia scored worst for size of government. New Jersey and Rhode Island scored worst for taxation. 
West Virginia, Alaska, and Hawaii scored worst for labor market freedom at the all-government level (comprising federal, state/provincial, and municipal/local). 
Where's the leadership? 
All of this means America needed leadership – not disingenuous politicians promoting dysfunctional public policy for their political gains. 
Everyone agrees the U.S. was in a much better fiscal situation in the mid-1990s during the Clinton Administration.
Unlike the Obama Administration and Senate Majority Leader Harry Reid, who refused to allow a vote on the federal budget for several years until December 2013, President Clinton and Congress cooperated in a nonpolitical fashion. 
Mr. Clinton was effective because he was budget-minded, and he reached across the political aisle to negotiate with his opponents. It's a matter of record that Mr. Clinton met with House Speaker Newt Gingrich on 35 occasions to discuss issues facing the country. 
In contrast, Mr. Obama never bothered to meet with Congress. 
Evidenced by his incessant sarcastic name-calling and innuendos, Mr. Obama ostensibly preferred campaigning to sitting down and negotiating an economic recovery. 
Nor did Mr. Obama appear to care about the 23 million unemployed and under-employed Americans. He never even convened his own jobs council after January 2012. 
Worse, his administration was caught in 10 misrepresentations in the promotion of the disastrous ObamaCare. You'll recall the misrepresentations — such as being able to keep the same doctors, keep the same health-insurance coverage and $2,500 in average savings on premiums.
The obvious conclusions: 1. Congratulations to Canada. 2. America's murky fiscal situation was unacceptable and why Donald Trump was elected president. 
From the Coach's Corner, the decline in the average American's economic freedom is not a recent development. I've been writing about it for several years in this portal's Public Policy category. You'll find well over 100 articles with solutions.
"The problem with the federal government is that common sense is not necessarily common."
– Terry Detrick
__________
Author Terry Corbell has written innumerable online business-enhancement articles, and is also a business-performance consultant and profit professional.

Click here to see his management services

.

For a complimentary chat about your business situation or to schedule him as a speaker, consultant or author, please

contact Terry

.
Image courtesy of koratmember at www.freedigitalphotos.net