ObamaCare is still one of the biggest financial headaches suffered by businesspeople. But there's more bad news for business.
Now, a book indicts the Food and Drug Administration (FDA) for massive problems that annually lead to the deaths of nearly a quarter of a million Americans and cost an unnecessary $200 billion+ in healthcare expenses.
The book is entitled, "AMERICAN GUINEA PIG: Everything That's Wrong with the FDA and How to Avoid Becoming One of Its Victims." Author Terence Mix is a noted Santa Barbara, Calif. attorney.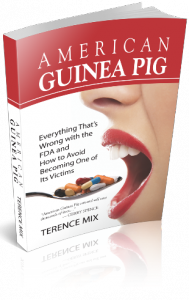 "Every year about 230,000 Americans die as a result of an adverse reaction to one or more prescription and nonprescription drugs," he writes." In five years they kill in excess of one million Americans."
Mr. Mix adds it is America's third-leading cause of death, "behind only heart disease and cancer."
Another ominous statistic, "…almost half – 105,000 – are taking the drug exactly as specified by the pharmaceutical company that manufactured the drug," he writes.
"It has been calculated that the total annual health care costs as a consequence of adverse drug reactions equals $177.4 billion," he asserts. "And that was in 2000 prices. The current number easily exceeds a staggering $200 billion."
FDA shortcomings
His book spells out numerous problems with the FDA's testing procedures and its drug-monitoring system. The author provides precautions and answers to solve the problems.
Incredibly, Mr. Mix indicates the FDA doesn't even have criteria for safety precautions and what protections are needed.
"In fact, it's a conclusion that was reached by the United States Government Accountability Office (GAO) in March 2006 following a 16-month investigation requested by Congress," he explains.
"Most people seem to think that it is the FDA that either tests or directly oversees the testing of drugs," says Mr. Mix.
"But unfortunately that is not the case," he writes. "It is the drug company that designs the study, hand-picks the doctors participating in it, gathers the records, compiles the data and then spoon-feeds everything to the FDA, including its conclusions about the results."
He uses a metaphor to describe problem.
"Along with the fox-guarding-the-henhouse problem," he adds, "the current method of testing drugs is infested with multiple conflicts of interest – and that extends even into the FDA."
Why?
"The drug industry and its regulator are joined at the hip," he says, "and the top brass at the FDA view their association more as a partnership. This is why there is so much foot-dragging when it comes to removing a drug from the market or adding a stronger warning."
Case studies
Mr. Mix's book includes 10 drug case studies from ibuprofen to Cylert.
He says ibuprofen can be dangerous especially if taken with aspirin. He points out Cylert was finally banned in America in 2005 – six years after Canada outlawed it and eight years after Great Britain removed it from the shelves.
The author says he had two objectives in writing his book.
"One of the goals of the book," explains Mr. Mix, "is to wake up Congress and point to changes in the law that could save 100,000 lives and cut $100 billion in healthcare costs. And that's every year," he adds.
Secondly, Mr. Mix says he wants consumers to get the information they need to avoid becoming victims. Indeed, the book lists the essential questions a patient should ask of the doctor and pharmacist.
You can visit the book's Web site here.
My question is why are we paying for this debacle?
From the Coach's Corner, I recommend two other books:
Must Read: 'The Book…on Business from A to Z' — A business book makes a bold promise. It's entitled, "The Book…on Business from A to Z: The 260 Most Important Answers You Need to Know." Is this an accurate title? Yes. It's an authoritative book. 
A Book That Will Improve Your Life, Business and Community — Lovers of knowledge and wisdom periodically get an opportunity to read a book that delivers particularly valuable insights. Such a well-written book is "The Power of Habit: Why We Do What We Do in Life and Business," by Charles Duhigg, who is also a reporter for The New York Times.
"The road to perdition has ever been accompanied by lip service to an ideal."
-Albert Einstein
__________
Author Terry Corbell has written innumerable online business-enhancement articles, and is a business-performance consultant and profit professional.

Click here to see his management services

. For a complimentary chat about your business situation or to schedule him as a speaker, consultant or author, please

contact Terry

.