By adopting best practices, some companies have achieved stellar sales results in complex global situations.
Quite notably, research revealed the companies achieved strong sales results and significantly outperformed their competitors during the Great Recession.
You might be thinking: "Seriously, that's impossible." Apparently, it isn't according to a report.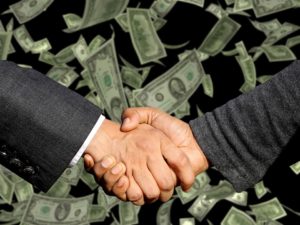 By using unique strategies that separated them from the average-performing sales organizations.
Seemingly, in an empathetic tribute to sales professionals, the report, the "2013 Miller Heiman Sales Best Practices Study," says top-performing companies succeeded despite a tepid economic climate.
"The subsequent 'Great Recovery' never materialized, resulting in, statistically, the worst recovery ever," wrote the authors. They're not alone in their assessment.
Under the Obama Administration, the gross domestic product averaged less than 2 percent over eight years. This anemic record pales by comparison to the record of the Reagan Administration, which was faced with similar economic headaches.
"Forty-five months into the Reagan recovery, GDP was advancing at a 5.2 percent annual pace…" says economist Peter Morici.
He's a professor at the University of Maryland, a widely published columnist, the chief economist at the U.S. International Trade Commission during the Clinton years, and five-time winner of the MarketWatch best forecaster award. (The Biz Coach publishes his Op-Ed economic forecasts and Op-Ed economic analyses.)
Achieving high sales
Therefore, without productive government policies, it's even more important for individual companies to strategize for maximum performance. Senior executives know the six secrets of a winning sales organization.
For profits, they know how and why to align marketing with sales. Top-performing sales managers see the big picture  for sustainable competitiveness.
That's why the authoritative Miller Heiman study caught my eye –  it provides terrific insights:
"For the past two years, our analysis revealed an exclusive segment of study respondents, about 6 percent of the total population, were outperforming the rest of the study population by an average of 20 percent in key sales performance metrics," say the Miller Heiman researchers. "This segment was designated as World Class."
For the also-rans, the situation is deteriorating.
"The overall percentage of respondents that met World-Class criteria in this year's study decreased to 4.9 percent, while widening the gap to a 25 percent difference in the key metrics," the authors explained. "This means the majority of complex sales organizations are falling further behind World-Class Sales Organizations as the gap between good and great grows."
How is this possible?
Miller Heiman describes what it labels its three salient reasons:
Customer core
Collaborative culture
Calibrated success
Customer core
"World-Class Sales Organizations know why their customers buy from them. In complex buy-sell decision making, every customer makes every decision differently – every time," says the report. "World-Class Sales Organizations are able to clearly understand and help bring clarity to the customer's concept and then incorporate this into their account planning practices."
Ostensibly, even though businesses believe they're focused on customer service, there's a 58-point performance gap – from 33 percent in customer focus between the low end – and 91 percent in "World-Class Sales Organizations."
For the latter, Miller Heiman cites four successful behavioral affirmations:
We have a formalized value proposition that is very compelling to our prospects.
Sales and Marketing are aligned in what our customers want and need.
We clearly understand our customers' issues before we propose a solution.
We always review the results of our solution with strategic accounts.
Collaborative culture
"World-Class Sales Organizations are able to apply the right resources to the right deals and sales managers are valued by helping advance deals through coaching and strategizing," wrote the authors. "They interact using common terms and strategic frameworks. World-Class Sales Organizations have identified what makes their top performers successful and are able to share that with the sales team."
In working together, there's a 61-point gap – from 30 percent at the low end – and 91 percent at the high end.
For the best performers, here are their behavioral mantras:
Our organization is highly effective in allocating the right resources to pursue large deals.
Our management team is highly effective in helping our sales team advance sales opportunities.
We know why our top performers are successful.
We leverage the best practices of our top performers to improve everyone else.
Calibrated success 
Top sales-performing companies know why they're successful.
"They have aligned their compensation plans with corporate objectives," says the study. "They have established specific account classification criteria to better allocate sales resources. They know how much time is spent with clients, and they seek to remove obstacles that prevent more client interaction."
They're able to trust their data because they know "sales behaviors and activities are consistent with their prescribed methodology," according to the report. "World-Class Sales Organizations recognize that behaviors can be managed and improved, results are simply the output of behaviors."
It isn't accidental.
"Continuous improvement requires an organization to establish benchmark data as a foundation for comparison and decision-making," explain the authors.
In the calibrated success category, there's a 53 point-gap in knowledge – from 30 percent at the bottom – to 83 percent at the top rung.
The world-class behavioral-success affirmations:
Specific criteria have been established to define a strategic account in our company.
Our sales compensation policies are aligned with our business objectives.
Our sales management team is highly confident in the data available from our CRM system.
In an average week, our sales force definitely spends sufficient time with customers.
Conclusion
This is great stuff. All of this means that top-performing companies are able to create sales opportunities. Next, they manage them. Finally, they manage the resulting relationships.
These are terrific behavioral affirmations to follow. Next, I'd recommend developing strategies to realize the benefits of your mantras.
From the Coach's Corner, here are related resource links:
"You are a time millionaire – for a rich life invest wisely."

-Richard Andrews
 __________
Author Terry Corbell has written innumerable online business-enhancement articles, and is a business-performance consultant and profit professional. 

Click here to see his management services

. For a complimentary chat about your business situation or to schedule him as a speaker, consultant or author, please 

contact Terry

.