Almost two-thirds of CEOs don't receive executive coaching or leadership development counsel — even though they admit it'd be a good idea if they did.
That's according to a 2013 study.
It was conducted by the Center for Leadership Development and Research at Stanford Graduate School of Business, Stanford University's Rock Center for Corporate Governance, and The Miles Group.
"What's interesting is that nearly 100 percent of CEOs in the survey responded that they actually enjoy the process of receiving coaching and leadership advice, so there is real opportunity for companies to fill in that gap," saysStanford Professor David F. Larcker, who led the research.
"Given how vitally important it is for the CEO to be getting the best possible counsel, independent of their board, in order to maintain the health of the corporation, it's concerning that so many of them are 'going it alone,'" says Stephen Miles, CEO of The Miles Group.
"Even the best-of-the-best CEOs have their blind spots and can dramatically improve their performance with an outside perspective weighing in," adds Mr. Miles.
More than 200 CEOS, board directors and senior managers at North American public and private companies were surveyed.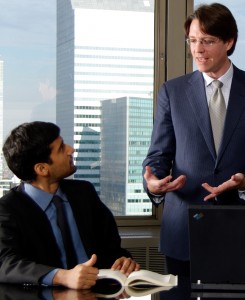 Study's key findings:
— Nearly 66 percent don't receive coaching or leadership advice from outside participants.
— Fully 100 percent said they're open to such coaching.
— Almost 80 percent of directors believe their CEOS would like coaching.
— Among CEOs receiving such input, 78 percent said it was their idea, and 21 percent said the board chairman made the suggestion.
— Over 60 percent of CEOs said the status of their coaching is treated confidentially and about 33 percent said the status is given to the board.
— Managing conflict skills is ranked the No. concern by 43 percent of the CEOs.
— Board members said they want their CEOs to receive "mentoring skills/developing internal talent" and "sharing leadership/delegation skills."
— The CEOs' preference for coaching: sharing leadership/delegation, conflict management, team building, and mentoring.
— CEOs disdain sharing leadership/delegation, conflict management, team building, and mentoring.
Solutions
Being a CEO means facing loneliness at the top. CEOS must be discrete and have few people in whom to confide.
My sense is that many of the surveyed CEOs are uncomfortable with exploring their self-awareness, a prerequisite for true leadership.
Until CEOs better understand their personal capacities, they won't be able to fully understand, manage and inspire their personnel.
So coaching would help CEOs become better leaders.
The solution: An approach that's reminiscent of a personal SWOT (strengths, weaknesses, opportunities and threats) analysis.
CEOs would benefit from the following approach:
1. Evaluate your career and personal events
Examine what and when were the pivotal points in your career and personal life. List your attitude, behavior and values.
Assess the return on your investment in energy. List the benefits and the negative outcomes.
2. Conduct an inventory of your strengths and weaknesses
Create two vertical columns on sheets of paper. On the left, list your strengths. On the other, list your weaknesses.
A strength is often a weakness and vice versa. It's up to you to determine the difference. If you're too aggressive at times as a weakness, when is it possible to describe it as being assertive as a strength?
An example:
If in a meeting I were to pound my fist on the table to make a point that would be aggressive. But if I were to give some thought and think about how to give a persuasive response — not a reaction — then I would  be assertive.
3. Use the inventory to develop goals
This is the simplest part. List goals to fill those gaps — your weaknesses — that hold you back from optimal leadership.
Create a timeline for action and how you'll get to where to need to go for success.
When you succeed, implement this training process for your employees. You'll be very pleased with the strong results.
From the Coach's Corner, here are related resources:
Thought Leadership — Why Companies Hire Management Consultants — Companies want knowledge. A good idea can be worth $1 million and more. That's why companies hire thought leaders. It's also why you see many consultants position themselves as thought leaders and give away free information in how-to articles or studies, which lead to books, seminars and being quoted in the media.
Leadership: How Leaders Employ 11 Strengths to Grow Businesses — Ascension to the C-suite doesn't automatically qualify an executive as a leader. Leaders have 11 strengths that enable them to manage their companies for greater effectiveness and elasticity despite a fast-changing marketplace. Having positive attributes is synonymous with having skill sets. Strong attributes are certainly helpful. But more importantly, possessing qualities or strengths connotes having values.
Management — 4 Mindsets for Leadership in Performance Reviews — Are you nervous at the thought of giving employee-performance reviews? You're not alone. Your employees aren't exactly thrilled, either. Typically, employees aren't convinced they can get valid feedback. If they've experienced poor managers, they likely dread the performance-review process or are skeptical of the outcome.
Why Not to Expect Miraculous Leadership from Narcissistic CEOs — "Do you believe in miracles? Yes!" -Al Michaels, sportscaster  That's the line sportscaster Mr. Michaels made famous on Feb. 22, 1980 in "The Miracle on Ice," a famous hockey game in the Olympic Winter Games.
18 Leadership Strategies to Earn Employee Respect — Eighteen strategies to profit from good labor relations, and to leverage the perspective of employees – your company's human capital.
If your actions inspire others to dream more, learn more, do more and become more, you are a leader.
-John Quincy Adams
__________
Author Terry Corbell has written innumerable online business-enhancement articles, and is a business-performance consultant and profit professional. 

Click here to see his management services

. For a complimentary chat about your business situation or to schedule him as a speaker, consultant or author, please

 

contact Terry

.