Government at all levels hurts the economic climate with threats to jobs, the media, and economic and political liberty. Even a Harvard study provides a confirmation.


As biz coach, I like to be a cheerleader and provide business-coaching tips. I like to talk about faith and hope, and maintaining a strong mental outlook for business success.
But developments in recent years are a major source of concern. America is not threatened externally as much as it is internally.
We're regularly deluged with negative information about the high unemployment rate, which is merely a symptom of the problems that caused the downturn and continue to exacerbate the problems for an economic recovery.
The economic climate is polluted because of government that is inefficient and doing more than it should. The stimulus package was designed to get America rolling forward, but we're going backwards.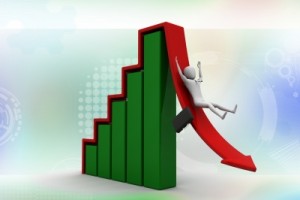 "Meanwhile, Obama's stimulus package, the mythical calculations of White House economists notwithstanding, has not created the millions of private sector jobs promised," wrote Dr. Peter Morici, economist and professor at the University of Maryland School of Business. "Simply, the $789 billion has mostly been spent on temporary tax credits that failed to generate much additional spending, shortened furloughs for state and local government workers, and financial rewards for other campaign constituents."
The globally renowned economist is widely quoted on news programs and in print. I regularly receive his U.S. economic forecasts and informative economic analysis,which.
Impacts on small business
Many contend small business is the engine that can make or break job creation. I agree.
But a study, the Discover Small Business Watch back in November 2009, showed small business owners were in disarray. Conducted by Rasmussen Reports LLC, 62 percent of business respondents evaluated the economy as poor compared to 55 percent in October. Fifty-two percent complained about poor cash flow vis-à-vis the previous month.
The same survey indicated only 25 percent were able to extend credit and 73 percent of their customers were either slow in paying bills or are asking for more lenient terms.
The problems haven't gone away.
And what is Congress doing to assist small business owners who want to pass their businesses to their heirs to keep their businesses going? Consider the estate tax issue, which is also known as the death tax.  It may not be a problem for service businesses but it is a death threat to small manufacturers, farms and other small business with equipment assets.
Government actions continue to hurt economic and political liberty of businesses. Businesses are leery of hiring.
State government issues
These problems still exist at the state levels, including Washington.
"It is troubling that the state continues to increase workers' comp rates at a time when businesses can least afford to take the hit," said Carl Gipson, small business research director for Washington Policy Center (WPC). "Claims are down 55 percent over the last 20 years but the department's costs continue to increase."
If claims are down 55 percent, what's the biz coach conclusion about skyrocketing workers' compensation rates? The high cost of government.
Ironically, governments complain about declining tax revenue, but data shows much of any increases in employment are in the public sector. It's not a revenue problem but a spending problem.
In fact, WPC annually conducts its fall Statewide Small Business Conference at which small business owners respond to a survey. Every year it's the same wish list with recurring themes from a weak environment for competitiveness to too-much government regulation.
A symbol of America's greatness is its media. But media companies are dropping like aircraft running out of fuel. American businesses, threatened by uncertainty and their lack of confidence, are spending too few dollars to market themselves.
Further, fewer advertising dollars mean less journalism – a source of knowledge and watchdogs of government.
Obama's transparency promise
We have had indications of government dysfunction. Consider this Dec. 6, 2009 Associated Press (AP) headline: "PROMISES, PROMISES: A closed meeting on openness."
Here's why:
"It's hardly the image of transparency the Obama administration wants to project: A workshop on government openness is closed to the public," wrote AP reporter Sharon Theimer on a broken Obama campaign commitment regarding the Freedom of Information Act.
Further, note this paragraph by Ms. Theimer:
"The Freedom of Information Act should be administered with a clear presumption: In the face of doubt, openness prevails," Obama told government offices on his first full day as president. "The government should not keep information confidential merely because public officials might be embarrassed by disclosure, because errors and failures might be revealed, or because of speculative or abstract fears."
It's worth noting AP provides an invaluable service for media outlets. But it needs economic and political liberty to report the news – AP generates income from the media – the financially suffering media.
My conclusion: Government needs to reform. The present situation in America warrants a healthy economic climate, transparency, a vibrant news media, and economic and political liberty for all.
The U.S. survived Pearl Harbor and World War II, the Cold War, 9/11 and countless other emergencies. But will it survive the economic chaos and inefficiency of government?
From the Coach's Corner, here's an eye-opening article: Government Spending Causes Companies to Cut Back, Harvard Study
"Laws control the lesser man… Right conduct controls the greater one."
-Mark Twain
__________
Author Terry Corbell has written innumerable online business-enhancement articles, and is a business-performance consultant and profit professional. Click here to see his management services. For a complimentary chat about your business situation or to schedule him as a speaker, consultant or author, please contact Terry.
Image courtesy of cuteimage at www.freedigitalphotos.net