April 21, 2015 –
While it's important to remember a person is innocent until proven guilty, a 10-count, 41-page indictment of Washington State Auditor Troy Kelley is troubling.
It's alleged Mr. Kelley stole millions of dollars in processing fees from home sales at his mortgage company, and that he lied under oath and evaded taxes.
Mr. Kelley was an unknown not too long ago. As a Democrat, he served in the state's House of Representatives before he was elected as State Auditor.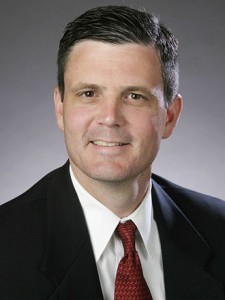 Washington State Auditor Troy Kelley
His credentials are impressive. He had worked for the Department of Justice, a Fortune 500 company and he is an officer in the Washington National Guard.
Before Mr. Kelley came along – for 20 years – Washington state was truly enriched by a State Auditor predecessor: Brian Sonntag.
In addition to noting his sterling record of achievement as a fiscal watchdog of government, I interviewed him personally (for my news-media columns and a radio program before launching this portal). He was most impressive in the interviews.
Now, Mr. Sonntag is a Washington Policy Center Board member. The organization's Web site (www.washingtonpolicy.org) accurately states it's "an independent, non-partisan think tank promoting sound public policy based on free-market solutions."
Thanks to Jason Mercier, director of the Center for Government Reform at Washington Policy Center , we learn that Mr. Sonntag has shed some light on the important role the State Auditor plays in auditing government agencies.
Without passing judgment on Mr. Kelley, Mr. Sonntag issued this statement:
"The founders of Washington State didn't like or trust government very much. They established several separate elected offices. As an example of their populist bent they created a very independent office of State Auditor. Tasked with the responsibility to audit the accounts and activities of every government agency in the state, the Auditor holds small boards and commissions as well as large state and local entities accountable to the citizens they serve. Currently there are nearly 2,700 different government agencies that come under the scrutiny of the State Auditor.
The only real issue for the office of State Auditor is accountability. To make certain citizens have access to information so they can judge for themselves the performance of public officials and their conduct and decision making.
To effectively meet this responsibility the Auditor's office must be above any reproach. From frontline employees to the elected officeholder there cannot be a hint of impropriety. Citizens expect, demand and deserve nothing less. Credibility is lost if there are questions surrounding the ability to be objective.
The Auditor's Office (and Auditor) must be held to a higher standard because that is the office our state's founders identified as the public guardian. The public's watchdog that they can trust when it comes to transparency, accountability and openness.
This public trust is fragile. And when broken it's not easy to rebuild.
The Auditor has a huge responsibility. But with that responsibility comes an opportunity to really make a difference. To act independently in the interest of the citizens who you work for. To put the public interest first. To make sure government's doors are open. And to be worthy of this responsibility. That is how respect is earned. That is how the public trust is built."
Thank you, Messrs. Sonntag and Mercier, and Washington Policy Center.
From the Coach's Corner, here are related articles.
"I predict future happiness for Americans, if they can prevent the government from wasting the labors of the people under the pretense of taking care of them." 
-Thomas Jefferson
__________
Author Terry Corbell has written innumerable online business-enhancement articles, and is a business-performance consultant and profit professional. Click here to see his management services. For a complimentary chat about your business situation or to schedule him as a speaker, consultant or author, please contact Terry.