An article in AdAge.com once caught my eye: "Marketers Exhibit Cad-Like Behavior at the RFP Ball."
The author, Jennifer Modarelli, opined in February 2010 about the lack of courtesy and respect companies give to advertising agencies.
Years later, it all remains true. I agree with her.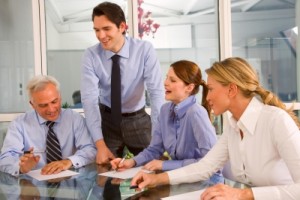 RFPs, or requests for proposals, are time-consuming and costly.
They also lead to a black hole when ad agencies submit ideas when they're later used by the prospects without compensation to the agencies.
There were also excellent comments by readers.
Such behavior is symptomatic of the times, and sales opportunity costs are too high.
Many ad agency ideas are worth millions.
Therefore, it's important for ad agencies to step up.
That means doing what's necessary to earn a place at the senior executive decision-making table in the conference meeting rooms.
Have you encountered such behavior? Yes, you probably have.
What can be done about it?
Here are some options you might wish to consider:
1. Unless, you have the staffing to absorb such high sales opportunity costs, stop reacting to RFPs.
2. In your pitches, stop giving details without an agreement and compensation. Instead, share your approaches to prospects' marketing dilemmas.  Otherwise, a cost-benefit analysis will show the resulting legal hassles aren't worth it.
3. Refrain from giving proposals – try letters of agreement after using the appropriate steps to sell your brand to prospects. Even better, here's a valuable secret, present the prospect a deal memo.
4. Offer benchmarks for your performance and show empathy for marketplace conditions. But monitor the client. Make sure you've got a great client who operates the business successfully.
5. Develop ground rules for client service (my firm has 61). Occasionally, I've encountered some friction with a client, so I pull out my service policies and I discover I failed to adhere to them.
6. Solicit compliments. When you get them, ask for two referrals to their peers at other companies who might need your great marketing.
7. Pre-sell your shop. Bypass the advertisers' "screening out consultants" by getting close to the advertiser in advance. Join the largest business organization in your locale and volunteer for appropriate committees.
8. Continue your SSP, shameless self-promotion. Try new approaches.
Good luck in romancing new business!
From the Coach's Corner, additional reading:
You Can Get Bigger Corporate Accounts in 5 Steps — So your company needs to grow and you've decided to go after bigger fish. Getting bigger corporate accounts is easier, if you develop the right system. But not only must you have reason to be confident, you must position yourself and your company to instill confidence in your prospects.
Consultants – 5 Strategies to Build Trust with Clients — When a businessperson hires a consultant it's usually because of brand trust. That's an emotional decision no different than when a consumer buys a new refrigerator or car. But there's one major difference – the consultant is dealing with a wealthy client or someone who wants to be affluent. Wealthy people have a different mindset, which is why they have money in the first place.
The 7 Steps to Higher Sales — Secrets for sales success – seven steps to higher sales, five value perceptions that motivate customers to buy, and the three-step process for overcoming sales objections.
Marketing – How to Profit from Emerging Human Behaviors — Become more profitable: Forecast emerging human behavior and tastes, and leverage trends to be relevant.
"Advertising is totally unnecessary. Unless you hope to make money."
-Jef I. Richards
__________
Author Terry Corbell has written innumerable online business-enhancement articles, and is a business-performance consultant and profit professional.

Click here to see his management services

. For a complimentary chat about your business situation or to schedule him as a speaker, consultant or author, please

contact Terry

.




Photo courtesy of Ambro at www.freedigitalphotos.net