Sept. 26, 2015-
Good news if you're concerned that Millennials are increasingly uninformed. And if you want to connect with Millennials, you might be happy to learn social media hasn't totally replaced traditional news among 18-to-34-year-olds.
Trends show there are four types of Millennial news consumers, according to research into information use by Millennials.
This research has implications for branding. In marketing, the advertisers' selection of the medium in which to advertise is the most important consideration – not the creative.
Millennials have grown up in the Digital Age, and for them the medium is the message. So, it's important to choose the right mediums in which to advertise.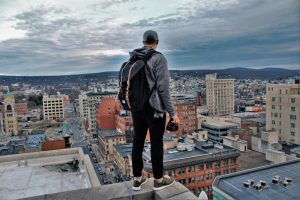 The study was conducted in 2015 by The Media Insight Project (www.mediainsight.org).  That's a collaboration involving the American Press Institute, NORC at the University of Chicago, and The Associated Press.
Results indicate there are four Millennial groups – what the study calls the Unattached, the Explorers, the Distracted, and the Activists.
"This study identifies truly distinct characteristics that typify each group of news consumers and identifies challenges and opportunities for news publishers attempting to reach the Millennial audience," said Trevor Tompson, director of The AP-NORC Center.
"Clearly they are not a single group," adds Mr. Tompson.
The study's key findings:
The Unattached: Younger, age 18-24, bump into news, rather than seeking it out. Most have not yet started families or established careers. They primarily go online for social or entertainment activities, and few follow current events. Most do not pay for news, but many still keep up generally with what is going on in the world and are open to differing opinions.
The Explorers: Younger, also age 18-24, actively seek out news and information; many demographic similarities to the Unattached, but slightly more men than women. They tend to follow a variety of current events and news-you-can-use topics. Many believe in the social and civic benefits of following news.
The Distracted: Older, age 25-34, many have families and are part of the middle class. They tend to not use news for civic or social purposes. They do not actively seek news out and tend to mainly follow lifestyle and news-you-can use topics with direct relevance to their daily lives.
The Activists: Older, age 25-34, actively seek out news and information. They tend to have already established families, careers, and a connection to their community. They are racially and ethnically diverse and experienced enough in the world to care about certain issues, and they have enough stability in life to spend energy on those issues. A majority of these Millennials personally pay for a digital or print news subscription.
In marketing, the advertisers' selection of the medium in which to advertise is the most important consideration – not the creative.
"The study provides key insights as well as concrete recommendations for publishers wishing to reach Millennials," says Tom Rosenstiel, executive director of the American Press Institute.
"The opportunity lies in recognizing that the Millennial generation is as nuanced as any other and that content creators need to reach different types of Millennials in different ways, and reach them where they are already consuming information," he concludes.
Resource links:
The American Press Institute
Founded in 1946, The American Press Institute (www.pressinstitute.org) conducts research, training, convenes thought leaders, and creates tools to help chart a path ahead for journalism in the 21st century.
It's an educational non-advocacy 501(c)3 nonprofit organization affiliated with the Newspaper Association of America.
The Associated Press-NORC Center for Public Affairs Research
The AP-NORC Center for Public Affairs Research (www.apnorc.org) taps into the power of social science research and the highest-quality journalism to bring key information to people across the nation and throughout the world.
The Associated Press (www.ap.org) is the essential global news network, delivering fast, unbiased news from every corner of the world to all media platforms and formats. Founded in 1846, on any given day, more than half the world's population sees news from AP.
NORC (www.norc.org) at the University of Chicago is an independent research institution that delivers reliable data and rigorous analysis to guide critical programmatic, business, and policy decisions. Since 1941, NORC has conducted groundbreaking studies, created and applied innovative methods and tools, and advanced principles of scientific integrity and collaboration.
From the Coach's Corner, related articles involving the news media:
Journalists Reveal How the Digital Age is Transforming Their News Coverage — The Digital Age has widespread implications for journalism, and how and why news is published. Just how much digital technology affects the distribution and consumption of news is revealed in the "Oriella Digital Journalism Study."
Trusted News Organization Blasts Obama Administration over Continuing Censorship — One of the world's most-trusted and largest news reporting services warned about censorship imposed by the Obama Administration. It was the organization's second warning in 2014. Ignoring the public's right to know is a serious accusation, especially from the Associated Press.
Yahoo Shows Good Management in Firing Biased News Manager — Yet another media controversy illustrates why millions of Americans are justified in their complaints about liberal news-media bias. True, Yahoo News showed common sense and assertive management by terminating its Washington bureau chief after he made a controversial comment in the 2012 presidential campaign.
Urgent Plea for the Media and Nation's Leaders from a Wise Teenager — "Congratulations America! With the sequestration implemented, we finally cut spending! Right? Wrong! Unfortunately, the American public has just been deceived by politicians and the mainstream media." -Charlie Kirk, a concerned teenager.
Got a New Strategic Partner? Try Joint Web Press Releases — Each of you can garner new prospects as you enhance your image with additional credibility and authoritativeness. You will with the right Internet buzz.
"The left controls academia, the culture, and the news media."
-Monica Crowley
__________
Author Terry Corbell has written innumerable online business-enhancement articles, and is a business-performance consultant and profit professional. Click here to see his management services. For a complimentary chat about your business situation or to schedule him as a speaker, consultant or author, please 

c

ontact Terry

.