How technology and daily life has changed since the Internet was born
Here's a quiz: What were you doing and where were you on March 18, 1985?


Of course, you don't remember precisely. So try to picture your situation in 1985, as there were some big events on that date.
Here's a glimpse of what was going on in the world:
– President Ronald Reagan was leading America to economic freedom and stared down threats to world peace
– In Beirut, Lebanon, Associated Press newsman Terry Anderson was taken hostage.
– Expo '85, a World's Fair, was held on Tsukuba, Ibaraki, Japan.
– Back to the Future later became the highest-grossing movie.
– The first dot-com was born.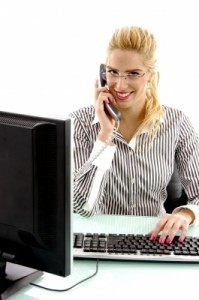 Professionally, I was busy forging my business philosophy as a broadcast journalist while covering events and trends, and interviewing newsmakers.
I had already managed newsrooms in radio and television, and exclusively reported the retirement plans of President Gerald Ford, as well as covering Ronald and Nancy Reagan during his second campaign for the nation's highest office.
Terrorism was on the rise, but it was insignificant compared to later years. It did seem as though the last frontier was solving human relationships and achieving world peace.
In anticipating the future, thoughts of entrepreneurship did not include the Internet. But that was long before the Digital Age.
How many of us thought our lives would be transformed by the Internet?
A day doesn't go by that we aren't in awe of the potential of the Internet, even a quarter of a century after the first dot-com. At last count, when the Internet technically turned 25 in March 2010, there were 80 million domains and 250 million Web sites.
Without getting into all the technical jargon, the Internet is based on what's called a "standard protocol" so computers can exchange information, which came into use in 1983.
At first, it was used in academia and government. Then, another network was launched, called the bulletin board system. The bulletin boards exploded in use and commercial companies, such as CompuServe and America Online, were launched.
The Internet as we know it became public April 30, 1993.
Here was the 2010 partial breakdown of Web sites:
11.9 million e-commerce
4.3 million entertainment sites
3.1 million financial
1.8 million sports
The first domain, symbolics.com, was registered by Symbolics, Inc., now a defunct computer manufacturer in Cambridge, MA.
Excluding the dot-com bust, the Internet's been a fun roller-coaster ride.
With apologies to the U.S. Postal Service and its declining revenue from Internet competition — e-mails and digital marketing — consider all the new products and enhanced communication made possible by the Internet.
Now, we have insights as to what's occurred in the Internet's first 25 years and what might happen thanks to a study by the Information Technology & Information Foundation. It's entitled, "The Internet Economy 25 Years After .Com."
The think tank estimated 1.7 billion of the planet's population, or 25.6 percent, was Internet users. That included 73 million Chinese in 2007. Economically, it said the Internet is, of course, a center for commerce totaling $1.5 trillion.
By 2020, the study anticipated e-commerce will total $3.8 trillion – rivaling Germany's gross domestic product.
The study recommended a universal implementation of technology, such as health information technology, platforms for mobile payments, and wireless and wired broadband, promoting digital literacy.
Since the study was published, we've seen the recommendations come true. The Internet is making the world smaller. Maybe we'll still see world peace. So, many more happy birthdays!
From the Coach's Corner, if you want a better future on the Internet, here  are articles — tips from security to marketing:
Cyber Security: Is Your Business Prepared with Precautions and Response Philosophy

Tips to Save Time and Money by Hiring the Right Tech Consultant
"The future ain't what it used to be."
-Yogi Berra
__________
Author Terry Corbell has written innumerable online business-enhancement articles, and is a business-performance consultant and profit professional.

Click

here to see his management services

. For a complimentary chat about your business situation or to schedule him as a speaker, consultant or author, please

contact Terry

.




Photo courtesy of imagerymajestic www.freedigitalphotos.net