Aug. 8, 2016-

Most voters are likely to vote their pocketbooks. So for them the positive spin on the economy by Hillary Clinton and President Barack Obama doesn't reflect reality.
The truth is America's economy is worse than stagnant. It's going downhill.
That reality is why Mr. Obama, who is desperate to save his liberal legacy, along with Mrs. Clinton and her supporters are probably more afraid than they are about voters' disdain for her lack of trustworthiness and treatment of e-mails.
The U.S. gross domestic product in Q2 2016 was only 1.2 percent. That's even worse than it's been for the previous Obama years. From 2009 until July, it had been 2.1 percent annually.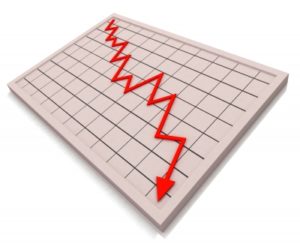 Contrast that with the 10 years from 1991 to 2001 – when the economy grew 3.6 percent annually.
Later, in the Ronald Reagan years, GDP advanced 4.6 percent annually. He assumed a terrible economy following the Carter Administration.
Jobs
As for job creation in the 130-million person workforce, the Obama-Clinton team is proud of the 14-million jobs that have been created since 2010.
Sounds good, right? After all, it's a 10.76 percent increase.
However, that's a paltry achievement when we compare it to a comparable scenario. During the Ronald Reagan Administration from 1982 to 1988, 15-million jobs were created in the 91-million person workforce. Now that's an impressive – a 17.49 percent increase.
In order for the Obama Administration to equal Mr. Reagan's, 23 million jobs would have been created.
In addition, the Labor Department's Bureau of Labor Statistics reported in June 2016 that the labor-participation rate was only 62.6 percent.
To translate the percentage, it meant in May that a record-high 94,708,000 Americans were not in the labor force. That was 664,000 more than the month before.
Average family incomes are down about $4,000 since 2000.
Trade, national debt
Trade is also problematic for the Obama-Clinton tandem. In May 2016, the trade gap for the U.S. increased to $41.14 billion from $37.4 billion the month before.
Foreigners own us. For example, China cheats on agreements, steals intellectual property, and has more than $1.2 trillion in U.S. Treasury securities.
Unhealthy trade agreements allow other countries to accelerate their exports to the U.S., but other nations don't accept similar amounts of U.S. products.
The U.S. continues to trade in good conscience.
But other countries are guilty of subsidizing their companies, manipulating their currencies and erecting non-tariff barriers to U.S. exports. That's partly why U.S. manufacturers such as Boeing and Ford outsource jobs.
America's debt is astronomical and is forecast to double in 12 years.
Enter the U.S. Debt Clock:
Helping to create the illusion supporting the Obama-Clinton spin has been the historically low-interest rates by the Federal Reserve and the motivating impact on Wall Street investors.
Why? For them, money is dirt cheap.
However, the Fed hasn't raised the rates because of the unhealthy labor market, the U.S. economy as a whole, and uncertainty from overseas developments.
With the Obama-Clinton approach, the bottom-line: Economic recovery is an oxymoron.
Trump's political incorrectness
Admittedly, Mr. Trump's verbiage is crude and is as plain-spoken as blue-collar workers at construction-job sites.
He is painfully aware of government largess and preferences in employment opportunities. He speaks honestly but Democrats and the news media try to brand him with ridicule. They're doing everything possible to cast a smokescreen on these facts.
However, after a 40+ year-career as a business practitioner advising clients, as a manager in the private sector and as a business journalist, my sense is that he's right.
The king of Twitter, Donald Trump, knows technology – computers, handheld devices, robots and artificial intelligence save us time and money – as they destroy American jobs. Technology is replacing workers.
Democrat fallacies
But Democrats have fruitlessly poured billions of dollars into schools, vocational programs and universities. They're motivated by what they feel is villainous capitalism while advocating nonstop political correctness.
Simply put, many of America's young people aren't prepared for the Digital Age as they can't function in a technology-intense workplace.
Meantime, employers constantly complain they can't find suitable workers.
"Great minds discuss ideas; average minds discuss events; small minds discuss people."

-Eleanor Roosevelt
The Obama Administration continues to expand budget-busting entitlements such as food stamps, ObamaCare, and earned income tax credits.
All of this while telling the under-trained and uneducated that they're victims of discrimination. Little wonder why personal accountability in the last eight years has been disappearing.
Now, Mrs. Clinton wants to extend Medicare to people over 50 which will limited Medicare funds will create unfair competition for medical treatment – to make it harder for senior citizens to get medical care.
She wants federal funding of child care, provide free college tuition, and nationalize the California Fair Pay Act. This would require all companies to report to the Labor Department each minute hiring and salary decision.
Trump's economic plan
Mr. Trump promises to renegotiate the NAFTA trade agreement with Canada and Mexico, and he appropriately calls the Trans-Pacific Partnership trade deal with Asia the "next betrayal" of Americans.
He wants to end the high taxes that hinder business startups and investment. He would minimize bureaucratic spending and eliminate unnecessary government regulation of business.
Mr. Trump says businesses should not be hit with more than a 15 percent tax, which would be a decrease from the 35-percent corporate tax rate.
He wants to simplify the tax code from seven brackets to just three – at 12 percent, 25 percent and 33 percent after deductions.
In recognizing trends in American culture and workplaces, he wants parents to be allowed to deduct the average cost of childcare.
So there are good reasons why his running mate, Indiana Gov. Mike Pence, calls Mr. Trump a "refreshing" change who doesn't forget the workers who made his real estate projects successful.
"He's a dreamer. He's a builder. He's a driver," concludes Gov. Pence.
Agreed.
It's time to reject the Obama-Clinton philosophy and vote for Trump to "Make America Great Again."
From the Coach's Corner, editor's picks:
Governments – from Cities to Federal – Dangerously in Debt — The U.S. economy has been slowly mending. However, the situation is bleak for governments at all levels. Why? High debt is dangerous and economic growth is dreadfully slow.
'Dirty Little Secrets' Trump Hasn't Told You about Economy — Donald Trump has pushed the envelope to say the least. Many businesspeople get it. So do entrepreneurs, and millions of different demographics of voters who are angry at the economic decline of America.
Like Nobility in the Age of Kings, Ruling Class Gets Trumped — Throughout history, there have been ruling classes in every region of the world. Noteworthy in Europe were the Dark Ages in which the ruling classes dominated ordinary, hardworking folks. That's true for 21st century America. But like the Age of Enlightenment in the 1700s, America's ruling class in 2016 is getting trumped by a voter revolt.
2 Democrat Presidents Provide Lessons for Obama in Terrorism — Presidents Franklin Roosevelt and John F. Kennedy, both Democrats, won wide respect for their handling of monster threats to America. Plus, both presidents did not hesitate to identify the enemies, call them out on their lies, and to take decisive action. Why President Obama's political correctness threatens America's free-enterprise system.
Why a 1960s' Beatles Protest Song is Still Relevant — Have you ever wondered why British groups like The Rolling Stones, The Who and The Beatles spent so much time touring abroad? To sell music for sure, but there's another reason: Abusive taxes.
 "Great minds discuss ideas; average minds discuss events; small minds discuss people."
-Eleanor Roosevelt
 __________
Author Terry Corbell has written innumerable online business-enhancement articles, and is a business-performance consultant and profit professional. Click here to see his management services. For a complimentary chat about your business situation or to schedule him as a speaker, consultant or author, please contact Terry. 
Image courtesy Stuart Miles at www.freedigitalphotos.net