Are Small Business Prospects Trending Up?
Sept. 16, 2015 –
Two small business studies by major companies — FedEx and Kelly Services — back in 2010 provided inspirational insights. The studies indicated the economic climate was trending positive for small business.
But ObamaCare and other misguided policies by the Obama Administration began to take their tolls, many articles in this portal's Public Policy section document why.
Indeed, just two-and-a-half years later, small business optimism plummeted to one of its lowest levels in history when the National Federation for Independent Business (NFIB) proclaimed small businesspeople were depressed by their prospects.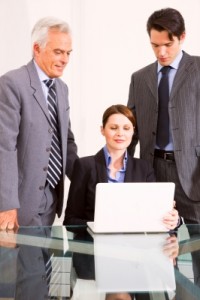 Indeed, in 2013 I was motivated to write, "Do Entrepreneurs Really Feel it's National Small Business Week?"
Additionally, the nation's most-authoritative and widely quoted economist, Peter Morci, Ph.D., keeps publishing worrisome economic forecasts and analyses each week.
Let's review what could-have-been: The two optimistic studies by FedEx and Kelly Services.
A "Signs of the Times" study by FedEx Office showed 72 percent of responding U.S. businesses believed they'll help lead the charge to business recovery. Conducted in April, 2010, the study included small businesses with five to 100 employees with minimum revenue of $100,000.
The temporary help company, Kelly Services, funded a global study which revealed 20 percent of respondents worked as entrepreneurial independent contractors and another 50 percent aspired to work for themselves. It was a survey of 134,000 people in 29 nations in Asia, Europe, and North America.
FedEx study
Fifty-one percent of responding businesses indicated they're already recovering or will be in great shape by the start of 2011. That's quite a change. In 2009, 54 percent were worried about the economy.
Eighteen percent were looking to hire workers compared to just 9 percent in 2009.
Marketing will have a bigger priority – 42 percent budgeted for marketing in 2010. Thirty percent increased budgets for sales activities.
"Small businesses are definitely getting it right when it comes to identifying and investing in the tools that will help them bounce back from a difficult period," said Randy Scarborough, vice president of marketing for FedEx Office. "From print ads and direct mail campaigns to online marketing programs and a social media presence, small business owners today are smart and savvy about how to maximize their budgets while connecting effectively with new and existing customers down the street and around the world."
In the early stages of the recession back in 2008, a previous FedEx study revealed relatively few small businesses were fully aware of the effects of the downturn.  That's when 41 percent said they anticipated increasing their marketing budgets. But in 2009 when virtually every business felt the negative impact of the downturn, 44 percent were looking to increase their marketing budgets.
The current study indicated 34 percent slashed their marketing in 2009, but 31 percent regreted making the cutback.
Eighty-seven percent believed in the importance of print marketing collateral, and 61 percent believed traditional marketing tools will yield a better return on their investment than the Internet.
Ironically, 51 percent of the 18 to 34 year-old demographic advocate banners, posters and signs vis-à-vis 36 percent of those aged 55 and older.
But many of the respondents said they will embrace the Web more – 46 percent online and 36 percent on social media.
But the study's red flag: Many small businesses had not designed a cohesive logo and tagline. Sixty-four percent admitted their messaging was "somewhat consistent," 23 percent couldn't afford to design messaging and branding, and 13 percent admitedt spending too much because they didn't have the ability or time to research possible deals.
Kelly Services
It wasn't just about companies cutting back to save on employee benefits, according to Kelly Services. Uncertainty about economics is what is really triggering the trend for entrepreneurship or independent contractors.
The increase in free agency: Twenty-six percent in North America,19 percent in Asia and 17 percent in Europe.
Nearly 25 percent of all respondents indicated a desire to launch a business, especially 48 to 65 year-old males.
"The economic downturn has resulted in a new way of thinking about careers and job security. Many people have watched their jobs disappear and now want to do something that puts them in more control of their career," says Kelly Services Executive Vice President and Chief Operating Officer, George Corona. "These are often people with many years of experience, who may have been displaced and who have taken an entrepreneurial approach to marketing their skills."
Other results:
Some 20 percent were  freelancers, consultants, independent contractors or free agents. That's 28 percent of baby boomers, 20 percent of Gen X and 18 percent of Gen Y.
Another 12 percent would love to be independent.
Younger people were worried about failing and older folks fear healthcare costs.
Thirty percent of Gen Y wanted to start their own business, but only 22 percent of Gen X and 14 percent of baby boomers wanted to do so.
Forty-eight percent felt their abilities were adequate. Fifty-four percent of baby boomers and Gen X and 40 percent of Gen Y felt confident.
"Many of those who lost their jobs as a result of the global economic crisis have had to reinvent themselves as independent contractors, freelancers and consultants. This self-employment trend may continue as more people become attracted by the autonomy, independence, and flexibility of working for themselves," Corona added.
Using a metaphor, as Reggie Jackson once said about his Mr. October capabilities as a New York Yankee: Entrepreneurs "are the straw that stirs the drink" in economic growth.
Let's hope those in the Obama Administration drink some strong coffee and learn their lessons about left-wing politics. But are small business prospects trending up? No.
From the Coach's Corner, Jerry Savin, an authoritative consultant at Cambridge Technology Consulting Group, has a reminder about your online presence:
"Today, we received a frantic call from a former client asking why their website was down," writes Mr. Savin. "As it turned out, their domain registration had expired. Oops."
His suggestions:
Check the expiration dates of your current domain registrations.
Confirm that the Administrative Contact on the Domain Registration is current and the contact's email address is correct.
Pay attention to the email reminders. Domain Registrars send out multiple domain registration expiration emails.
Renew your domain registrations before they expire.
"Google gives slightly more weight to domains with longer registrations," he adds. "So registering domains for 5 years or longer makes sense."
His Web address: http://www.ctcg.com
LinkedIn: www.linkedin.com/in/jeraldsavin
Tweet: www.twitter.com/CambridgeTech
From the Coach's Corner, here are three small business tips:
Energize Your Customer-Loyalty Program with 6 Steps — The quickest way for established businesses to optimize revenue is to have a stellar customer-loyalty program — there are six steps you can take for repeat sales and referrals.
Checklist to Increase Your Startup's Cash Flow — It's true that cash flow is the salient dynamic that leads to the failure or success of a business. Whether your new company's performance is stagnant or you're growing quickly, cash flow is paramount.
Tips for Preventing Robberies and What to Do If You're Hit — As a business owner, you don't like to think about the frightening prospect of being robbed. You could lose money and merchandise. More importantly, you and your employees could be severely hurt or even killed.
"In  America, small business is a big deal."

-Bob  Beauprez
__________
Author Terry Corbell has written innumerable online business-enhancement articles, and is a business-performance consultant and profit professional.

Click here to see his management services

. For a complimentary chat about your business situation or to schedule him as a speaker, consultant or author, please

contact Terry

.
Photo courtesy by ambro www.freedigitalphotos.net