Many employees are glum after their employers began fretting about the high costs of ObamaCare. Companies have been more conservative about paying for fringe benefits — citing uncertainty caused by the controversial law.
A lot depended upon how they felt about the marketplace and their future profits following passage of the contentious law, according to a 2010 human resources study.
"Companies recognize the importance of retaining valued employees but are more likely to incentivize employees with more money rather than more benefits," said David Turetsky of the HR firm, Workscape. (The study: www.workscape.com/totalrewardsstudy.)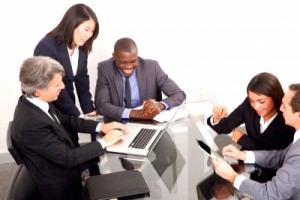 That's the summary of results from his firm's survey of 519 HR professionals.
"And while salary increases were at the top of the retention strategies, offering flexible work schedules and implementing greater employee/management communications are also being considered," Mr. Turetsky added. He is Workscape's director of Total Rewards Strategy.
The study showed two-thirds of respondents planned merit increases and 52 percent eyed bonuses for performance.
Aside from performance, about a quarter of respondents anticipated making adjustments for market/equity. Fourteen percent allocated stock and 12 percent made a lump-sum payment.
ObamaCare worries
Even though 71 percent knew that health insurance is a high priority for employees, 64 percent didn't enhance the benefit packages.
How did they fell about ObamaCare? One hundred percent of respondents expressed wariness.
At least 33 percent anticipated company growth in 2010, but most respondents believe growth will take longer to achieve.
However, among larger companies with 5,000 to 10,000 employees, 25 percent forecast flat revenue for 12 months. Forty percent said it will take longer than a year.
Eighty-two percent stepped up internal communications.
The most optimistic sector: Technology.
Employee rewards
As expected, Mr. Turetsky's an advocate of complete employee-reward management.
"Total rewards management means managing an employee's total relationship value," he said. "This includes pay, increases, short and long-term incentives, benefits as well as corporate culture, mission, opportunities for growth and other environmental factors".
As in every downturn, it's important to plan for recovery.
"As competition once again intensifies for qualified talent, employers need to take a comprehensive view of employee rewards," he concluded.
No argument here. That's my Biz Coach take, as well. Companies are successful when they employ the best workers to implement strategies to complement the CEO's vision.
From the Coach's Corner, here's a myriad of informative HR articles:
Hiring? 4 Pointers on Negotiating Wages with Job Applicants — Some employers have had difficulty in successfully extending job offers to applicants, especially Millennial professionals. It's not uncommon to interview applicants who aren't shy in negotiations with their inflated egos and salary expectations. Of course, that wasn't the case in the Great Recession.
HR Tips — So Your Recruiting Enhances Diversity, Not Sexism – Can we agree that a diverse workplace leads to innovation, problem-solving and enhanced enterprise communication? And, as you know, inequality is unlawful. Why then are there so many companies that unknowingly, perhaps, promote sexism?
Government Warns Business in Ruling Against Costco on Social Media Policy – Many companies encourage their employees to promote their offerings and services on social media. But beware, it was bound to happen: The trend has caught the attention of the National Labor Relations Board (NLRB), which can dictate your social media policy.
HR Tips to Avoid Legal Hassles with Immigration and Customs Enforcement – This includes strategies on how to respond to an ICE audit. 
Management: How to Help Employees to Grow Professionally — Managers owe it to the organization to help their employees grow professionally. It's hard, time-consuming work. But the return on investment is terrific. The organization benefits from higher employee performance and lower turnover. Strong employee retention obviously saves the employer a lot of time and money.
"There is no doubt that creativity is the most important human resource of all. Without creativity, there would be no progress, and we would be forever repeating the same patterns."
-Edward De Bono
 __________
Author Terry Corbell has written innumerable online business-enhancement articles, and is also a business-performance consultant and profit professional. Click here to see his management services. For a complimentary chat about your business situation or to schedule him as a speaker, consultant or author, please contact Terry.
Photo courtesy of Ambro at www.freedigitalphotos.net