Editor's Note: My friend and colleague, IPO guru Francis Gaskins, passed away February 22, 2016. He was widely quoted and interviewed by major news operations. The following article reflects his expert opinion.

Updated March 15, 2014

A leading expert on initial public offerings, Francis Gaskins, was not wowed by General Motors' IPO in 2010 – to say the least. That's despite GM being profitable in the first two quarters of that year.
Widely respected, Mr. Gaskins published a site, which was called "Forbes Best IPO Site."
GM's Q2 sales of $33.2 billion led to a $1.3 billion profit. In filing the IPO, the company was anxious to return to Wall Street by shedding its nickname, "Government Motors."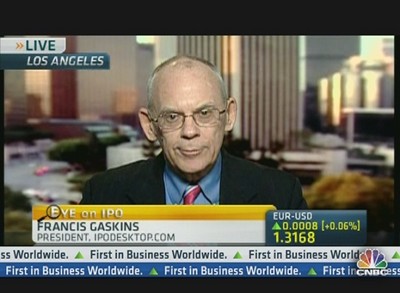 The government had a 60.8 percent stake in GM after giving the company a $50-billion bailout in 2009.
In addition to saving lucrative jobs, the United Auto Workers Union got a 17.5 percent ownership. But $2.1 billion in preferred stock was owned by the government and wasn't included in the IPO.
In giving a thumbs down, his Twitter account featured a succinct tweet: "No rational reason to value GM's IPO more than Ford. Implies big loss to taxpayers."
Far from being a mere harsh critic, Mr. Gaskins is scholarly and one of the nicest people I know. He's even artistic as a violinist — except he doesn't fiddle around in an IPO analysis.
This was historically the largest group of financial institutions ever in a U.S. IPO. The banks included: Morgan Stanley, J.P. Morgan Chase, Bank of America Merrill Lynch, Citigroup, Goldman Sachs Groups, Barclays Capital, Credit Suisse Group, Deutsche Bank, RBC Capital Markets and UBS. Each provided as much as $500 million in credit.
Isn't it ironic that big banks also received a bailout?
There are 5,000+ banks in the U.S. However, just 12 dominate with 69 percent of the industry's assets. Therefore, it's worth noting major banks are too big to fail, but not to break them up.
Why a bankruptcy?
My recollection is that GM got into trouble following its weak sales, high material costs, and too-high union wages and pension costs.
Many taxpayers and pundits criticized the government's bailout of GM by calling it an administration payback to union supporters without enough consideration for taxpayers.
Questions abounded over GM management's expertise and financial reporting, which were among the reasons Mr. Gaskins wasn't confident about the IPO. "They don't know what's happening," he said.
What about the IPO's timing? On August 19, 2010 I wrote "it appears the government is pushing the deal in advance of the November election so politicians can escape more criticism of the unpopular bailout."
In the same article, Mr. Gaskins said he'd tell the government: "I would say don't do the IPO."
My conclusion in 2010 was this: "Translation: If you are an investor, read the 500+ page IPO prospectus and do your due diligence. This IPO appears more political than practical."
What did the bailout accomplish?
Since the bailout, there have been three unfortunate developments:
On December 9, 2013, the federal government sold its GM holdings — at a $10-billion loss to taxpayers.
Government Motors is again in the limelight over an accelerator-defect recall after reports of possibly 13 deaths and 2,000 injured over an 11-year period.
Fingers of blame are now pointed at GM and the Obama Administration.
From an Investors Business Daily editorial, Another Government Coverup To Protect GM?, consider this excerpt:
Corruption: Are auto recalls nothing more than political  tools now? The Obama administration's failure to act on reports of GM  accelerator defects as the bodies piled up suggests that safety took a back seat  to politics.
Next to ObamaCare, there isn't any accomplishment President Obama is prouder  of than his $800 million automobile industry bailout. "GM is back," touted the  president. "Osama bin Laden is dead and General Motors is alive," crowed Vice  President Joe Biden during their 2012 re-election campaign.
Not so fast. Turns out the Obama administration has been sitting on evidence  that some of these widely touted Government Motors vehicles are death traps due  to faulty accelerators that slow or stop without warning, according to a report  by Liz Peek of the Fiscal Times.
The problem has left at least 13 people dead and as many as 2,000 injured  since 2003, according to reports. The House Energy and Commerce Committee has  launched a probe to get to the bottom of it.
Hmm. Turns out Mr. Gaskins was right.
From the Coach's Corner, editor's picks:
How Will Journalists Act After Obama's Supreme Slap at the 1st Amendment? — A controversial study of the news media by the Federal Communications Commission has been put on hold. Many Republican lawmakers, media groups — and this business portal — complained that the study was a disingenuous attempt to influence journalists in their news coverage.
Q&A with Dr. Ben Carson – The Full Meal Deal with Solutions — Naturally, Dr. Ben Carson is known as a uniquely soft-spoken retired neurosurgeon. His voluminous accomplishments include his pioneering in the separation of conjoined twins at the head. But, of course, there's more. A lot more. With his gentle, low-key demeanor, he's also known for his powerful insights on the issues facing the U.S. and the world.
Memorial Day: What Would Abraham Lincoln Say Today? — Memorial Day is a holiday to remember the armed forces' men and women and why they died to protect our freedoms. What Honest Abe would say today.   It's been well documented that Abraham Lincoln is the political idol of President Barack Obama.
"

If General Motors can't survive and run their business like a business, let them go under."
-James Wood
__________
Author Terry Corbell has written innumerable online business-enhancement articles, and is a business-performance consultant and profit professional.

 

Click here to see his management services

. 

For a complimentary chat about your business situation or to schedule him as a speaker, consultant or author, please

 

contact Terry

.