Before he retired, Intel CEO Paul Otellini lamented it costs $1 billion more to build a semiconductor factory in America than it does abroad, and he's calling for regulatory cutbacks and tax cuts – the two quickest ways to stimulate job growth.
Those are the messages he gave in a widely publicized speech to the Council on Foreign Relations in New York on Oct. 5, 2010.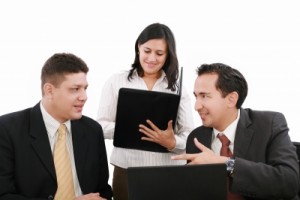 His salvo blames government for the lack of jobs in America.
But President Obama ignored his request.
"…contrary to public opinion, this is not because of labor cost differences," says Mr. Otellini. "Ninety percent of the cost difference is the result of tax and incentive policies."
Again, the Obama Administration and the president's public-policy crowd refused to listen.
Worse, Mr. Obama slapped major employers in the face. (See: The Link: Artificial 5,9% Jobless Rate, Obama's Firing of His Jobs Council)
Mr. Otellini's assertion is verified by an alarming trend — why startups no longer lead in job creation.
To boost domestic production and technology, he asked for government policy reforms:
— Tax credits or a 5-10 year tax holiday to companies, domestic or foreign, that want to set up or expand a factory in the U.S.
— Adjusting our tax rate to a level approximately equal to our global competitors for investment.
— Removing regulations that needlessly deter investment…Given the urgency of our situation, we should create a fast track permitting process for companies that want to build new factories here.
Obviously, he's convinced new tax policies will work.
"This will bring more manufacturing jobs back to the U.S.," he says. "It will employ our workers and stimulate the economy, all at no cost to us."
Mr. Otellini says his proposal to reduce the tax rate would "reverse the flow of capital and jobs out of this country."
Frequent readers of this Web site know that the Intel CEO has Biz Coach support for his public-policy ideas.  Countless articles have been published here.
From the Coach's Corner, here is the text of Mr. Otellini's speech.
 

"I'm here to tell you, some time in the next couple of months, we're going to be creating between 250,000 jobs a month and 500,000 jobs a month."
__________
Author Terry Corbell has written innumerable online business-enhancement articles, and is a business-performance consultant and profit professional. Click here to see his management services. For a complimentary chat about your business situation or to schedule him as a speaker, consultant or author, please contact Terry. 
Photo courtesy of David Castillo Dominici at www.freedigitalphotos.net