From a management perspective at the board level, Yahoo is making the right moves with CEO Marissa Mayer.
Ms. Mayer has already made the bold move to eliminate telecommuting perks for 11,000 employees. She was forced to ban telecommuting when she discovered many employees weren't working at home as they were paid to do.
It's hoped the employees will begin to collaborate on new ideas. Ms. Mayer's telecommuting ban is a positive model for struggling companies.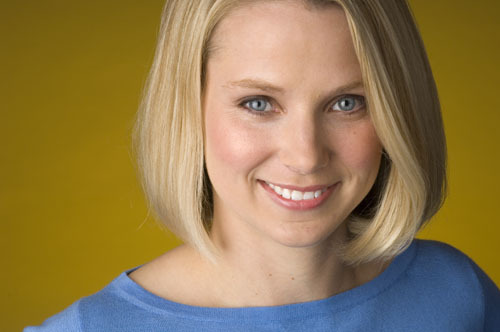 Marissa Mayer
Ms. Mayer didn't have chief executive experience, but it's been hoped she can resurrect the company with instincts she developed at Google.
Chairman Roy Bostock, the chair for four years, and three long-serving board members are gone.
This follows the resignation of co-founder Jerry Yang.
Yahoo's CEO, former PayPal executive Scott Thompson, left after the negative publicity over the phony credential on his resume.
"It's fine to celebrate success but it is more important to heed the lessons of failure."

-Bill Gates
Essentially, Yahoo needs improvement in five ways:
Branding
Content
A better work culture – employee morale
Innovation
Relevance
You might recall Yahoo missed a chance to sell to Microsoft for $47.5 billion in May 2008. Do the math. This would have meant $33 per share — far above its recent share history.
Other negative headlines: The public catfight between deposed Yahoo CEO Carol Bartz and the board. After her termination, she refused to resign from the board.
Certainly, published reports show Ms. Bartz failed to demonstrate quality leadership in terms of the company's performance and her personal style of communication. Thirty-two months of valuable time was lost during her tenure. That's a big sales-opportunity cost.
Despite whatever skills Ms. Bartz seemed to possess to get the top job after previously working at Sun Microsystems and Autodesk, they weren't apparent in her nearly three years at Yahoo.
True, she successfully addressed financial and organizational issues.
But she didn't seem to show an adequate grasp of the big picture – to understand the company, its marketplace challenges and solutions. The company's heritage advertising platform has been backsliding. Too, I have to wonder if the vaunted Yahoo Finance platform has suffered in reputation. It's been a favorite for those who want to check stock prices.
During her reign, Yahoo's stock price was at stagnant levels. It's worth noting that Yahoo's share price immediately jumped 6 percent when she was terminated. That's indication she didn't have friends on Wall Street, either. It might have been advantageous for her to read the book, "How Win Friends and Influence People."
But, of course, Yahoo was sliding before she took the reins.
Yahoo was once the No. 1 search engine, but since the 1990s it failed to stem the rising tide from competitors Google and Facebook. The board ostensibly didn't understand the link between financial performance and succession planning.
Yahoo has seemed to be standing still. It hasn't evolved, or re-engineered its focus like all companies must do. It needs to look fresh and innovative with compelling products and services. In other words, it needs a strategic vision from strong management.
From the Coach's Corner, here are management strategies for a successful turnaround.
The first myth of management is that it exists.
__________
Author Terry Corbell has written innumerable online business-enhancement articles, and is a business-performance consultant and profit professional.

Click here to see his management services

. For a complimentary chat about your business situation or to schedule him as a speaker, consultant or author, please

contact Terry

.
Image credit: https://twitter.com/marissamayer