One in six Americans lives in poverty, according to the Census Bureau in 2011. The economy has been difficult for them and others. However, in this knowledge-technology era, millions of American workers would be employed, if they kept in mind two adages. They're apropos for veteran and entry-level workers.
More on the adages later. First, let's consider the startling results of a Brookings Institution study: "Education, Demand and Unemployment in Metropolitan America." Job hunters, in many cases, are simply under-educated.
"This report provides evidence that there is an education gap in most metropolitan areas, and that this gap is responsible for higher unemployment," wrote study co-author Jonathan Rothwell.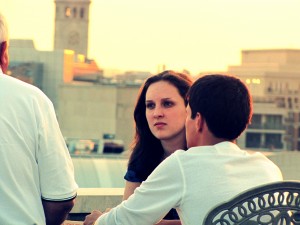 One has to wonder if parents encourage their children to study in school.
There are more jobs than educated workers, according to the study's results covering 2005 to 2009. It appears to be a worsening trend.
Even with a nationwide unemployment rate, a check of help wanted ads shows countless available jobs. Why?
The study includes a chart with a caption:
"In 2009, the average U.S. job required 13.54 years of education, but the average U.S. adult over the age of 25 had attained just 13.48 years of schooling. This gap between the supply and demand for educated workers has significant consequences – metro areas with large education gaps had consistently higher unemployment rates than other metro areas from 2005 to 2011."
If you are educated but are unemployed or under-employed, please know that I am empathetic. Yes, I know, the economy is a bummer. And yes, a lot of jobs have been outsourced overseas. But in my experience, the study is accurate for good reason.
It's important to accept challenges, and to consider solutions.
So, here are profound mottos for success from two unlikely sources:
The 1946 graduating class of Watts High School in Watts, Oklahoma.
Michelangelo.
Watts High School motto
Families in 1940's Watts were very poor. Starting in the 1930s, the only available jobs were the result of President Franklin Roosevelt's WPA – Works Progress Administration. Watts had been a vibrant railroad town with a roundhouse to repair locomotives. As I understand it, The Kansas City Southern Railway Company laid off all the workers as management changed strategies.
One such family produced six siblings, which included my dear mother.
As a youngster, my mother felt fortunate to get a job working 8 hours waiting tables for $1 at her uncle's cafe. Later, she was senior-class salutatorian and named to the state's high school honor society – one B and the rest were A's.
She's now in her eighties, and has no trouble recalling her class motto: "Find a way or make one."
Many of today's American workers — at all skill levels — could profit by such a philosophy.
Like many others from the Great Depression, she knew to avoid debt. She worked hard, took the bus to work and saved money. Upon being divorced when I was three years old, she raised my brother and me without any assistance – welfare, food stamps or alimony. In Tulsa, when I was in elementary school, she bought a house.
When I was nine, she faced a layoff as a result of the sale of her oil-company employer. Fortunately, with her work ethic, she was offered a job in Palm Springs and soon bought a two-year-old Pontiac and a new house a half block from Bob Hope and James Stewart.
After I turned 13, she married a wise man, who told me: "It's not how much you make, it's how much you bring home."
Both are now handicapped and walk rather gingerly. But my mom has the same approach to life as she did in 1946 – "Find a way or make one."
Michelangelo's motto
As for Michelangelo, his favorite tenet: "I am still learning." It's certainly apropos in this digital-age economy.
What were once considered basic job skills are no longer basic. About 30 years ago, literate workers could find employment if they were mindful of a company's mission, and if they knew simple math.
A review of unfilled jobs – even entry level jobs – reveals that companies now require more: How to type on a computer keyboard, know how to use software, conduct research on the Internet, and have soft skills – empathy, teamwork and collaboration. To get a foothold in a company, workers often must be flexible in work hours and adapt to changing marketplace needs.
Another tip I used to my advantage when I was in the workforce long before becoming a business-performance consultant, which I still use today: Find needs of companies and provide them with solutions.
So, organizational and entrepreneurial skills are important. In addition, development of a professional presence in social media and foreign language skills in a 24/7 global economy are advantageous.
The moral: Get tougher mentally, have fun, continue to learn, be resourceful, and grow with an entrepreneurial spirit. You'll make it, and you'll have fun stories to tell.
Here's a related resource link: Is Higher Education Doing the Job to Prepare Grads for the Workforce?
Here are  job-hunting strategies:
From the Coach's Corner, here's a personal case study in overcoming unemployment:
Long before becoming a business-performance consultant, I knew the pain of unemployment after being corporately downsized. That was the case even though I already done some post-grad study at UCLA with experience in radio-TV news management, and had interviewed major newsmakers including two U.S. presidents and the Speaker of the U.S. House of Representatives. As a freelance contributor to networks, my news reports had aired nationwide.
If I needed a job, sometimes I had to get sales jobs in other industries and worked my way back into management.
In 1984, a radio station laid me off one bitter-cold winter in Salt Lake City. I had to swallow my pride and take a temp job at $4.25 an hour as a manual laborer. During lunchtime breaks, the construction workers guffawed at my unprofessional construction work-clothes. I explained I was just trying to make my car payment as an out-of-work broadcast broadcaster. Their reaction – they thought I had delusions of grandeur.
Actually, I enjoyed construction work. However, soon I accidentally dropped some heavy lumber on my foot while standing in frigid water wearing tennis shoes.
In 24 hours with the aid of crutches, I began cold-calling broadcast companies in-person. That included a nationwide-media company, where I inadvertently annoyed the human-resources manager. She barked at me: "How dare you come here without an appointment?!" To no avail, I explained that my visit was to make an appointment for an interview.
As she threw me out, I thought: "I'll show her." I hobbled to the second floor to cold-call the company's local radio-station news director. Soon, he created a job for me, saying: "You've got a job for two weeks, and if Walter Cronkite doesn't apply and you prove yourself, the job is yours."
The reporter/weekend anchor shift at the 50,000-watt station was an unpalatable Wednesday to Sunday night from 2 to 11 p.m. But I worked hard while trying to be nonchalant as I watched applicants, one-by-one, walk by my work station to the boss's office for interviews.
Suddenly, the boss left for California, and I worried because he wasn't around to evaluate my work. Candidly, my bio rhythms were askew. I had been accustomed to a normal schedule – and running the show. When he returned, the news director summoned me to his office. I was shaking as began to tell me he had heard all about me while he was gone.
Then, he stunned me: "Your attitude is contagious," he said. The job was mine.
When my boss escorted me down to the HR office to fill out paper work, the HR manager scowled at me. When I explained to the news director why she was unfriendly, he chortled, "Yeah, she's a pain." He then said he was thrilled by my gumption to bypass her.
In the ensuing three years, I won three awards and was promoted to afternoon/evening news editor and anchor where my shift earned market-leading double-digit ARB ratings. As a powerful radio station, its signal could be heard in nine western states. My parents often listened to my newscasts sitting by their wood stove.
One of those skeptical construction workers spotted me on a downtown street corner. He stared in astonishment, saying: "I heard you on the news."
Little did he know, I enjoyed driving friends to the scene of my proud accomplishment – the medical-office building I helped to build. Even though they regularly heard me on the radio, they thought it was hysterically funny that I was proud of my manual-labor job.
Good luck! Enjoy your footwork.
"Do whatever it takes, whenever it needs to be done, regardless of whether you feel like doing it or not."
-Greg Hickman
 __________
Author Terry Corbell has written innumerable online business-enhancement articles, and is a business-performance consultant and profit professional. 

Click here to see his management services

. For a complimentary chat about your business situation or to schedule him as a speaker, consultant or author, please 

contact Terry

.