Updated Sept. 6, 2015 –
Hewlett-Packard's quarterly earnings beat analysts' forecasts but sales are stagnant – falling 8 percent from a year ago.  The company is splitting into two companies on Nov. 1. HP Inc. will sell personal systems and printers. HP Enterprise will target small and large businesses.
That's partially true. But the real problem is that HP needs stronger innovation and products.
Ironically, 2014 and 2013 were a lot kinder to HP. Earnings were sky high, and it won a $3.5 billion contract to run the U.S. Navy's communication system. But what about HP's long-term sustainability because of its decline in the computer-producing sector?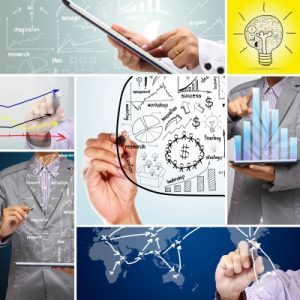 One reason profits were up is because HP laid off 27,000 workers.
There are other common-sense questions, such as a CEO worth $15.4 million when the company loses $12.65 billion?
H-P reported a net loss of $12.65 billion for the year ending Oct. 31, 2012, but CEO Meg Whitman was given compensation totaling $15.36 million. A filing with the Securities and Exchange Commission showed her compensation included $7.04 million in stock awards and $6.41 million in options.
HP's 2011 profit was $7.07 billion when her compensation was $16.52 million.
She announced in May 2012 that she planned to lay off 27,000 employees by the end of fiscal year 2014.
More nightmares for HP as its long-term credit rating on senior unsecured debt was slashed by Moody's Investors Service from A3 Baa1.
HP's being hammered by competitors' hand-held devices and deteriorating profits. But HP has been the cause of many of its own challenges.
Not to be gauche, but it wouldn't be surprising if Harry S. Truman were perplexed by the judgment and performance of the board of directors at the world's biggest-selling tech company. That being the HP board of directors over the past decade.
Indeed, many people might be wondering if the company might be better-served if the board adopted the former president's famous mantra, "The buck stops here." Because the question is, have they acted like it?
It's unfortunate – the tech company has a rich heritage. That's not to conclude that the board has ruined the company, because in 2010 it had an enviable $126 billion in sales. It employs 326,000 workers.
But HP had lost more than half its market value. Meantime, the board didn't appear to understand the Link between Financial Performance and Succession Planning.
Questions had risen over the board decisions and strategies, while many analysts approved of recent developments.  The storied company plans to continue with its strategy of cloud-based services and enterprise software solutions.
"One of the biggest responsibilities of management is to look after the corporate DNA."

– Andrew Rolfe
Based on past developments, HP fans, and I'm one of them, might wonder about HP's long-term strategic planning.
Consider:
The board hired Carly Fiorina as CEO in 1999. Her performance proved to be unsuccessful, as she apparently didn't understand a basic principle about mergers (

If Mergers & Acquisitions Tempt You, Consult HR Pros

). She persuaded the board to force a merger with Compaq – despite all kinds of red flags. At the time, as a media columnist for Belo Web sites, I wrote it would never work because the cultures of the two companies were vastly dissimilar. My predictions proved to be accurate. The merger resulted in the layoff of 17,000 talented people and HP's financial picture worsened. She was fired in 2005.
Soon, the board's chair, Patricia Dunn, hired firms that used illegal methods to try to stop leaks of proprietary HP information to reporters.

 

Mark Hurd was hired to run the company. While he did have some success, many analysts believed HP suffered from his lack of vision and poor judgment leading to his forced resignation – over sexual harassment of a marketing consultant, who was actually an actress, and his inconsistent expense-account reports.

 

They hired a CEO, Léo Apotheker, who made his own controversial decisions, including plans to change the company's mission – from world-class hardware to software and cloud computing. Some board members voted to hire him without even meeting him. Mr. Apotheker's actions prompted declining shares and a shareholder lawsuit.

 

The board hurriedly hired a new CEO, Meg Whitman, who had joined the board after she lost to Jerry Brown, Jr. in running for California governor. As head of eBay, she was successful but known for questionable acquisitions. You might recall her 2005 purchase of Skype for $4.1 billion, but eBay ultimately sold it for $2.75 billion four years later.

 

Ms. Whitman recently said she supports Mr. Apotheker's decisions, including the proposed$10.3 billion purchase of commercial software-maker Autonomy, but she will not forego HP's hardware business. The latter is ostensibly is one the most logical public decisions to come from her office.

 

Ms. Whitman's first announcement that her priority will be to get HP strong financially. But again, HP's finances were hampered by negative Wall Street reactions to Mr. Apotheker's actions, which she mostly supports. So how can she achieve such goals, especially since she doesn't have any enterprise experience?
HP's biggest customers balked at buying PCs until they got clarity on HP's plans. Savvy consumers were probably hesitant, too. That was my thought when I spotted some flashy HP notebook computers in recent visits to retail stores. Fortunately, HP decided to stay in the notebook computer business.
Following weak sales, Ms. Whitman's predecessor stopped marketing smartphones and tablets with webOS software, an HP product. She also needs to waive her magic wand in combating the popularity of iPads and smartphones to use the Internet.
Meantime, HP has other complicated matters to solve, including what to do about its services business, its slim profit margins in servers, and slower sales in printers. The latter two might very well be approaching the end of their product life cycle.
Ms. Whitman also promised to get more teamwork and cohesiveness out of her management team. That'd be a good move, too.
Ms. Whitman has needed to conduct an in-depth SWOT analysis – of strengths, weaknesses, opportunities and threats – followed by a strategic action plan to anticipate emerging trends and capitalize on them. A sophisticated look to the future is prescribed here.
But has she?
Let's hope Ms. Whitman comes up with better strategies and communication than she did in her failed gubernatorial campaign and questionable acquisitions at eBay. She also has to be successful working with a board that's made so many anemic decisions.
HP is a fine company and deserves a better future than its performance of the last decade.
From the Coach's Corner, here is a related link: Leadership, HR, Marketing Lessons from HP's Executive Turmoil.
"One of the biggest responsibilities of management is to look after the corporate DNA."
– Andrew Rolfe
 __________