A whopping 79 percent of companies in the U.S. and U.K. experienced Web-borne attacks. These incidents continue to represent a significant threat to corporate brands.
Results from a Web security study in 2013 show that almost all of the Web security administrators agreed that Web browsing is a serious malware risk to their companies.
Despite the obvious awareness of the risks, only 56 percent of participants said they had implemented Web security protection and more than half of companies without Web security had Web sites compromised.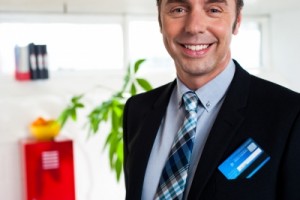 Another study discloses a disturbing trend – nearly four out of five small companies are storing unsecured data about their customers.
That's an indictment of such businesses, and is alarming news for consumers about their vulnerability to credit card fraud and identity theft.
The 2011 study was conducted by the National Cyber Security Alliance (NCSA).
"How can this be," you ask?
Nationally known security expert Stan Stahl, Ph.D., of Citadel Information Group in Los Angeles, knows why.
"Citadel works with small business leaders every day and – based on our experience – the reason small businesses don't take cybercrime seriously is that they see it primarily as something their IT people are managing, not yet realizing the critical importance of their own leadership," says Dr. Stahl.
"This includes establishing clear policies and standards for information use, explicitly assigning cyber security management responsibility to a member of the senior management team, providing cyber security awareness training and education to all information users, and ensuring that IT personnel are effectively managing the security of the IT infrastructure," he adds.
The alarming results in the study first came to my attention after reading Small Businesses Don't Take Cybersecurity Seriously, which was mentioned in Dr. Stahl's security blog.
Hopefully, your business is not one of the businesses cited in the study. Cybercrime has become a global nightmare. My question for companies about Cyber Security: Is Your Business Prepared with Precautions and Response Philosophy? 
For NCSA's tips for small business security, read this post. 
"Seventy-nine percent of businesses are storing consumer information when they don't need it. It's not protected. It's not secure," Verizon spokesperson Andrea Woroch was quoted in a published report.
For consumers, Verizon offers these tips:
Watch the people swiping your credit or debit card.
"You don't want to blame or suspect everyone's trying to steal your information, but there are people who will and are trying to copy your credit card information with extra swipes," says Ms. Woroch.
Take extra care when you buy on the Internet.
"Don't mark that little check box that says 'to store for future purchases.' you don't want that organization, that business, that Internet website to hold any of that information," explains Ms. Woroch.
Consider alternatives to using your credit card, such as gift cards.
Carefully study your billing statements.
"Lots of consumers overlook little charges that are being made on their statement and that's how people are continually able to trick them and deceive them and steal them and take extra money out of their accounts," adds Ms. Woroch.
Resource link: Dr. Stahl's Web site.
From the Coach's Corner, here are additional cybersecurity tips:
Secure Your Android from Viruses and Malware with 5 Tips — Hopefully, you haven't had the nightmarish inconvenience on your Android from viruses and malware, which have plagued many users. Countless headlines detail the cyber dangers associated with Android-based devices. Don't for a second assume you'd be safer with an iPhone.
Security Precautions to Take Following Citibank's Second Reported Online Breach — Citibank's admission that private information of 360,083 North American Citigroup credit card accounts was stolen by hackers in 2011, which affected 210,000 customers, serves as a warning for all businesses and consumers to take precautionary steps. The bank's security breach wasn't reported until weeks later. Originally, Citibank said 200,000 accounts were affected.
BYOD, Mobile-Banking Warnings about Security Prove Prophetic — Not to be gauche, but in 2009 you saw the Internet security warning here first – mobile banking is so risky an IT security guru said don't do it. The warning was prophetic.
Tips to Prevent Hacking of Your Bluetooth — Bluetooth technology, of course, allows you freedom when talking on your cell phone. But you'll lose other freedoms if you don't prevent scammers from exploiting your system via a trend called "bluebugging." Beware, cybercriminals using software, are able to intercept your Bluetooth signal to hack into your phone.
Surprise — Cyber Criminals Chew up Apple Products, too — For years in terms of security, Windows has been considered inferior to Macs. But no longer thanks to malware security epidemics.If you've got an iPhone, get busy. Apple continues to have bugs and security issues. Apple was forced to release an update just a few days after the rollout of its iOS 8 in late Sept. 2014 (Apple issues iOS 8.0.1 for bug fixes, knocks out cell service and Touch ID for some).
"Being good is good business."
-Anita Roddick
__________
Author Terry Corbell has written innumerable online business-enhancement articles, and is a business-performance consultant and profit professional.

Click here to see his management services

. For a complimentary chat about your business situation or to schedule him as a speaker, consultant or author, please

contact Terry

.




Photo courtesy of stockimages at www.freedigitalphotos.net