Editor's Note: My friend and colleague, IPO guru Francis Gaskins, passed away February 22, 2016. He was widely quoted and interviewed by major news operations. The following article reflects his expert opinion on the flurry of initial public offerings in late 2011.

Dec. 14, 2011 –

Although 2011 has been a disappointing year for initial public offerings, several companies aim to go public this week making it the busiest IPO activity since 2007.
So what's going on?
"There is a very large backlog of companies wanting to IPO and the November 4 Groupon IPO turned the light back on IPOs," says expert IPO analyst Francis Gaskins. Google his name – he's a widely quoted IPO guru online, on television and in newspapers.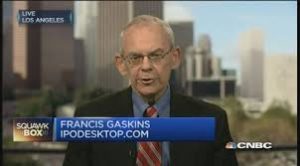 "The IPO light was turned off by the market's decline in August," he explains.
You might recall the stock market took a nosedive over worries of the federal government's debt. At this writing, Standard & Poor's 500 increased by 8 percent in the last nine weeks.
Which companies stand to benefit?
"This week there are five energy-related IPOs, two social networking IPOs (Zynga & Jive Software), two industrial companies plus Michael Kors, which we like very much, and one IT company," Mr. Gaskins explains.
In 2011 until now, $35 billion has been raised in 115 IPOs. That's a decrease from 2010 — 154 IPOs netting an aggregate $39 billion.
Both years are considered to be subpar. Normally, you could expect 25 percent more dollars to be raised among about 250 IPOs.
"The IPO market is leaving 2011 with a decided bang," he says.
So what about the New Year?
"As long as the averages don't tank we'll continue to have a healthy IPO market when it begins again sometime in January," adds Mr. Gaskins.
"In the business world, the rearview mirror is always clearer than the windshield."

-Warren Buffett
_________
Author Terry Corbell has written innumerable online business-enhancement articles, and is also a business-performance consultant and profit professional. Click here to see his management services. For a complimentary chat about your business situation or to schedule him as a speaker, consultant or author, please 

contact Terry

.