Whether you're selling products, services or both – your marketing/sales future depends on whether you're up-to-date on technology. That's because it's so intertwined with human behavior.
An interesting article in Ad Age was a relevant reminder.
Entitled, "CMOs Explain Why They're Flocking to Vegas for CES," the January 2012 article explained why thousands of advertising and marketing professionals consider the annual Consumer Electronics Show in Las Vegas a must-attend event.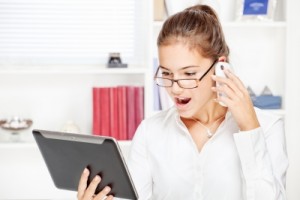 The obvious conclusion: CES is vital for their job security.
On a macro level, marketers attend CES to stay abreast of technology and the resulting human behavior – how people connect with brands. They understand the importance of profiting from emerging human behaviors.
Not to criticize, but that's why it's so puzzling that Microsoft ended its 15-year association with CES as the anchor sponsor. Yes, I understand the reasons given by Microsoft.
But when you own a franchise, you don't give it away. You'll never recoup it. And CES is the go-to tech event at the start of every year. Like soft drinks and Coke, Microsoft needs to be synonymous with new technology.
Further, there's a matter of developing centers of influence. Bonding with people who can influence business your way.
It's a chance to meet face-to-face with thousands of influential people and to stay abreast of technology. And as each year passes with new evolving technology, CES becomes more important.
From the Coach's Corner, here are marketing resource links to keep up with your competitors –
"Many of life's failures are people who did not realize how close they were to success when they gave up."
-Thomas A. Edison
__________
Author Terry Corbell has written innumerable online business-enhancement articles, and is a business-performance consultant and profit professional.

Click here to see his management services

. For a complimentary chat about your business situation or to schedule him as a speaker, consultant or author, please

contact Terry

.
Woman on phone courtesy of marin at www.freedigitalphotos.net