Updated Sept. 18, 2015 –


So the U.S. stock market remains volatile after the Federal Reserve showed a lack of confidence in the economic recovery — ostensibly, globally and nationally.
How can we discern the Fed is not confident about the economy? The Fed declined to raise the interest rate this week.
Had the Fed been confident, the rate would have been raised.
This week's Fed decision isn't the only troubling sign:
— In May of this year, low interest rates propelled stock market trading to 18,292 but ended today at 16,384.79. The stock market is down 8 percent this year.
— The Conference Board reported consumer confidence plummeted to 90.9 in July from a revised 99.8 in June.
— Consumers' outlook for the next six months drastically decreased to 79.9 this month, down from 92.8 in June.
— The percentage of consumers describing current business conditions as "good" was only 24.2.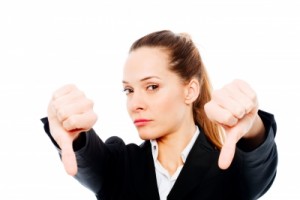 Therefore, don't get exuberant over the Dow Jones Industrial Average's former flirtation with 18,292. It didn't mean the U.S. has a healthy business climate.
Because the economy remains shaky. Globally, U.S. corporate earnings are in doubt.
The U.S. also has huge economic structural issues, exacerbated by disastrous Obama Administration policies.
The Federal Reserve's printing of money only offered false hope. All it did was keep the cost of money cheap for big investors and banks.
The unemployment rate has dropped to 5.1 percent, but it's a dubious statistic. How can it only be 5.1 percent if about 280,00 Americans on average file for unemployment benefits each month while only about 200,000 people are hired?
Well,  the Labor Department data shows millions of Americans have been so discouraged by their prospects, they stopped looking for work.
So they aren't counted in the data. Neither are the millions of Americans who are under-employed — toiling in part-time jobs with insufficient or no benefits.
The average American workweek has dropped to only 34.6 hours. Wages remain fairly flat.  Just as bad, the numbers aren't forecast to improve.
So, more realistically, the jobless rate is actually double — at least 11 percent, according to economist Peter Morici, Ph.D in Q4 2014. He's an economist and business professor at the University of Maryland, national columnist and five-time winner of the MarketWatch best forecaster award.
"The economy added 214, 000 jobs in October," he said. "The pace has picked up over the last year, but it is still far short of the 400,000 per month needed to bring unemployment down to acceptable levels."
(For more of Dr. Morici's insights, click here.)
How do the disastrous Obama Administration policies compare with other comparable economic periods?
"Over the last four years, the pace has been a paltry 2.3 percent but much stronger growth is possible," the professor points out . "During the Reagan recession of the early 1980s, unemployment peaked at a much higher level than during the recession Obama inherited, and GDP advanced at a 4.9 percent over the comparable period of recovery."
A study reveals an alarming trend — why startups no longer lead in job creation.
True, workers with 401 (k)s are happy with the market. But my economic view is based on what I see happening at a common-sense, Main Street level.  The flirtation with 18,000 only meant investors weren't currently worried about severe eye-opening developments: 
The Euro-zone economic issues
China's stock market which has plummeted
Greece's economy
Everyone seems to forget that much of Europe is mired in a recession. 
Here in the states are economic ramifications that are costing jobs — from the president's false promises on ObamaCare to his stonewalling on the Keystone Pipeline. 
Nordstrom is doing well and rightfully so. But the middle class is disappearing and lower-income shoppers favor retailers like Wal-Mart.
At a record rate, millions of Americans aged 62 have filed for early Social Security benefits.
Plus, even for those lucky to have a job, wages are flat. But companies are losing much of their intellectual capital as age discrimination is rampant in favor of younger workers in order to save benefit costs.
Don't be misled about the rate of home sales in some areas. Sales increases were attributed to investors capitalizing on distressed prices as sales prices continue to drop. Not good.
Look for another round of foreclosures now that the deal has been signed between lenders and states attorney generals.
Besides, the average victim from the predatory mortgage practices only got a settlement of $2,000. 
Long term, Obama's payroll tax extension will only hurt workers. It means retirees will get less money from Social Security when they leave work. 
What's needed is economic vision in public policy to benefit this nation.
From the Coach's Corner, consider the vision of Dr. Ben Carson who is known as a uniquely soft-spoken retired neurosurgeon. His voluminous accomplishments include his pioneering in the separation of conjoined twins at the head.
But, of course, there's more. A lot more. With his gentle, low-key demeanor, he's also known for his powerful insights on the issues facing the U.S. and the world.  See: Q&A with Dr. Ben Carson – The Full Meal Deal with Solutions.
A blind person asked St. Anthony: "Can there be anything worse than losing eye sight?"
He replied: "Yes, losing your vision!"
 


__________
Author Terry Corbell has written innumerable online business-enhancement articles, and is a business-performance consultant and profit professional.

Click here to see his management services

. For a complimentary chat about your business situation or to schedule him as a speaker, consultant or author, please

contact Terry

.  
Photo courtesy of Ambro at www.freedigitalphotos.net