There are two types of conflict.
For better teamwork and higher performance, it's true that constructive conflict works. Usually, the best ideas evolve when ideas are discussed and debated.
But when employees fail to exercise self control and their egos get in the way, emotions flare and cliques are formed in the workplace. That's destructive conflict.
So the key is for team members to understand their patterns of thought that lead to destructive results.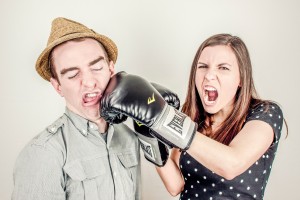 It's also important to understand when colleagues engage in destructive conflict they're lacking one important element – trust.
The goal should be for team members to reach a common vision with mutual accountability – by developing trust.
This is achieved by sharing feelings and information for a consensus.
It's a myth to think it's best to avoid disagreements.
There are risks in avoiding disagreements. How people communicate can be damaging, too. Parties can diplomatically choose to disagree.
It helps to have a hierarchy – a leader – to facilitate discussions in order to stay focused on the group's objective.
Staff meetings must also be productive so you can improve your company's performance.
Otherwise, you can expect these harmful results:
— Poor decisions
— Chaos
— Poor project management
How to argue effectively?
Use the right skills:
1. Control your thought process
Don't react – respond.Think about what to say before you say it. If you disagree, make certain you're not in a capricious mood. Ask yourself: "Why would my talented co-workers feel the way they do."
2. Look for your co-workers' good points
Give your co-workers a meaningful compliment or two. Make sure the persons know they have your respect.
3. Focus on the facts
Keep the focus on principles – not personalities. Don't insult the person by raising your voice and pointing your finger coupled with accusatory, judgmental and insulting words.
4. Be honest with a caveat
Explain your position directly but not bluntly. But avoid condemning, inflammatory language. Don't speak with finality – as though you're the only person in the room with a valid opinion.
5. Encourage a dialogue
Even if the persons have commented before you, request a response to your sharing.
In disagreements, remember that you have a common welfare to promote with your team members – avoid destructive conflict for more harmony and high productivity.
From the Coach's Corner, additional workplace reading:
9 Dos and Don'ts for Best Decision-Making — The dos and don'ts for best decision-making are applicable in three ways: Whether you have difficulty making the best decisions, engage in self doubt after making one, or are gun shy because some of your decisions have failed you.
Workplace Bullies May Hurt Retention of All Employees, Not Just Victims — Victims of workplace bullies are less likely to quit than employees who observe the abuse, according to a study by a Canadian university. The research implies a costly threat to an organization's teamwork and productivity.
6 Tips for Baby Boomers to Cope with a Younger Boss — If you're a gainfully employed baby boomer, please accept my congratulations on your good fortune. However, many boomers are saddled with a boss who is a young, less-experienced Millennial. That can be hard to take but it doesn't have to be.
Four Tips to Motivate Employees When You're Facing Adversity — Effective bosses have antennas to alert them over looming challenges. If they don't have such an antenna, it's important for them to develop one for multiple credibility reasons. Even the bosses of small companies can suffer from image problems externally and internally. Either one or both will adversely affect profits.
"The achievements of an organization are the results of the combined effort of each individual."

-Vince Lombardi
__________
Author Terry Corbell has written innumerable online business-enhancement articles, and is a business-performance consultant and profit professional. 

Click here to see his management services

. For a complimentary chat about your business situation or to schedule him as a speaker, consultant or author, please 

contact Terry

.




Studies show many employees are dissatisfied in their workplaces. Employee dissatisfaction, of course, will adversely affect a company's performance.
The dissatisfaction is global. The trend is likely to continue unless businesses improve their approach to managing their human capital.
A lack of employee engagement means:
— Higher costly turnover
— Less focus on customer service
— Less productivity
— Weak profits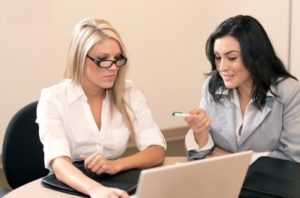 Higher pay and benefits are important to workers. But they're not the greatest motivators, and employees often have more salient non-financial concerns.
So, the key is to take steps that lead to higher employee morale and performance.
The bottom-line question for you: Do your employees mirror what you expect?
Solutions
Assuming you've hired the best talent in terms of attitude and to improve your business performance, here are 15 HR strategies:
Be authentic, not a patronizing employer.
Walk the floor twice a day to engage your staff. Show empathy. Ask questions, such as "How are you?" Wait for the answer.
Demonstrate your listening skills with open-ended questions. ("What is the dumbest thing you on which you're working?" or "Where is the company wasting resources – in time or money?") Thank the person and follow up whereever feasible.
Communicate what the company is doing and how it's performing.
Help employees to understand how they contribute to your bottom line. Show them your company-wide objectives and how their work contributes to your company's performance.
Give workers a purpose with challenges.
Without being verbose, teach them how you think and why.
Create collegial teams of workers without micromanaging them.
Make employees a CEO of their work. Empower them to contribute ideas and allow them as much autonomy as feasible to make decisions.
Encourage each employee to be customer-focused.
Immediately, show appreciation for good work and counsel employees following sub-par work.
Budget for development and training.
Show flexibility to enhance employee balance for career and personal life.
Establish an employee assistance program. Do what you can to help eliminate the employees' stress factors so they can have maximum focus on their responsibilities. That includes financial tips. As my dad once told me: "It's not how much you make, it's how much you bring home."
Employees know who their toxic co-workers are. Don't let the toxic workers hurt your workplace environment.
From the Coach's Corner, here are more management suggestions:
20 Tell-Tale Signs – If You're Under-Performing as a Manager — Managers can often struggle whether they're new or experienced. Poor management, of course, leads to poor performance. As red flags, under-performing managers share one of two common traits with ineffective employees.
Avoid Nightmarish Trend: Discrimination Suits, EEOC Dragnet — News headlines from Seattle to New York are cause for some serious head slapping when it comes to managing employees. Here's how to avoid HR troubles.
Human Resources – Profit By Not Letting Your Stars Become Free Agents — Like baseball, it's important to identify talented performers and then take care of them. Follow these steps – you'll be rewarded with a grand slam.
Boss Checklist: 16 Strategies for a Competitive Edge — Are you one of the countless businesspeople who needs a good look at your situation? Are you having a good year? Are your employees performing well?
Human Resources: 12 Errors to Avoid in Evaluations — How should you properly evaluate employees? Make sure you are careful to avoid errors in evaluations. Naturally, you want to praise good performance and discourage bad.
"So much of what we call management consists in making it difficult for people to work."
-Peter Drucker

 
__________
Author Terry Corbell has written innumerable online business-enhancement articles, and is a business-performance consultant and profit professional.

Click here to see his management services

. For a complimentary chat about your business situation or to schedule him as a speaker, consultant or author, please

contact Terry

.