June 25, 2015 –


So the U.S. Supreme Court has ruled in King v. Burwell that it's OK for ObamaCare to allow the federal government to subsidize health-insurance premiums.
The high court's justification for its decision defies logic for economic, legal and moral reasons.
The so-called Affordable Care Act (ACA) unambiguously states the subsidies can only be given to people based on their income via an "Exchange established by the State."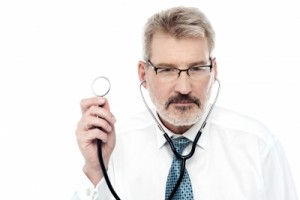 But only 13 states, including Washington state, have exchanges. Individual Americans are required to enroll in the federal government's exchange. If they don't, they face fines as high as $695 in 2016.
ObamaCare architect Jonathan Gruber has said the law's authors wanted the subsidies to force states to participate in the program.
Good economic sense
When the majority of states, 37, used good economic sense to refrain from establishing exchanges, the Obama Administration circumvented the law by issuing an IRS regulation.
"Virtually all of the state-exchanges are experiencing financial difficulties, including Washington state," blogs Roger Stark, MD, the health care policy analyst for the Washington Policy Center (WPC), www.washingtonpolicy.org.
Fearing exploding costs, 23 states declined to take part in the resulting Medicaid expansion. In the participating 27 states, a major injustice is occurring. Able-bodied unemployed men are receiving free care.
The uninsured 33 million people have hit a wall – the plans are too expensive even with subsidies and the coverage is too limited.
But even moms and their children, who are eligible for coverage, are being rejected as new patients by doctors. Physicians simply cannot afford the drastically low-government reimbursement rates. They're already overwhelmed with the required complex paperwork.
Few enrollees
In addition, only about 17 million people, who were among the 50-million uninsured before the law's passage, are enrolled in the federal and state exchanges. Many enrolled in Medicaid, which puts a bigger burden on taxpayers.
Why so few enrollees?
For seemingly countless individuals, the four ACA-mandated insurance plans are out of their reach. The uninsured 33 million people have hit a wall – the plans are too expensive even with subsidies and the coverage is too limited.
Therefore, many Americans – the working poor, self employed and middle-income folks – have opted out. For them, it's more financially feasible to pay the federal fine, negotiate health-care provider fees and hospitals, and seek low or no-cost deals from drug companies.
Many others are struggling to pay for health insurance.
The law's bronze plan, for example, costs a minimum of $500 and inflicting deductibles that cost as much as $13,200 for a family of four – with extremely limited provider networks. The latter means such people can't reliably choose their doctors or hospitals.
Furthermore, small-insurance companies have been forced out, which means only a handful of companies are participating and it constitutes a monopoly of insurers. It will only get worse as Aetna is acquiring Humana.
The consolidation also means there's been a similar constriction of hospital and doctor services.
The individual plans are mired in a quagmire. What used to be routinely covered, no longer is. When an insurer denies coverage, the patients have no recourse as the insurers are unresponsive to the complaints.
There's more mass confusion and waste that could be mentioned. It would require additional voluminous explanations in this article, but you get the idea.
Premium increases
With the dramatic decrease in insurance options, premiums for individuals are forecast to jump as much as 20 percent in 2016.
"Health insurance premiums will continue to rise, ultimately forcing the government to put some type of price controls on the industry," predicts Dr. Stark. "Health insurance companies will then essentially become public utilities."
There are other onerous implications.
"Taxes will continue to rise," adds the WPC analyst. "The federal debt will increase and future generations will have a huge financial burden. Cuts to Medicare to pay for the ACA will get worse and access to health care for our seniors will decrease."
Had the Supreme Court ruled the subsidies to be illegal, it's true about 6-million low-income beneficiaries of this ghastly law would have lost their subsidies.
But for millions more, the monopolies – that drive the massive premium increases and less coverage – would have ended. For the uninsured 30-million+ Americans, a free-market system would likely provide affordable premiums and wider choices.
Ironically, a free market – with lower premiums and better choices – would have fulfilled the original intent of the law. ObamaCare is the poster child for heavy-handed government dysfunction.
"The stated goal of many of the proponents of the ACA is some type of government single-payer system," concludes Dr. Stark. "Hopefully, the American public will reject this and will instead push for a patient-oriented health care system that puts the patient, not the government, in charge."
Agreed.
From the Coach's Corner, you can read more insights of the Washington Policy Center here.
"The problem with socialism is that you eventually run out of other peoples' money."
-Margaret Thatcher
__________
Author Terry Corbell has written innumerable online business-enhancement articles, and is a business-performance consultant and profit professional. Click here to see his management services. For a complimentary chat about your business situation or to schedule him as a speaker, consultant or author, please 

contact Terry

.
Photo courtesy of stockimages at www.freedigitalphotos.net


May 12, 2014 –


In its 51st year, the annual charade is underway. The week traditionally highlights government events for entrepreneurs.
President Barack Obama proclaimed May 12 to 16 as National Small Business Week 2014 in saying the right things about small business: "the lifeblood of our economy, employing half of our country's workforce and creating nearly two out of every three new American jobs."
But governments' lip service to small business is underwhelming.
Not to be a spoil sport, but it doesn't feel as though the federal government has given us sufficient reasons for a celebration. That's why it's been ignored on this portal until a blog was published June 17, 2013 at Washington Policy Center (WPC), www.washingtonpolicy.org. 
It was written by Erin Shannon, the director of the Center for Small Business at WPC.
In her piece, "It's Nice to Acknowledge Small Business Week – but Actions Speak Louder than Words," she asserts:
"The Competitive Enterprise Institute reports the Obama Administration is 'in a class by itself' when it comes to 'economically significant' rules, which are defined by the feds as those estimated to cost the private sector at least $100 million each.
In the first three years of Obama's Administration (2009-2011), 106 'economically significant' regulations were put in place, with a cost to the private sector of $46 billion annually.  The Administration finished 57 'economically significant' regulations in 2012, and another 167 are in the works.
So far this year, 26 of these 'economically significant' regulations affect small business.
It isn't just the economically significant regulations that are proliferating and costing businesses and consumers more money.  According to the CEI report, the Code of Federal Regulations hit an all-time high of 174,545 pages in 2012, an increase of more than 21% over the past decade.  The number of pages in the Federal Register, which includes new rules as well as proposed rules and supporting documents, has also grown.  Obama set the all-time record of 81,045 pages in 2010, and his Administration has the dubious honor of posting three of the four largest paperwork years on record."
Washington state government
But she doesn't stop at the federal level. Washington state is equally unproductive.
"Over the course of two years (2011-2012), during which there was a moratorium on "non-critical" agency rulemaking, state agencies imposed a total of 805 new, permanent rules and 909 temporary, emergency rules that together fill 15,754 pages and change 10,047 sections of the Washington Administrative Code.
The Washington Economic Development Commission (WEDC), which is comprised of stakeholders representing business and labor, agency directors and lawmakers from both parties, says the key to job growth is to reform our state's regulatory policies.  In a strongly worded condemnation of our state's regulatory climate, the WEDC says, 'Washington's overly burdensome regulatory system must be addressed as a top economic development priority.'"
She pointed out Washington state Governor Jay Inslee hadn't joined in the recognition of small business.
She also reminds us of WPC's astute "long-standing policy recommendations to improve our state's business climate." Indeed, they're certainly worth reviewing and enacting.
Seattle
And how is the city of Seattle helping small business?
The city engineered two threats to small business:
— The Seattle City Council passed its "Job Assistance Bill." Effective November 1, 2013, this means employers cannot ask job applicants about their criminal history until after the initial screening process. That is, unless employers can show they have a "legitimate business reason," a dubious exception.
— And then there's the new minimum wage: $15.
Businesspeople and human resources folks will have fun. Neither threats will help small business. They'll lead to higher prices, drive entrepreneurs elsewhere, and will decrease opportunities for low-skill workers.
From the Coach's Corner, you can read more about government/public policy issues here.
Rather than just pointing out the flaws in government policy, here are related small business tips:
Don't let Minimum Wage Mandates Ruin Your Business — Your cash flow, credit access, pricing and profit margins are all directly or indirectly at-risk with the proposed mandates to increase the minimum wage. Workers should be paid well, if they're good performers.
Minimizing Liability and Managing an OSHA Inspection — Government is making it harder and harder to run a business. Many business owners dread onerous government regulations, including from OSHA.
Small Business – Easy Ways to Boost Your Employees' Morale — Employee morale affects performance. Study after study shows a significant percentage of worker morale is mediocre, at best. That's often the case even for companies that are able to pay competitive wages and benefits.
Searching for Profits? Escape the Wilderness of Uncertainty — The quest for profits is challenging if you're lost in the wilderness of uncertainty. But success is possible. Hard work isn't a cure-all for success in business. True, passion and enthusiasm help to a degree, as well. But success requires more than just these qualities.
"Good judgment comes from experience, and a lot of that comes from bad judgment."

-Will Rogers
__________
Author Terry Corbell has written innumerable online business-enhancement articles, and is a business-performance consultant and profit professional. Click here to see his management services. For a complimentary chat about your business situation or to schedule him as a speaker, consultant or author, please contact Terry.


Jan. 26, 2012
There's more evidence that small business plays a pivotal role in creating jobs in Washington and other states, according to the Office of Advocacy in the Small Business Administration (SBA). The Office of Advocacy released small business data for each of the 50 states.
SBA believes the new data is "an invaluable resource for small businesses, legislators, academics, government officials, and policymakers in each state."
Why?
"Small businesses are the foundation of economic growth in Washington and in our nation" said Dr. Winslow Sargeant, Chief Counsel for Advocacy. "By supporting policies that promote innovation and entrepreneurship, we help small businesses tackle these challenging economic times. These statistics are a resource for a path to economic growth."
As for Washington state, the report explains "small business employment; business starts and closings; bank lending; business ownership by minorities, women, and veterans; and firm and employment change by major industry and firm size."
Salient data about small business:
There were 532,162 small businesses in Washington in 2009. Of these, 142,854 were employers and they accounted for 53.3 percent of private sector jobs in the state. Small firms made up 98.1 percent of the state's employers.
Throughout 2010, the number of opening establishments was lower than closing establishments and the net employment change from this turnover was negative.
Washington's real gross state product increased 0.7 percent and private-sector employment decreased 1.8 percent in 2010. By comparison, real GDP in the United States decreased 1.3 percent and private sector employment declined by 0.8 percent.
Self-employment in Washington surged over the last decade. Female self-employment fared the best compared with other demographic groups during the decade.
To promote entrepreneurship, this week the Washington Policy Center sent state lawmakers in the 2012 legislative session these recommendations:
Revisit the voluntary settlement agreement as passed by the state Senate in 2011 – $1.2 billion
Reform the displaced worker retraining program
Simplify sales taxes by using an 'origin based' tax (as opposed to a 'destination based' tax) and creating a flat rate for out-of-state businesses
Review regulations to ensure that Washington rules don't exceed federal regulations
Enact Tort Reform
Do no harm in transportation policy – do not reduce road lane capacity
Do not follow Seattle in enacting statewide paid sick leave
In addition, Gov. Gregoire suggested her strategies to aid small business — business and occupation tax relief.
How has the Legislature responded? Lawmakers have ignored their $1.5 budget-deficit crisis.
Instead, lawmakers are considering other matters – mandating paid sick leave and safe leave, banning plastic bags, abolishing the death penalty and gay marriage.
When will Washington's Legislature demonstrate wisdom?
From the Coach's Corner, also read:
WPC Hits Target, but Will Washington State Legislature?
Washington: A Balanced Budget Is No Longer Enough
Does the Federal Reserve Understand Small Business?
Knowledge is knowing a tomato is a fruit.  Wisdom is not putting it in a fruit salad. 
_______
Columnist Terry Corbell is also a business-performance consultant and profit professional. Click here to see his management services (many are available online). For a complimentary chat about your business situation or to schedule Terry Corbell as a speaker, why don't you contact him today?


April 13, 2013 


The man had a vision and now he's being recognized for it.
Former Washington State Auditor Brian Sonntag, who is in retirement this year after superb performances in five terms, has won a prestigious national honor. That would be induction into the "Heroes of the 50 States: The State Open Government Hall of Fame."
Mr. Sonntag stood out as the epitome of state-government transparency. Yes, as an elected official, he had an unparalleled vision.
Count me as a fan – not only as a citizen and business consultant, but as a columnist who interviewed him on multiple occasions as the "Biz Coach" on KING5.com and two other Washington media Web sites; as well as the host of "Washington Business Weekly," the Association of Washington Business radio program.
It can't be over-stated. He was a conscientious public servant dedicated to doing the right thing for taxpayers.
WPC weighs in
His award drew praise from a state public-policy think tank, Washington Policy Center (WPC).
"Sonntag has also been a strong advocate for Washington Policy Center's proposed legislative transparency reforms,"said Jason Mercier, director, for WPCs Center for Government Reform. "NFOIC's acknowledgment of Sonntag's long-time support for open government is well deserved."
His selection was announced by the National Freedom of Information Coalition (NFOIC) and the Society of Professional Journalists (SPJ).
The State Open Government Hall of Fame is a joint venture by SPJ and NFOIC. It was developed by leaders in both organizations as a way to recognize long-term contributions of individuals to open government in their states.
Induction into the State Open Government Hall of Fame recognizes "long and steady effort to preserve and protect the free flow of information about state and local government that is vital to the public in a democracy." The award is intended to honor individuals – living or dead – whose lifetime commitment to citizen access, open government and freedom of information has left a significant legacy at the state and local level.
When Mr. Sonntag announced his intention to retire, it was a sad day for the state.
To review history and a record of his achievements, here's what I wrote here on this portal:
No Lame Duck, Washington Official Enhances Economic Public Policy
Oct. 20, 2011  
Like all inspiring great leaders, he and his staff are tenacious in delivering value for all of Washington. Who? State Auditor Brian Sonntag.
Mr. Sonntag is a favorite on this portal, a sagacious Democratic, who has consistently delivered value to state residents, and has always been available to answer questions. Admittedly, I was a bit melancholy about Mr. Sonntag's announced retirement in 2012.
He has served constituents well, particularly, with his agency's performance audits and initiatives in improving state-government performance.
And to the end, he continues to do what's best for the state. He's working to enhance entrepreneurship, which will help put the state on sound economic footing.
Another favorite entity is Washington Policy Center (WPC). The think tank also provides noteworthy analysis and timely updates.
A blog by Jason Mercier is how I learned Mr. Sonntag has been focusing on business regulations to enhance Washington's economic environment for the creation of jobs. 
Mr. Mercier cites a salient assessment of the state's regulatory processes in the state auditor's March 2011 report.
A few highlights:
The complexity of Washington State's regulatory system creates costs for governments and businesses alike. Not only are there many regulations, but many requirements change every year or two based on new legislation or state agency amendments to existing rules. The Office of the Code Reviser reports that in 2009 alone, state agencies proposed more than 14,000 pages of new or revised rules. 
Many regulatory costs to business are fixed, with larger firms able to spread those costs over a greater number of employees, meaning that small businesses bear a disproportionate part of the regulatory burden. A 2007 Department of Revenue study on the business survival rate in Washington found that 'taxes and costs of complying with government regulations are factors that contribute to business failure because most small businesses are not profitable in the early years.' (BSSUG, 2007
This is a noteworthy conclusion:
Improving the effectiveness of Washington's regulatory regime through streamlining, clear rule writing, reducing the administrative burden, and other innovations will benefit businesses, state government and taxpayers in general. Clear, fair and efficient regulations will keep Washington competitive in the global economy."
In his blog, Mr. Mercier indicates we can look forward to five Sonntag performance audits:
Agency efforts to streamline their administrative rules
Agency permit process time
State regulations in excess of federal regulations and the value added for the extra regulation
Agency inspection process and coordination amongst agency inspections
Effectiveness and opportunities for improvement for the 

state's one-stop portal for business regulations

.
As a result of WPC's September 2011, the Legislature is getting feedback from small business (What Do Small Business Owners Need from Washington State Policymakers?).
The state's small businesses want the following:
Review environmental regulations to ensure that Washington rules don't exceed federal regulations
Legislature should not grant general rule making authority to agencies, but rather be specific about rules to be put in place
Legislature should listen to and follow up on State Auditor Office reports on regulatory reform (tie)
Sunset provisions for regulations (tie)
So a Biz Coach tip of the hat to Mr. Sonntag and his team, as well as to WPC. It's past time to evolve from an adversarial state government-business relationship to one of effective public policy for economic development.


Frustration is trying to find your glasses without your glasses. 
 __________
Author Terry Corbell has written innumerable online business-enhancement articles, and is a business-performance consultant and profit professional. 

Click here to see his management services

. For a complimentary chat about your business situation or to schedule him as a speaker, consultant or author, please 

contact Terry

.