In order to become credible partners in the C-suite, chief financial officers are under significant pressure to gather and analyze data to minimize expenses and facilitate profits for sustainable growth.
CFOs must ascend – from an operational-support role in financial fundamentals and compliance – to the role of a financial guide and strategic partner in the C-suite. Leveraging big data for strategy is one of eight steps for CFOs to earn CEO trust.
Such a process can be challenging. The sources of big data come from within or outside the company, so it can derive from different channels.
It must include education for the CFO in the investment of time and study with patience, which are necessary in working with data-analytics platforms.
There are no proven lines of attack. However, there are ways for a CFO to develop a vision in order to maximize data-driven opportunities, and to achieve a partnership role in the C-Suite.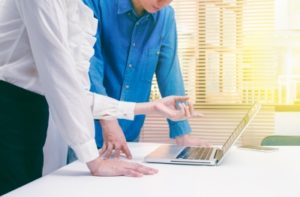 Consider four basic strategies:
1. Identify the objectives for an action plan
The first step should be to incorporate the use of data analytics on a regular basis – collecting and analyzing.
In this way, it's possible to strategically develop short-term and long-term goals accompanied by key performance indicators.
It's important to identify and establish benchmarks to closely monitor trends for success in achieving the objectives.
2. Work in partnership with IT
CFOs must seek input – consult their company's information-technology professionals. IT pros are instrumental in sifting through the data, providing helpful insights and perspectives and drawing conclusions.
Such collaboration will help in data governance to insure accuracy, trust and credibility.
3. Collaborate with the entire organization
It's also critical to get information and input from the employees who figuratively are where the tire meets the road.
"I don't look to jump over seven-foot bars, I look for one-foot bars I can step over."
-Warren Buffet 
Whether such collaboration is or isn't already practiced, this will guarantee data analytics is used regularly in reaching decisions, and will be helpful to evaluate the strengths and weaknesses of the data-gathering process and make any necessary course corrections.
4. Test your data-analytics progress
CFOs must evaluate their progress, which can be accomplished with test projects. Take baby steps.
With input from your teams, initiate a pilot data-analytics project.
This will result in two achievements:
– It will gauge your level of success
– By demonstrating your new capabilities members of your C-suite will have confidence in your future proposals.
Good luck! You'll do a great job.
From the Coach's Corner, here additional CFO strategies:
Issues to Consider Before You Buy Business Analytics — If you're the company's chief information officer screening the sales pitches for business analytics, take a long look and ask the right questions for your company's welfare. You have to collaborate and make the chief financial officer happy.
Financial Management – 6 Keys for Best ROI on IT Projects — In financial planning, there six steps you can take to solve the mystery surrounding information technology projects – how to assess and prioritize for an excellent return on your investment.
Best Practices for CFOs to Stay Current in Technology — Just as every professional knows, CFOs also find it increasingly challenging to stay up-to-date on technology. Up-to-date technology means CFOs can better do their jobs. Here's how.
For Profits, CIOs Must Agree with CEOs on 5 Issues — Despite the increasing importance of information technology, many companies are losing profit potential from a lack of productive discussions about achieving strategic goals using technology initiatives.
Strategic Challenges — What's a CFO to Do about Sustainable Growth? — Sustainable growth ranks as global companies' No. 1 strategic challenge, and chief financial officers will be playing a major role, says a study.
"I don't look to jump over seven-foot bars, I look for one-foot bars I can step over."
–Warren Buffet 
__________
Author Terry Corbell has written innumerable online business-enhancement articles, and is a business-performance consultant and profit professional. Click here to see his management services. For a complimentary chat about your business situation or to schedule him as a speaker, consultant or author, please

contact Terry

.




Photo courtesy jk1991 at www.freedigitalphotos.net


Do you enjoy business jargon? Do your eyes glaze over when you hear terms such as visionary, think outside the box, paradigm shift, pre revenue, enterprise, and big data?
Don't know about you, but trite terms in business – so-called buzz words – are annoying. And when you've been around a long time, the number of buzz words is quite long. It only adds to the agitation.
My personal pet peeve is the term, big data. Like many words in business jargon, it's become meaningless.
But as shown in the following video, water researchers successfully use big data in a collaboration with IBM.
Based on the most-popular Biz Coach timeless articles since 2009 and the myriad of issues that cause CEOs to sleep at night, it's worth noting top-performing companies have six significant ways to make use of analytics.
They include:
1. Management and human resources – Analytics in human resources are becoming more and more paramount. Professionals in human resources could use more respect in the C-suite.
To silence critics and to garner praise for helping their companies to profits, obviously, it's in the best interest of HR professionals  to focus on self improvement and growing with the times.
From recruiting the right profile of employees to employee engagement, HR professionals enhance business profits by using the strategies and metrics.
2. Decision-making in finance and marketing  – Improvements in technology and the forces created by the new economy in which business profits are more difficult to attain, analytics are increasingly important.
Gone are the days are manually dealing with figures on the balance sheet. Businesses have to be alert to monitor their tax liabilities. They're learning to creatively manage cash flow and learning ways to increase their pricing power.
It's no longer possible to run a simple radio or TV campaign and expect strong results. The marketplace is more dynamic and competitive, and there are so many options to attract customers. There are critical essentials to develop the best marketing formula.
3. Efficiencies in operations and supply chains – Companies have to develop operations checklists and new systems whether it's for managing inventory costs or using lean principles.
Whether fears arise from the prospect of tornadoes to regional politics, companies are increasingly using analytics to determine how to protect supply chains.
4. Enhancing customer experiences – Businesses want to improve. Many know they're losing more profits than they know because they inconvenience customers. Such negative customer perceptions result in lost opportunities in revenue growth, tarnished branding and smaller profit margins.
They're constantly struggling to learn why they're high maintenance to customers. This entails learning to improve customer-service processes to focus more on customer needs.
5. Innovation and new products – Businesses learn opportunities for growth by studying customer behavior. To achieve lofty goals, certainly innovation is the key in our new economy. To become a top innovator, it's an inside job.  To participate in turbo-charging the economy, it's vital to continually evaluate your organization and strategize for success.
In essence, it also means capitalizing on business intelligence.
6. Company value vs. technology threats – Corporate executives see new strategic risks as a result of technological changes — from big data and cloud computing to social media. Their strategic-management focus has evolved with technology.
So executives are learning to target the five technology threats to company value.
From the Coach's Corner, here are related articles:
Risk Management – Making Best Decisions, Using Right Tactics — To prevent a crisis from interfering with the continuity of your business, you must strategically plan to manage any potential risks. That means avoiding the classic mistakes routinely made by companies, and making the right decisions for proactive measures to minimize any dangers.
Internet Shoppers Demand 3 Cs – Customer Experience Study — Success in e-commerce is increasingly challenging for retailers that want to dominate in brand preference, customer loyalty and word-of-mouth advertising. That's because consumers want more and more in the three Cs — channels, choices and convenience.
Why Your Customers Stay or Leave – Insights from Study — Despite all the emphasis on speed in customer service, it's not the salient factor in keeping customers happy. A study confirms that the power of emotion is most important, according to a published report.
8 Top Entrepreneurs Share How They Get Ideas — How can you get inspiration for outstanding business ideas? Not sure? Well, eight top innovators — alumni from the Stanford Graduate School of Business — have their favorite techniques. In the post, 8 Different Ways to Get Great Ideas, they share how they achieve creativity.
"In God we trust. All others must bring data."
-W. Edwards Deming
 __________
Author Terry Corbell has written innumerable online business-enhancement articles, and is a business-performance consultant and profit professional. Click here to see his management services. For a complimentary chat about your business situation or to schedule him as a speaker, consultant or author, please contact Terry.