Many California business women in corporate leadership positions certainly know how to make money.
Among the state's top 400 public companies, 44 businesses have women as executives and board members.
Thirty-four or 75 percent of the women-led businesses earn three times more revenue and 50 percent more profit than companies with less diversified leadership, according to a 2013 UC Davis study.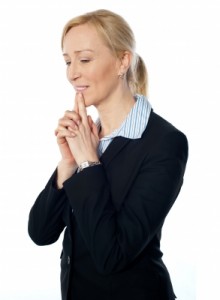 Women only hold 10.9 percent of such positions in California's top companies.
But the UC Davis Graduate School of Management study reports progress.
The number of women is increasing.
"Having more women involved at the highest levels of California's large public companies may improve their performance," says Steven C. Currall, dean of the management school.
"Much more needs to be done to diversify the top management of public corporations, so let's take this bit of momentum — this incremental progress — and build on it," he adds.
A lot of money is at stake. In the aggregate, there's more than $3.4 trillion in shareholder value.

Key findings:
— Fewer companies are without women — the number of companies that have no women executives and no women board members has dropped to 107, or a little more than 25 percent. This figure is a new low.
— All 12 of the public Fortune 100 companies in California have at least one woman director on their board.
Two of the top 25 companies in the study, SciClone Pharmaceuticals Inc. and Williams-Sonoma Inc., have a majority of highest-paid executive positions, three of five, held by women.
— Although a majority of the 400 largest public companies in the state still have no women among their highest-paid executives, more women than ever before are filling these ranks, from 8.9 percent last year to 10.5 percent this year.
Women chief financial officers are increasing, while the number of women serving as chief executive officers is holding steady at 13, or 3.3 percent.
— Among counties with at least 20 companies, San Francisco County has the most women board directors (17.3 percent), and Alameda County has the fewest (9 percent).
San Mateo County has the most highest-paid women executives (15.4 percent), and Orange County has the fewest (8.1 percent).
The study was based on market capitalization data.
From the Coach's Corner, recommended career strategies: 
Best Practices for New Women Entrepreneurs to Stay Focused — The keys for business women are to plan well, create the right balance, persevere and have the right support system. It isn't commonly known, but women entrepreneurs inherently have stronger skills than men in key areas. 
How Women Can Enhance Their Careers via Group Decision-Making — In group decision-making, women often participate 75 percent less than their proportional representation when they're outnumbered in gender, according to a study. It found that "having a seat at the table is very different than having a voice."
7 Tips for a Young Professional to Become a CEO — For a professional to jump to the senior-management level in the 21st century, it's imperative to demonstrate seven core competencies. 
Career Strategies: How to Get a C-Level Job — If you're climbing the corporate ladder and have designs on a C-level job, a noted Stanford University professor has some excellent advice. 
Why Women Receive Less Angel Funding Than Men — It's well-known that women receive less angel funding than men, but it isn't because of a male-oriented bias.
"A woman is like a tea bag — you can't tell how strong she is until you put her in hot water." 
-Eleanor Roosevelt                                                 
__________
Author Terry Corbell has written innumerable online business-enhancement articles, and is a business-performance consultant and profit professional. 

Click here to see his management services

. For a complimentary chat about your business situation or to schedule him as a speaker, consultant or author, please 

contact Terry

.




Photo courtesy of stockimages at www.freedigitalphotos.net