Sailing is a great metaphor for business. Why? For entrepreneurial success, there are profound similarities between sailboat racing and operating a business.
Cunning and skill are paramount to succeed in business and sailboat racing. An applicable salient concept in sailing for entrepreneurs is course correcting.
A sailboat captain won't win a race by ignoring ever-changing wind conditions. That's doubly true when a sailboat is caught in high winds.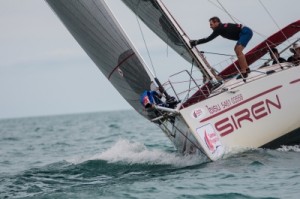 A good sailboat captain watches the water's currents, the clouds and wind directions.
Sailboat owners know that wind conditions can change suddenly and dramatically.
When conditions change, a savvy captain will react accordingly.
Usually, it means tacking to change the position of the sails.
And it means risk-taking.
So, sailing is a great metaphor for business. Entrepreneurs, of course, face turbulence, too.
Among the reasons companies need a course correction are the root causes of cost overruns and failures.
Management is mostly to blame because most change-management programs crash and burn. Why?
It's up to management to hire the right people, and to invest in the right tools while inspiring employees to accept and drive change.
So, the right strategies are needed to make change-management programs work.
Not to mince words – to be blunt – you risk failure if you stay on course without anticipating and dealing with tumult in business.
You're inundated with risks. Don't let fear consume you. Listen, watch and think. True, few businesspeople deal with risk right the first time.
For the rest of us, it's often important to risk and tolerate failure. Failure can be humbling, but it can lead to wisdom.
If you don't change course in the face of adversity, it means you're not keeping an open mind.
Unless you see things differently with objectivity, problems start when you fail to keep an open mind. The best way to keep an open mind is to regularly use the Principle of Contrary Action.
In all things, keep a mental record of how do you do things personally and in business. Then, do things differently each time – whether it's the route you take to a grocery store or in driving to see a client.
Why? Many companies are stuck – they're drowning in the sea of mundaneness. That's especially true when they don't differentiate in marketing, sales and customer service. Then, they don't make course corrections.
They're so busy looking over their shoulders worrying about cash flow and competition, they end up looking and sounding like their competitors when they should be employing new approaches.
Again, it starts by keeping an open mind.
"Nothing comes sailing by itself."

-Alexander Dale Oen
As in sailing, you must be agile in this dizzying fast pace of business to sustain your growth. While you're plodding along, competitors emerge every day. Technology and consumer attitudes are forever changing.
You must change, too.
Many people believe the purpose of a business plan is try to raise capital via angel investors or venture capitalists, or to borrow money from a bank. Actually, there are many reasons to write a business plan and to fine-tune it.
The trick is to know your strengths and weaknesses, fine-tune your strategy, and act with boldness to overcome obstacles. Hence, course correcting.
Even while coping with failures and seemingly overwhelming odds, it's not the end of the race. You always have options in the wide-open sea of business – whether you need to create a new product or target a new audience.
Two tips to quickly make a course correction:
1. Keep studying your problems thoroughly
Practice continuous monitoring. You need to assess the issues, the risks, the cost-effective benefits of strategy, and your ability to act for a return on your investment.
2. Don't get paralysis from analysis
While you're studying problems and deciding what to do about them, be alert to the need for the timing in your execution of strategy.
Timing is important so you don't risk losing your relevance in the perceptions of your customers. Don't miss opportunities by being too reluctant to act.
A successful course correction means evolves from a keen sense of your challenges and in your timing, and to act with vigor.
From the Coach's Corner, here are related articles:
8 Change Management Tips for an Unpredictable Marketplace — For a business to win in an unpredictable marketplace, there are eight change-management strategies to implement. Among the key concepts to remember: Double-down on effective management.
Successful Entrepreneurs Smile from 20 Practices — Successful business owners smile because they are different. They take positive approaches that help them emotionally, physically and financially.
10 Best Practices for Entrepreneurial Success — For top financial performance and the creation of jobs, there are 10 best practices for entrepreneurs. They range from innovation to monitoring your marketplace.
11 Management Strategies for a Successful Turnaround — When it comes to management strategies for a successful turnaround, a quote by financial-world wizard Warren Buffett is apropos. "Risk comes from not knowing what you're doing," Mr. Buffett said. My response: "Touché." It's all about capital mobility created by effective management.
6 Rules to Keep Your Pipeline Full for Continuous Sales — It doesn't matter what type of business you have. Even if your sales are great today, there will come a time when sales will crawl to a halt unless you take precautionary measures to keep your sales pipeline full.
Leadership Tips for Executing Strategy to Defeat Threats — Multiple solutions might work to triumph over a threat, but a global study in 20 sectors in 20 countries shows execution trumps strategy. Here's how leaders execute strategy.
"Nothing comes sailing by itself."
-Alexander Dale Oen
__________
Author Terry Corbell has written innumerable online business-enhancement articles, and is a business-performance consultant and profit professional. Click here to see his management services. For a complimentary chat about your business situation or to schedule him as a speaker, consultant or author, please

contact Terry

.
Photo courtesy arztsamui at www.freedigitalphotos.net


If your business is performing in a mediocre fashion, chances are your company needs an overhaul. A culture change, if you will. For a positive case study in change-management, Ford Motor Company qualifies.
Game-changing requires an assertive, strong administrator, especially because all such organizations go through humbling experiences. Strong visionaries know how to profit from ego-destroying events and plan for victory.
First, let's consider one of the salient Ford headlines, such as: "Ford Makes Comeback From the Brink to Billion-Dollar Profit."
Actually, Ford's fortunes began to improve when it looked outside the carmaker for solutions to its challenges. The automaker recruited Alan R. Mulally from Boeing.
The irony is that Mr. Mulally had his own ups and downs, of sorts. He had been bypassed twice by Boeing for the CEO's job. But he was able to put his full talents to work at Ford. 
By the time he retired from Ford, Mr. Mulally had notably installed a competitive, sustainable business model. He simplified production processes. Managers, in effect, were told to change their perspective on change. He inspired a positive balance sheet by taking strategic steps on Ford's cash flow. 
Unlike Chrysler and General Motors, he didn't seek a government bailout. This meant Ford was able to focus on being proactive, for example, development of new vehicles – cars consumers would buy. Ford would not be hamstrung by bailout cash-flow constraints. Chrysler and GM became beholden to the government – bureaucrats called the shots. Ford didn't have to resort to discounting and incentives to attract car buyers.
Ford's brand image skyrocketed as Chrysler and GM suffered from poor images – they were only able to survive with the help of bailouts and bankruptcies.
In other words, Ford's success was summed up by this headline: "Ford Says Culture Change Has Led to Success."
Culture change is not easy to achieve. Six steps are necessary to attain a cultural change for profits. 
It's not just a matter of knowing the automotive business. Many businesspeople make a big mistake — they only consider hiring people from their industries without regard for all the necessary skill sets. Mr. Mulally didn't have automotive experience, but his management and manufacturing skills were transferrable from the aircraft industry. Simply put, solid business principles are applicable in all industries.
Qualities to win
From Ford's success, here are seven basic ingredients for a business game-changer:
1. Management
True leaders are strong, knowledgeable, and manage risks. They oversee all fundamentals but delegate – finance, marketing, operations, product management and customer service. Executives must also have a team spirit – an environment of collaboration.
2. Vision
Top managers possess skills in analyzing their strengths, weaknesses, opportunities and threats in strategic planning. They avoid complacency and must continually fine-tune the company when appropriate. That means habitually practicing the Principle of Contrary Action, which is a process of learning how to keep an open mind.
3. Focus
Managers must outline their master plan, stay focused and inspire the staff – the frontline responders to the marketplace – where the proverbial tire meets the road. Nothing great has ever been accomplished without enthusiasm and passion.
4. Best Practices
Senior management must inspire best practices for quality in all areas. Creating value is job one.
5. Mobility and flexibility
The 21st century marketplace requires quickness and mobility. This also means empowering all workers in decision-making and in being proactive.
6. Listening skills
Effective managers are approachable. In a proverbial sense, they walk the floor twice a day to interface with their employees. They hire managers and staff members who, too, are effective in listening skills. That's the first step for a motivated staff and creating profits. Without even looking at financials, an astute outside participant will always be able to ascertain the success potential of a company merely by watching the interactions between management and staff.
7. Communication
Good, open communication is required internally with the team members and with the customers and marketplace. In this way, you'll take great steps in inspiring loyalty from customers.
From the Coach's Corner, suggested related topics:
18 Leadership Strategies to Earn Employee Respect — Eighteen strategies to profit from good labor relations, and to leverage the perspective of employees – your company's human capital.
20 Tell-Tale Signs You're Underperforming as a Manager — Managers can often struggle whether they're new or experienced. Poor management, of course, leads to poor performance. As red flags, underperforming managers share one of two common traits with ineffective employees. Such managers aren't fully aware of their shortcomings. Even if they are aware of deficiencies, they're afraid to admit it.
Leadership, HR, Marketing Lessons from HP's Executive Turmoil — It's been quite the roller coaster ride for Hewlett-Packard. Its shares have rebounded significantly — nearly tripled since November 2012. The rebound was helped by landing a $3.5 billion contract to operate the communication system for the U.S. Navy.
10 Steps to Manage Conflict for High Performance — For progress, a business needs human interaction for ideas and innovation. Sometimes, argument, debate and conflict prove to be productive catalysts for high performance. But such catalysts can be obstacles to success, too. Here are the simplest ways to manage conflict.
"In preparing for battle I have always found that plans are useless, but planning is indispensable."
-Dwight D. Eisenhower 
 __________
Author Terry Corbell has written innumerable online business-enhancement articles, and is also a business-performance consultant and profit professional.

Click here to see his management services

. For a complimentary chat about your business situation or to schedule him as a speaker, consultant or author, please

contact Terry

.