Not much good results from a major earthquake. The only possible benefit occurs when an earthquake unleashes groundwater in drought-stricken regions.
Major earthquakes can ignite fires and gas explosions, damage buildings and kill thousands of people.
An earthquake is not a once-in-a-lifetime event. In preparing to write this article, I searched Bing News for the term, earthquake. There were 2.8 million search results.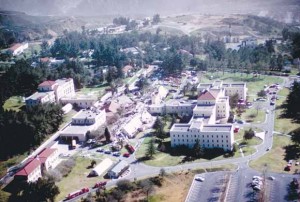 Four buildings at the Veterans Administration Hospital collapsed in the 1971 Sylmar earthquake.

In my first earthquake experience, I was in southern California 75 miles from the epicenter of the 1971 Sylmar killer quake at 6:01 a.m. on Feb. 1, 1971. It was 6.6 in magnitude.
As a young radio newscaster, I was in the studio delivering my regular 6 a.m. newscast when the big plate glass window — separating the disc jockey from me — began violently shaking. It seemed to go on for a minute.
Vividly, I recall adlibbing the words: "Ladies and gentlemen, it would appear we're in the middle of an earthquake. Stay tuned to KDUO News for further details."
Later, I would report nearly 60 people died, most were hospital patients, and there was $553 million in damage. Less than 10 percent of the damage was insured. Aftershocks continued for weeks afterward.
For me, it was an early warning history will repeat itself.
The U.S. Geological Survey forecasts a 46-percent probability of a 7.5 magnitude earthquake by 2044 in southern California. But there are countless reports of earthquakes around the world.
So my sense is that all businesses should prepare for such seismic events.
Here are six basic recommended steps:
1. Gather information
Communication is paramount. Have and share contact information for everyone connected with your company. Understand that voice traffic  in disasters like earthquakes will clog mobile phone carriers so be prepared to text people, not telephone them.
For up-to-date information during an earthquake, use the U.S. Geological Survey's Web site.
2. Stay protected
Prepare to be self-sufficient for several days. Stock up on first aid supplies, water and food for the worst-case scenarios.
Train your staff on the dos and don'ts of earthquake preparedness. Identify the safe areas in your business where employees can congregate. Earthquake-proof your building so that heavy equipment doesn't fall on your workers.
3. Earthquake insurance
Unless you can self-insure against earthquakes, you might want to consider earthquake insurance. While it's true premiums are expensive, you'd be able to recoup your losses and continue to operate as a business.
As in all valuable papers, store multiple copies of your policy, contact info for your insurance company and comprehensive documentation of your assets in secure locations. Pictures are good. Beware of any timeline requirements and follow the right protocol to file an insurance claim.
4. Supply chain precautions
Consider the importance of your supply chain for your company's future. You should identify and list your primary and backup suppliers and follow other best-practices to protect your supply chain.
5. Contingency plan for human resources
In the event of an earthquake, be aware that members of your team might not be able to report for work. Key employees and managers should have telecommuting abilities.
They should also be able to interface with employees and exchange them if you have multiple locations.
6. Protect your revenue stream – clients
For easy access, store emergency contact info for your anchor clients and prospects. Once the emergency is over and you've handled salient priorities, contact your clients. They'll appreciate the red carpet service.
From the Coach's Corner, here are more disaster-related tips:
19 Tips to Protect Your Core Assets from a Disaster — Hurricane Katrina put us on notice how important disaster planning is. Is your business ready? Biz Coach Terry Corbell provides a 19-point business continuity plan.
Risk Management – Making Best Decisions, Using Right Tactics — To prevent a crisis from interfering with the continuity of your business, you must strategically plan to manage any potential risks. That means avoiding the classic mistakes routinely made by companies, and making the right decisions for proactive measures to minimize any dangers.
Planning an Event? Here are 25 Emergency Preparedness Tips — In order to successfully plan major events, it's a great idea to consider taking 25 precautions, courtesy of Robert Grossman of Focus Creative Group, a communications consulting and development company.
5 Data Recovery Planning Tips for Computer Failures — Just a generation ago, risk management was a lot less complicated. Many businesses didn't have to worry about hardware or software failures. Everything was processed manually. But in this digital age, business is severely disrupted if your system crashes and you haven't backed up your information.
Public Relations Expert Provides Crisis Management Tips — Appearances count. But universities, presidential candidates and businesses have all demonstrated a lack of awareness about good public relations.
"Playing polo is like trying to play golf during an earthquake."
-Sylvester Stallone
__________
Author Terry Corbell has written innumerable online business-enhancement articles, and is a business-performance consultant and profit professional. Click here to see his management services. For a complimentary chat about your business situation or to schedule him as a speaker, consultant or author, please 

contact Terry

. 


Disasters can be devastating to a business. From hurricanes to fires — they can kill a business and workers, and cost jobs.
Disasters have put us on notice how important it is to plan and recover from disasters.
Texas officials have effusively praised the Trump Administration for its relief efforts in the wake of Hurricane Harvey.
But have the nation's businesses capitalized on such lessons? Consider the devastation from Hurricane Katrina.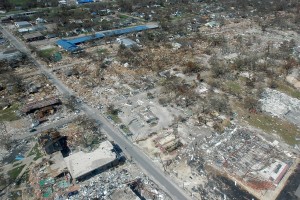 At wind speeds as high as 127 miles per hour, Katrina ripped into the U.S. Gulf Coast on Aug. 29, 2005.
The storm's accompanying floodwaters overwhelmed the levees and flooded 80 percent of New Orleans.
Thousands of schools, businesses and homes were devastated.
More than 1,000 people died.
Life in New Orleans was thoroughly disrupted for businesses and families, alike.
Finally, there was good news for New Orleans school kids: School construction flourished. A public charter school, Langston Hughes Elementary, enrolled its first 400 students.
But it took four years to rebuild the first New Orleans school destroyed by Hurricane Katrina, and another four years to rebuild 22 other schools.
Commerce was severely affected in the aftermath of Katrina. So let's learn from this. Point fingers of blame if you must at local, state or federal governments. Yes, early rescue efforts in the Gulf Coast appeared to be a disaster themselves.
A disaster plan must take into account several un-forecast factors. For example, seemingly lost in all the finger-pointing were questions regarding why at least a third of the first-responders walked off the job. Plus, strategic flood control plans were apparently made in 2001 to protect New Orleans, but were never implemented because they were grossly under-funded, according to a press account.
Four years before Katrina, Sen. Mary L. Landrieu (D-La.) and flood control officials apparently requested about $500 million while Congress only appropriated $250 million.
It took a week after the disaster before the local and federal governments formally announced a plan to work together.
So apparently bureaucracy and politics played a role. Because of the federal tax cuts early in the decade, which I've supported, it might be tempting to cut government some slack in the wake of Katrina. That is, if it weren't for the chronic pork-spending that results in certain members of Congress getting re-elected and the nation's budget mired deeper in red ink.
Typical management mistakes
Many of the bureaucratic actions and statements after Katrina are reminiscent of five typical excuses managers make when they fail to protect their business assets:
Denying that a business-tsunami could occur
Delay or reluctance to plan for disaster
Failure to conduct a SWOT analysis (strengths, weaknesses, opportunities and threats)
Inability to spot warning flags
Insufficient plans
But companies from Lockheed to Marriott International reportedly had a difficult time contacting and helping homeless and hungry Gulf Coast employees in the disaster's aftermath.
Data recovery was also problematic. Hewlett Packard disaster recovery spokesperson Belinda Wilson said her company served banks, chemical companies, government agencies, health care firms, and manufacturers. She was quoted as saying many were prepared for such a disaster but she was aware that many more weren't.
That patterns the findings of a post-Katrina AT&T survey of 1,200 businesses in which 33 percent admitted they didn't have a business continuity plan. Of those with a disaster strategy, 17 percent had never been tested.
Such devastation threatens a company's three core assets: Finances, reputation, and people.
Katrina certainly highlighted the need for effective communication and strategies for catastrophes. Just as victims in New Orleans expected police officers to stay on the job in the face of natural disasters, companies and management are expected to provide an effective response for employees, their family members, customers, and suppliers.
Many regions of the U.S. can face similar disasters, such as fires, flooding, snowstorms, power outages, and earthquakes.
Four basic precautions
Make sure your business is prepared to provide the following:
Immediate help and safety measures
Information
Compassion
Return to normality
Where do you start in a business continuity plan? Your employees. Remember, aside from innovation and profitability, companies are revered when their employees are respected as paramount.
You are only as strong as your team of employees. And guess what? In an emergency, employees will worry first about their families, homes and pets. As you would expect in the aftermath of Katrina, it is worth noting that none of the interviewed victims worried out loud about her or his employer.
This also means even if you have the best continuity plan, you might not have anyone around to implement it.
Don't forget your customer relationships. Make certain your employees are empathetic to traumatized customers.
19 tips to protect core assets
Depending on the severity of your emergency and the size of your business, here are 19 minimal steps to follow in order to protect your relationships and human capital:
Obtain appropriate insurance to benefit your relationships.
Determine the employees on whom you will depend to carry out a continuity plan. Consider possible incentives for them to show up and follow through in disaster.
Maintain a detailed and distant offsite contact list of your workers.
Make certain your plan includes room and board for your key employees.
Establish policies for paying anticipated employee costs in implementing the plan.
In your offsite location, store all maps and details.
Determine what other measures are needed if authorities prohibit you from entering your business.
Consider the need for counseling of your workers or other extraordinary measures to get people on their feet.
Practice implementing the plan; some firms do each quarter.
Educate employees regarding the plan and each person's role. Make certain your employees are good representatives of your company in an emergency, if they suddenly become extemporaneous spokespersons on TV news programs.
Network or share facilities with other firms your size for economies of scale.
Safeguard your payroll system to be online within two weeks.
Have a password-protected non-exempt section on your Web site and make allowances for employee questions and daily e-mail update.
For managers, have a password-protected section allowing for questions and daily update.
Develop key crisis-communication messages for managers to share with their employees.
Don't forget messages to include all stakeholders, such as the media, customers, partners, and government.
Make certain your messages are accurate, but withhold necessary confidential information and explain why you must do so.
Be empathetic in style and tone with employees and their family members.
Encourage your employees to have a disaster plan for their families and to have an out-of-state contact person.
In addition, here are tips for filing an insurance claim.
From the Coach's Corner, here's more on crisis management and public relations:
There are times to put a spin on events and there are times not to do so. Remember, if you are in a negative situation, do not try to put a positive spin on it when it's unwarranted. The truth works.
And if you're asked a question, do not try to dodge it. Answer reporters' questions. Most journalists will cut you some slack and allow you time to add salient information, if you're honest and dedicated in your approach with them.

See this topic,

"

Public Relations Expert Provides Crisis Management Tips

."
"I always tried to turn every disaster into an opportunity."
-John D. Rockefeller
__________
Author Terry Corbell has written innumerable online business-enhancement articles, and is a business-performance consultant and profit professional. 

Click here to see his management services

. For a complimentary chat about your business situation or to schedule him as a speaker, consultant or author, please

contact Terry

.