Washington state's Central Puget Sound Regional Transit Authority – better known as Sound Transit – is anything but sound in fiscal terms. Formed in Seattle's go-go public-construction fever-years by the King, Pierce and Snohomish county councils in 1996, it made unfulfilled promises.
Operating commuter and light rail express bus services, it continually wants to expand. But it's at the expense of short voter memories.
Why was Sound Transit possible?
Let's revisit the giddy year of 1995 in Seattle. Seattle's pro teams played in the Kingdome.
In football, the Seahawks, eager to return to winning seasons in the National Football League, hired Dennis Erickson as coach. Coach Erickson had a stellar college background. In six years, he led the Miami Hurricane to a 63-9 record and two national championships.
In his first eight games in Seattle, the Seahawks went 6-2. The rabid Seahawk fans had reason to hope.
In major league baseball, the Mariners finished the season at 79-66, and then tied the California Angels for first place in the American League West. In an emotional one-game tie-breaker, the Mariners clobbered the Angels, 9-1.
Despite losing the first two games in the next  playoff series with the New York  Yankees, the  Mariners won the series on Edgar Martinez'  double driving home Ken Griffey, Jr. for the  winning run in the 11th  inning of the deciding  game.
Seattle fans got baseball fever, even  though the team lost to the Cleveland Indians  in the American League  Championship Series. Pitcher Randy Johnson was later named  winner of the  prestigious Cy Young Award.
The Seattle Supersonics finished their National Basketball Association season with a whopping 57-25 record. But they lost in the  first round of the playoffs to the Los Angeles Lakers.
Community spirit was sky-high – largely from  the success of Seattle's pro teams.
The Mariners, Seahawks and their fans began to lobby for new stadiums. The Washington State Legislature soon went into special session and came up with a public funding package. The plan was to build what was to become Safeco Field near the Kingdome.
Later, CenturyLink Field was built for football.
The multi-purpose Kingdome was operated by King County, which was demolished in 2000 to make way for the football stadium. But as with the typical inefficiency in any government project, the bond issues to build and repair the Kingdome weren't scheduled to be paid off until 2016.
1996 Sound Move Plan
To capitalize during this period of euphoria, the public sector's Sound Transit announced its strategy for a ballot measure, Sound Move plan, it's "Ten-Year Regional Transit System Plan." For riders, the promised the system would provide 107,000 trips per weekday by 2010.
But it every year it missed the mark. In 2013, Sound Transit missed its ridership goal by 70 percent.
"Sound Transit officials recently said their agency's June 2013 ridership figures averaged 32,000 weekday boardings," blogged Bob Pishue, director of the Washington Policy Center (WPC) for Transportation. "They were quick to tout this as a 14% increase over June 2012, but conveniently ignored the fact their ridership is far below what they promised voters when the program began."
WPC (www.washingtonpolicy.org) provides a terrific service and is self-described as an "independent, non-partisan think tank promoting sound public policy based on free-market solutions." Often, it does a better of reporting and analyzing important events and trends in Washington than the news media.
"Sound Transit head Joni Earl proudly highlights June 11 as a banner day, with 38,000 boardings, however on that day a Mariner game and a World Cup qualifier soccer match were both being played in SODO, so it wasn't a typical day," Mr. Pishue added.
"Understandably, Sound Transit officials are putting the best face possible on their low ridership numbers, but a more accurate picture comes from looking at what they promised the public in the first place," he observed.
"Clearly facing failure by 2006, Sound Transit said they would serve only 35,821 trips per weekday, a 66% cut," he added. "In 2009, Sound Transit backed away further on their ridership promise, down to 29,467 per weekday, a 72% cut from their original commitment."
Taxpayers were originally promised a great plan and paid billions for it.
Worse, public funds continue to bail out Sound Transit. It's past time for voters to get their money's worth.
From the Coach's Corner, here are more informative WPC analyses:
Washington Taxpayers Lose Economic Freedoms under Ruling Class, Inslee – Washington state's ruling class was at it again in March 2013. After less than four months in office, Gov. Jay Inslee has already violated a major campaign promise he made on taxes to get elected in 2012.
Why Health-Insurance Rates Increasing and Policyholders Losing Coverage in WA – Two promises of ObamaCare are proving to be false in Washington state, says leading think tank.    Hundreds of thousands of Washington state residents – individual policyholders and small group insurance members – are learning two promises of ObamaCare are false.
Do Entrepreneurs Really Feel it's National Small Business Week? – The 5oth anniversary of anything is big deal. That would normally be the case for entrepreneurs – the country's leading job creators – in the current National Small Business Week (June 17 to 21, 2013). But governments' lip service to small business is underwhelming.
"The government solution to a problem is usually as bad as the problem."

-Milton Friedman
__________
Author Terry Corbell has written innumerable online business-enhancement articles, and is a business-performance consultant and profit professional.

 

Click here to see his management services

. For a complimentary chat about your business situation or to schedule him as a speaker, consultant or author, please 

contact Terry

.


Increased costs weigh heavily on the bottom line. If you're being pressured by costs, it's probably time to review your pricing strategy. 
You're not alone. No business is immune from rising costs in fuel; rent or real estate; labor; health insurance and ObamaCare; marketing; and equipment.
Lest not you forget all the taxes. Yes, it's tough managing your business finances.
Capital expenses, such as equipment, are a bit easier to control if you shop around and stay flexible on whether to buy new or used.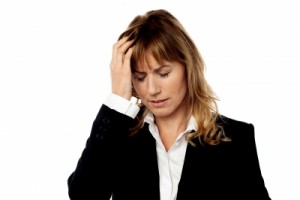 To save on fixed expenses, it would be time-consuming to relocate even if you can identify a cheaper alternative.
Your variable expenses vary depending on your business activity, and your consumption of products and services.
Where to go slow
Where I advise you to go slow is deciding whether to cut employees and marketing. They're usually critical assets.
So, if you've cut all you can and profits need to be stronger, consider your pricing structure to stay ahead of your rising expenses. Besides it results in better PR and customer loyalty if you stay current and avoid steep increases all at once.
You can recover your expenses with a flexible pricing strategy. Review it often and be ready to adjust it. Besides, you can take price increases more easily if your pricing strategy is creative – such as bundling your products.
Manage the sweet spot
How can you manage the sweet spot – between your price-optimization and costs? The No. 1 pricing mistake made by companies: They base their prices on their costs, not their customers' perceptions of value.
For stronger profits avoid this mistake and 10 other typical pricing mistakes.
You must also communicate increases with your customers. For example, headlines were made in June 2013 when Starbucks announced it was forced to raise prices even though its coffee bean costs had decreased. Starbucks was responding to its other cost increases.
Consider four strategies:
1. Again, be aware of your costs but relate them to higher value
This is where maintaining your marketing helps tremendously. A favorable image of your company makes it possible to raise prices. So avoid strictly using a cost-plus margin because you'll have less flexibility when you need to raise prices. Meantime, focus on energizing your customer-loyalty program.
2. Monitor your situation to raise prices as soon as necessary
Watch your key indicators that affect your margins whether they are fuel, health insurance or your suppliers. When your costs increase, inform your customers and reinforce your marketing so your customers are accepting. If you're on a tight budget, use the 10 best marketing tips for growth.
3. Continue to maintain your marketing
Your customers will respond favorably, if you enhance your branding. Quality branding improves the value perceptions of your customers. But stay away – far away from those daily deal coupon sites. You will not make any profits.
For better strategies, see countless marketing and sales tips here. 
4. Be astute in your market segments
Customers of some products will accept higher prices, if their perceptions of your value are positive. Customers of other products won't accept higher prices. Learn which strategies will work for you. Meantime, avoid the 11 typical pricing mistakes that are mentioned in this case study.
From the Coach's Corner, for more comprehensive strategies, see:
8 Strategies When Sales Drop and Costs Cut into Your Profits — If your sales are down and costs are hurting your profits, you're certainly not alone. This is still not a good economy for many sectors. The irony is you can do something about it
4 Strategies if You Fear Missing Year-End Forecasts — Are you sweating over cash flow? Are you losing sleep over the prospect of missing your annual goals? Well, if so, certainly you're not alone. Many business owners and executives have suffered from the same anxiety. But fear can be a great motivator for success.
Need PR, But No Budget? Here's How to Leverage News Media — Social media is OK for promotion. But if you need blockbuster publicity, use best practices in marketing. Play a trump card — leverage the news media for public relations.
"Pricing is actually a pretty simple and straight forward thing. Customers will not pay literally a penny more than the true value of the product."

-Ron Johnson
__________
Author Terry Corbell has written innumerable online business-enhancement articles, and is a business-performance consultant and profit professional. 

Click here to see his management services

. For a complimentary chat about your business situation or to schedule him as a speaker, consultant or author, please 

contact Terry

.
Photo courtesy of stockimages at www.freedigitalphotos.net


ObamaCare is still one of the biggest financial headaches suffered by businesspeople. But there's more bad news for business.
Now, a book indicts the Food and Drug Administration (FDA) for massive problems that annually lead to the deaths of nearly a quarter of a million Americans and cost an unnecessary $200 billion+ in healthcare expenses.
The book is entitled, "AMERICAN GUINEA PIG: Everything That's Wrong with the FDA and How to Avoid Becoming One of Its Victims." Author Terence Mix is a noted Santa Barbara, Calif. attorney.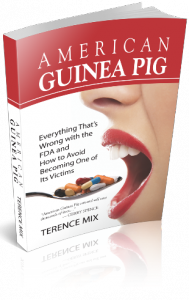 "Every year about 230,000 Americans die as a result of an adverse reaction to one or more prescription and nonprescription drugs," he writes." In five years they kill in excess of one million Americans."
Mr. Mix adds it is America's third-leading cause of death, "behind only heart disease and cancer."
Another ominous statistic, "…almost half – 105,000 – are taking the drug exactly as specified by the pharmaceutical company that manufactured the drug," he writes.
"It has been calculated that the total annual health care costs as a consequence of adverse drug reactions equals $177.4 billion," he asserts. "And that was in 2000 prices. The current number easily exceeds a staggering $200 billion."
FDA shortcomings
His book spells out numerous problems with the FDA's testing procedures and its drug-monitoring system. The author provides precautions and answers to solve the problems.
Incredibly, Mr. Mix indicates the FDA doesn't even have criteria for safety precautions and what protections are needed.
"In fact, it's a conclusion that was reached by the United States Government Accountability Office (GAO) in March 2006 following a 16-month investigation requested by Congress," he explains.
"Most people seem to think that it is the FDA that either tests or directly oversees the testing of drugs," says Mr. Mix.
"But unfortunately that is not the case," he writes. "It is the drug company that designs the study, hand-picks the doctors participating in it, gathers the records, compiles the data and then spoon-feeds everything to the FDA, including its conclusions about the results."
He uses a metaphor to describe problem.
"Along with the fox-guarding-the-henhouse problem," he adds, "the current method of testing drugs is infested with multiple conflicts of interest – and that extends even into the FDA."
Why?
"The drug industry and its regulator are joined at the hip," he says, "and the top brass at the FDA view their association more as a partnership. This is why there is so much foot-dragging when it comes to removing a drug from the market or adding a stronger warning."
Case studies
Mr. Mix's book includes 10 drug case studies from ibuprofen to Cylert.
He says ibuprofen can be dangerous especially if taken with aspirin. He points out Cylert was finally banned in America in 2005 – six years after Canada outlawed it and eight years after Great Britain removed it from the shelves.
The author says he had two objectives in writing his book.
"One of the goals of the book," explains Mr. Mix, "is to wake up Congress and point to changes in the law that could save 100,000 lives and cut $100 billion in healthcare costs. And that's every year," he adds.
Secondly, Mr. Mix says he wants consumers to get the information they need to avoid becoming victims. Indeed, the book lists the essential questions a patient should ask of the doctor and pharmacist.
You can visit the book's Web site here.
My question is why are we paying for this debacle?
From the Coach's Corner, I recommend two other books:
Must Read: 'The Book…on Business from A to Z' — A business book makes a bold promise. It's entitled, "The Book…on Business from A to Z: The 260 Most Important Answers You Need to Know." Is this an accurate title? Yes. It's an authoritative book. 
A Book That Will Improve Your Life, Business and Community — Lovers of knowledge and wisdom periodically get an opportunity to read a book that delivers particularly valuable insights. Such a well-written book is "The Power of Habit: Why We Do What We Do in Life and Business," by Charles Duhigg, who is also a reporter for The New York Times.
"The road to perdition has ever been accompanied by lip service to an ideal."
-Albert Einstein
__________
Author Terry Corbell has written innumerable online business-enhancement articles, and is a business-performance consultant and profit professional.

Click here to see his management services

. For a complimentary chat about your business situation or to schedule him as a speaker, consultant or author, please

contact Terry

.


With proper inventory management, you can lower your expenses and increase your cash flow. For many businesses, it means taking a look at your inventory costs.
When your products aren't selling, obviously, it hurts. Products just lurking and collecting dust in your warehouse are costing you money.
Your investment in such products declines in value. And cash, as they say, is king.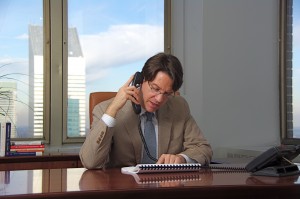 Here's a primer on how to manage your inventory: 
1. Determine your turnover ratio by calculating your inventory turns.
You'll need to know your cost of goods sold (COGS) and your average inventory. COGS are your expenses in manufacturing or selling products.
They are found on your income statement. (Do you need a primer for best practices in preparing financial statements?)
To determine your average inventory – calculate your average inventory by listing the last period's inventory; add the current period's inventory; and divide them by two.
Then, to learn your turnover ratio, divide your COGS by your average inventory for the period in-question.
2. Calculate the number of average days to sell products.
Now that you know how to determine your inventory turn rate, as an example, let's say your turnover ratio is 5. Take the number of days in a year, 365, divided by 5.
This means it takes you 73 days to sell product. Would this be good or bad for your company? Naturally, big ticket items take longer to sell than less-expensive products.
3. Determine your inventory in comparison to current assets.
A dilemma: If most of your assets is part of your inventory and your turn rate is too low, it's not a positive situation. It's probably time to cut prices. Make certain you know what drives your profit.
4. It might be enlightening to compare your data with your sector's norm.
Do your research on your industry norms and key ratios. It helps to join your industry associations for networking.
5. If your ratio is not favorable, take action.
Sell your troublesome inventory by lowering prices. Again, cash is king. But don't make a habit of cutting prices. Being a low-price leader is not a good strategy. 
6. For maximum efficiency, try to focus on "just-in-time" inventory.
It's a strategy to minimize costs in inventory control. The products arrive just before you intend to sell them. This avoids the expense of carrying an unnecessary large inventory.  
Unproductive salespeople often complain about not having enough inventory to sell. Usually, they're not good at selling what's in stock. Be careful about having too much inventory, and consider sales training for them. For the five dos and don'ts in productive selling, see a comprehensive article for profits: How to save on sales opportunity costs. 
If cash flow is problematic, don't use the "just-in-case" inventory strategy. That's a strategy to minimize your chances that you will sell out your products. This, of course, means higher inventory expenses. Most businesses use this strategy when they have difficulty forecasting sales. 
7. Continuously analyze what's productive.
Know your good-selling products. Maintain enough of an inventory for a good image with customers. Strike a balance. In cutting costs, know the nine best practices to avoid making reactionary decisions. 
8. Treat your suppliers like good customers.
Always maintain good relationships with vendors. When using a "just-in-time" system, you never know when you need to increase your inventory. If you're fortunate to have such a demand or opportunity, you'll want the best service and quick delivery of products at the right price. If you have dysfunctional vendors, here's how to get great service from them. 
From the Coach's Corner, here are related profit tips: 
"I don't want to do business with those who don't make a profit, because they can't give the best service."
-Richard Bach 
__________
Author Terry Corbell has written innumerable online business-enhancement articles, and is also a business-performance consultant and profit professional.

Click here to see his management services

. For a complimentary chat about your business situation or to schedule him as a speaker, consultant or author, please

contact Terry

.