For performance-measurement in human-resource administration, it's actually fairly easy to develop performance indicators.
The key, though, is to design measurement systems the right way.
In planning, it's important to drive engagement, productivity and quality.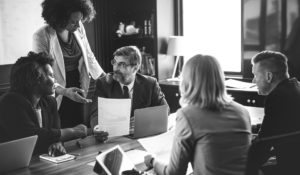 Here are seven steps:
1. Develop an outlook for achievement
Mindset is important. Don't focus on shortcomings of your employees. Focus on their improvement by leveraging their strengths.
Each indicator has to designed in such a way so that it's positively interpreted. By focusing on baby steps for progress, your employees will improve in their performance.
Be sure not to micromanage them. Employees will act timidly and tentatively if they feel you're looking over their shoulder.
You want employees to anticipate each indicator as an opportunity for noteworthy personal and organizational growth.
2. Marshal your key players for each project
Select and gather a small team of employees, including the current folks in the jobs that you need to measure.
Again, you'll need to spin it positively, as a winning venture. Choose one person as the catalyst to manage the process so that it's efficient.
Make sure to solicit ideas from each person. Everyone needs to know they'll be heard. Communicate each course of action externally; outside your crew.
3. Research the subject matter
For a full awareness of what needs to be accomplished, consult each participant in the project to be measured.
In doing so, you'll want to achieve three goals:
— Understand what is being accomplished now.
— Know what the objectives are.
— Determine how suggested improvements will work for the welfare of your organization. This is most salient of these three steps. It helps you determine how to fine-tune the process in your course of action.
Otherwise, why go through this development process, if you don't take precautions to insure measurement success?
Each indicator has to designed in such a way so that it's positively interpreted.
4. Choose what you want measured
Pick a few salient outputs of each function to be gauged. As you're just starting out, don't make the process too complex for your team members to assimilate.
At a later date, you can select the less-complex outcomes for measurement. This might be a marathon, so be patient until you complete the process for all measurements.
5. Define what you want to measure
Be careful and diligent in developing measurements. Anticipate how your units will be measured and when you've accomplished your tasks, how they'll be documented and what to do about any unanswered issues.
You'll need documentation for referencing later.
6. Make certain the system can be coordinated
Ascertain the methods needed to denote your data so they can be reported. Don't take shortcuts in determining the steps for your process and how much time will be needed to invest in it.
Be diligent in corresponding your data for your reporting, the time to accomplish it, and the useful significance of your reports.
Accumulate your data on a regular basis.
7. Market your plan
Your employees need to know the importance of your plan. Thoroughly engage them. Explain the who, what, when, where and how of the process. That entails in-person discussions and written strategies.
Change often frightens people who aren't accustomed to the process. The more then know, the better their response. You want them to fully appreciate the opportunity for growth and to take part.
From the Coach's Corner, more related insights:
Profit Drivers – How and Why to Partner with Your Employees — If you want maximum profit, consider partnering with your employees. Here's expert advice from leading financial consultant Roni Fischer.
With Employees' Help, 3 Strategies to Succeed with Your Strategic Plan — Have you developed your strategy? It's important to proceed without engaging in self doubt. But you're concerned about involving your employees? There are three closely related basics in working with your employees to get the job done.
To Realize Your Business Vision, 8 Best Practices for Setting Goals — Whatever your situation, to realize your vision, focusing on the right details is a skill conducive for strategically setting goals. Here are eight best practices.
Competitive Intelligence Author Shares Her Insights — Even before the Great Recession, businesses had headaches in reducing risks. What's a tool to reduce risk and make profits? Competitive intelligence.
Finance Checklist for Strategic Planning, Growth — Strategic planning in finance for growth means avoiding trendy fads. Instead, it requires an ongoing down-to-earth approach in order to create value. Here are seven steps.
"There is at least one point in the history of any company when you have to change dramatically to rise to the next level of performance. Miss that moment – and you start to decline."
-Andy Grove
__________
Author Terry Corbell has written innumerable online business-enhancement articles, and is a business-performance consultant and profit professional. Click here to see his management services. For a complimentary chat about your business situation or to schedule him as a speaker, consultant or author, please contact Terry. 


Almost two-thirds of CEOs don't receive executive coaching or leadership development counsel — even though they admit it'd be a good idea if they did.
That's according to a 2013 study.
It was conducted by the Center for Leadership Development and Research at Stanford Graduate School of Business, Stanford University's Rock Center for Corporate Governance, and The Miles Group.
"What's interesting is that nearly 100 percent of CEOs in the survey responded that they actually enjoy the process of receiving coaching and leadership advice, so there is real opportunity for companies to fill in that gap," saysStanford Professor David F. Larcker, who led the research.
"Given how vitally important it is for the CEO to be getting the best possible counsel, independent of their board, in order to maintain the health of the corporation, it's concerning that so many of them are 'going it alone,'" says Stephen Miles, CEO of The Miles Group.
"Even the best-of-the-best CEOs have their blind spots and can dramatically improve their performance with an outside perspective weighing in," adds Mr. Miles.
More than 200 CEOS, board directors and senior managers at North American public and private companies were surveyed.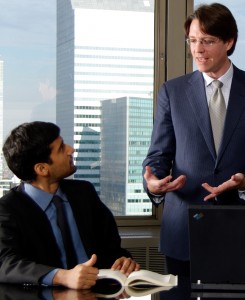 Study's key findings:
— Nearly 66 percent don't receive coaching or leadership advice from outside participants.
— Fully 100 percent said they're open to such coaching.
— Almost 80 percent of directors believe their CEOS would like coaching.
— Among CEOs receiving such input, 78 percent said it was their idea, and 21 percent said the board chairman made the suggestion.
— Over 60 percent of CEOs said the status of their coaching is treated confidentially and about 33 percent said the status is given to the board.
— Managing conflict skills is ranked the No. concern by 43 percent of the CEOs.
— Board members said they want their CEOs to receive "mentoring skills/developing internal talent" and "sharing leadership/delegation skills."
— The CEOs' preference for coaching: sharing leadership/delegation, conflict management, team building, and mentoring.
— CEOs disdain sharing leadership/delegation, conflict management, team building, and mentoring.
Solutions
Being a CEO means facing loneliness at the top. CEOS must be discrete and have few people in whom to confide.
My sense is that many of the surveyed CEOs are uncomfortable with exploring their self-awareness, a prerequisite for true leadership.
Until CEOs better understand their personal capacities, they won't be able to fully understand, manage and inspire their personnel.
So coaching would help CEOs become better leaders.
The solution: An approach that's reminiscent of a personal SWOT (strengths, weaknesses, opportunities and threats) analysis.
CEOs would benefit from the following approach:
1. Evaluate your career and personal events
Examine what and when were the pivotal points in your career and personal life. List your attitude, behavior and values.
Assess the return on your investment in energy. List the benefits and the negative outcomes.
2. Conduct an inventory of your strengths and weaknesses
Create two vertical columns on sheets of paper. On the left, list your strengths. On the other, list your weaknesses.
A strength is often a weakness and vice versa. It's up to you to determine the difference. If you're too aggressive at times as a weakness, when is it possible to describe it as being assertive as a strength?
An example:
If in a meeting I were to pound my fist on the table to make a point that would be aggressive. But if I were to give some thought and think about how to give a persuasive response — not a reaction — then I would  be assertive.
3. Use the inventory to develop goals
This is the simplest part. List goals to fill those gaps — your weaknesses — that hold you back from optimal leadership.
Create a timeline for action and how you'll get to where to need to go for success.
When you succeed, implement this training process for your employees. You'll be very pleased with the strong results.
From the Coach's Corner, here are related resources:
Thought Leadership — Why Companies Hire Management Consultants — Companies want knowledge. A good idea can be worth $1 million and more. That's why companies hire thought leaders. It's also why you see many consultants position themselves as thought leaders and give away free information in how-to articles or studies, which lead to books, seminars and being quoted in the media.
Leadership: How Leaders Employ 11 Strengths to Grow Businesses — Ascension to the C-suite doesn't automatically qualify an executive as a leader. Leaders have 11 strengths that enable them to manage their companies for greater effectiveness and elasticity despite a fast-changing marketplace. Having positive attributes is synonymous with having skill sets. Strong attributes are certainly helpful. But more importantly, possessing qualities or strengths connotes having values.
Management — 4 Mindsets for Leadership in Performance Reviews — Are you nervous at the thought of giving employee-performance reviews? You're not alone. Your employees aren't exactly thrilled, either. Typically, employees aren't convinced they can get valid feedback. If they've experienced poor managers, they likely dread the performance-review process or are skeptical of the outcome.
Why Not to Expect Miraculous Leadership from Narcissistic CEOs — "Do you believe in miracles? Yes!" -Al Michaels, sportscaster  That's the line sportscaster Mr. Michaels made famous on Feb. 22, 1980 in "The Miracle on Ice," a famous hockey game in the Olympic Winter Games.
18 Leadership Strategies to Earn Employee Respect — Eighteen strategies to profit from good labor relations, and to leverage the perspective of employees – your company's human capital.
If your actions inspire others to dream more, learn more, do more and become more, you are a leader.
-John Quincy Adams
__________
Author Terry Corbell has written innumerable online business-enhancement articles, and is a business-performance consultant and profit professional. 

Click here to see his management services

. For a complimentary chat about your business situation or to schedule him as a speaker, consultant or author, please

 

contact Terry

.


We can agree the software industry has undergone dynamic changes as it continues to modernize. That's true, too, as the industry stakeholders form alliances and partnerships. The focus is on tailoring software for the end-user or customer.
Tech companies, like firms in other industries, constantly develop new products and must continually improve the product or service utility of existing products. They must satiate customers, who routinely what to know: "What will this product do for me?" 
Indeed, we've enjoyed more technological advances in the last 30 years than any other time in history.
We've all noticed these trends:
Research
Software will continue to be valuable in research. For instance, IBM's big data and analytics software helps scientists research the environment.
This video explains:
Automation
Businesspeople can easier analyze and operate for better operations and innovation.
Cloud computing
Outsourcing saves companies time and money while providing a service. Plus, the maintenance responsibility belongs to vendors.
However, there are risks to businesses if they don't pick the best cloud storage provider.
Mobile app
Mobility is a by-product of technological development. Smart phones, tablets and notebooks for business and consumers have provided flexibility, which now commonplace and expected.
Modernization and saving costs
Because licensed applications are expensive to purchase and upgrade, business is increasingly using open-source. 
Plus, CEOS and CFOs have long complained about the need for IT professionalism and understanding about finance. Indeed, two studies indicate need for IT pros to get businesslike. (If you want to learn to speak the language of senior management, there are countless tips on this portal in the Finance category.)
It's also why CFOs are still calling the shots in IT decisions.
Security
With the huge increase  in cybercrime, security is very important.
Social media
Companies have found it to be essential for their marketing mix.
Virtualization
It allows maximum flexibility because businesspeople and their employees can work offsite.
These are my thoughts about software technology trends. I'm not a futurist.
But I do know this: Look for increasing developments in security, mobility, speed and accuracy.
From the Coach's Corner, here are additional resources:
How Mobile Strategies Are Most Effective with Cross-Channel Marketing — Businesses are increasingly using mobile apps to sell products, but the most successful know how best. They use cross-channel marketing tools.
Strategies to Create the Best Possible Mobile Apps — Consumer and enterprise penchants for mobile technology have skyrocketed but we've only scratched the surface in developing quality, application solutions. Mobile apps are expected to support initiatives for a company's return on investment. That includes competitiveness in the marketplace; efficiency; enterprise and consumer relationships; and revenue – better yet, profits would be more ideal.
Tech Planning: What If There's Another Downturn? — Technology-research firm Gartner recommends in a study that chief information officers should get ready for another downturn. That requires planning.
Tech Trends: CFO's the Boss, IT Departments Are Disappearing — Two developments are clearly underway in information technology. Increasingly, the chief financial officer is in charge and IT departments are shrinking in size. Here's why.
Why CFOs Are Still Calling the Shots in IT Decisions — The top IT decision-maker for many companies is not the chief information officer. The chief financial officer is increasingly calling the shots for IT. The CFO is becoming the top technology decision maker in around half of businesses
People who do the world's real work don't usually wear ties.
 __________
Author Terry Corbell has written innumerable online business-enhancement articles, and is a business-performance consultant and profit professional.

Click here to see his management services

. For a complimentary chat about your business situation or to schedule him as a speaker, consultant or author, please

contact Terry

.