In this frenetic marketplace, creating a lasting impression on your prospects and clients – so they become loyal as repeat buyers – your approach should include seven tactics.
You don't have to take drastic steps to captivate your audience.
It might seem challenging to create a memorable impression, but the trick is simply not to take shortcuts.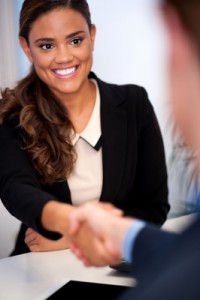 Here are seven tactics:
1. Create an instant favorable impression
Remember you must consistently wear a "uniform." You only have a split second to create a favorable lasting impression. Always be consistent.
If you want someone's money, and to earn lot of it, you have to show you're worth it. So if you want a CEO's business, you must demonstrate you're a peer. That means the stereotypical dressing for success; in particular for relationships with high net worth prospects.
From casually dressed CEOs, you're likely to get instant feedback. Many small business owners will mention you're dressed better than they are, but they will always appreciate your professional appearance.
When casually dressed clients questioned my habit of wearing dark suits, I merely replied it was my uniform to keep me on my toes to create high performance for them.
After all, that's why they hired me; some have been for 15+ continuous years. Why? Intuitive clients know that you're treating them as an important event.
Even if you're not selling at the senior-executive level, a professional appearance is still the ticket to success.
A little quirkiness might help. In today's increasingly casual society, a dark wool suit with a white shirt and silk tie qualifies in order for you to stand out and in some circles is considered to be quirky.
Years ago, as a young manager I worked with an intriguing woman who was very successful in sales. Her initial trademark was a stylish hat with her professional dress. It would still work today.
2. Be a catalyst for positive emotional responses
Every buying decision is based on emotions. For many clients, it means making them feel special.
"I've learned that people will forget what you said, people will forget what you did, but people will never forget how you made them feel," wrote author and poet Maya Angelou.
In addition, smile and be open to opportunities to make people laugh. Especially, compliment their business or employees.
3. Show a personal interest
After your opening value-proposition, the best way is to start a conversation is to ask pertinent, open-ended questions.
People don't care what you have to say until they have their say. So be an engaged listener with good eye contact, which promotes trust. Effective listening skills will improve your relationships and business performance.
What counts in communication? Listening skills for discernment and trust. Discerning people are the most successful and listening skills are important for discernment. That goes for athletes and management, alike.
Avoid marginalizing your client and the employees.
In conversations, don't make the mistake of being preoccupied – trying to think of what to say next in the break of the discussion – only to jump in with a remark. Be attentive, periodically nodding yes, so that the person feels important and validated.
The most talkative people are often the most annoying.
4. Be authentic
Be blunt and honest, and perhaps controversial – with a caveat. A word of caution – be honest without being insulting or sarcastic. The Greek word for sarcasm, sarcazo, literally means to tear flesh.
5. Be somewhat unusual
For instance, when you're asked "how are you?", reply with self-effacing humor.
If someone compliments you on your branding or publicity, reply with something like "Yes, that's just my shameless self promotion."
6. Watch your posture
People notice confident posture and body language. Not only will you look great and avoid a sore back, you'll be memorable.
Act like a confident, top-shelf entertainer. Always look up, not down.
7. If you make a mistake, flaunt it.
Show you're human. Don't be afraid to be vulnerable.
In my consulting practice, I've made two seemingly crucial mistakes – in both cases, I forgot to do something I promised. In two critical situations, I promised additional training sessions at no charge but simply forgot about them because I failed to write them on my calendar.
So, in one case I showed up voicing an apology with pecan pies with paper plates, napkins and forks for each employee. I served each of them. The client laughed hysterically in appreciation because I demonstrated my humanness.
In another, I walked into my client's business and walked the length of a huge lobby dusting imaginary food off my tie. My CEO client spotted me and asked: "Corbell, what the hell are you doing?"
My response: "I've been eating crow. I'm sorry for missing the meeting."
Again, my client laughed heartedly and replied: "You eat crow better than anyone I've ever met." (A client of nearly 20 years.)
From the Coach's Corner, here is additional relevant reading:
The 7 Steps to Higher Sales — Secrets for sales success – seven steps to higher sales, five value perceptions that motivate customers to buy, and the three-step process for overcoming sales objections.
Tips for Building Long-Term Client Relationships with Effective Meetings — Signs you have good client relationships: They'll thank you regularly, pay your invoices promptly, and will respond well to your recommendations. If you don't have all three of these, here's what to do.
Consultants – 5 Strategies to Build Trust with Clients — The five strategies that enhance relationships between consultants and clients.
Profits: Size Doesn't Matter but Image, Professionalism Count — Appearances and professionalism can make your small business seem huge. If you look as though you're substantial and that you can handle anything thrown your way – your odds for success improve dramatically. That's especially true in this economy. Clients and customers will often prefer dealing with you as a small firm – if the job doesn't appear too big for you to handle. So it's best to look the part.
Ad Agencies Seeking New Clients — How to Create a Marriage — Many ad agency ideas are worth millions, but agencies are taken for granted by prospective clients. Here are the solutions.
The most talkative people are often the most annoying.
 __________
Author Terry Corbell has written innumerable online business-enhancement articles, and is a business-performance consultant and profit professional. Click here to see his management services. For a complimentary chat about your business situation or to schedule him as a speaker, consultant or author, please

contact Terry

.




Photo courtesy stockimages at www.freedigitalphotos.net


As a millennial, whether you hope to be promoted to be management or already have the job, a new business card and title are reasons to celebrate.
Surely you want to get off to a good start and keep up the productive momentum.
But it can be tough to manage baby boomers. Not because they're difficult workers.
Your learning has just begun. Remember a lot of baby boomers know they have more experience than you; perhaps even in management. Maybe even in your job.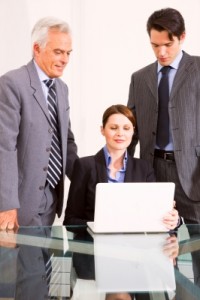 Managing employees much older than you requires earning respect, and getting strong results and performances.
This necessitates learning and using the best management techniques. That includes using EI – emotional intelligence.
EI is important for communication and leadership. A person who has EI is able to evaluate, understand, and control emotions.
You must use six tactics:
1. Listen with empathy
For a seasoned worker, there's nothing more annoying than to work for a know-it-all millennial manager. Show respect.
Know how and when to listen and understand how to communicate with people twice your age. That doesn't mean being a milquetoast or being cowardly. It means being assertive, not aggressive.
For example, don't be surprised if an older worker interrupts you and says: "That's not how we've always done it." True, that's an irritating statement.
However, being assertive means you respond – not react. Respond with something like, "I understand how you feel."
Listen, acknowledge the person's feelings, but respectfully state what you want done without micromanaging.
On the other hand, by not reacting in a knee-jerk fashion to a problem, you've bought some time you might need. Think about what you're about to say or do.
It's entirely possible the person has already dealt successfully with the problem. Consider the possibility that the person has valuable know-how and experience before you respond.
Finally, solicit ideas and feedback. You'll be perceived as intelligent and open-minded.
2. Evaluate and fine-tune your approach
You're different. As a product of the digital revolution, you're accustomed to instant communication with fast answers.
Compared to older workers, you want to be totally involved. They are accustomed to being told their tasks and they go about their work. They also know the value of slower motion.
Savvy baby boomers don't use slang or what they consider crude speaking. They don't appreciate immature speaking habits. Before you speak, know what you need to say respectfully in clear, complete sentences.
Baby boomers want staff meetings that address principles and concepts – not minutiae or drowning or being smothered by weeds. Keep your meetings short and to-the-point, and allow time for concerns or questions.
Remember whatever you know, you have a limited experience in communication.
3. Don't take anything for granted
Your skill sets as a young employee needed to be upgraded if you're to be a successful manager.
Firstly, consider your experience when you were managed by previous bosses. Some were good. Some were bad. Emulate the styles of your good bosses.
Secondly, read good management books. If your company underwrites management training programs, capitalize on them.
In other words, do your homework. Don't assume you've arrived. Keep learning.
Managing employees much older than you requires earning respect, and getting strong results and performances.
4. Solicit a mentor
Look for an inspiring person who has achieved what you want – management success.
There are two sources of mentors:
— It's best to choose someone outside your organization who is knowledgeable and whom you can trust to keep your conversations confidential. Ask around, read the news, join associations, check your college alumni association and do volunteer work.
As the Buddhist Proverb goes, "When the student is ready, the teacher will appear."
— On the other hand, seek the guidance of someone in your company until you find the person with the broadest experience on the outside.
Be prepared to reciprocate. Sometimes a mentor will need help perhaps in social media or technology. But be delicate in your offer to help. A mentor often doesn't expect anything in return.
5. Build a team
Walk the floor twice a day. Approach each employee. Ask questions about their hobbies or weekends.
Solicit information that will help the organization. Listen to what matters to them whether its professional or personal.
Spend time with your employees outside work, such as encourage the starting of a softball game or league, schedule picnics and lunches. Your options are many – whatever works for enhancing your team's culture.
For camaraderie, treat each employee as a person – not a number.
6. Don't forget your boss
For maximum trust, regularly communicate with your boss.  If you're like many young professionals, the concept of managing the boss might seem strange.
It's really about maximum communication and earning a deserved reputation of being a strong performer.
Actually, successful management of the boss is beneficial in multiple ways. In a direct sense, you'll get in a position to perform better.
Indirectly, it will foster better teamwork and it will become more plausible for the company to maximize its performance.
To enhance your career development, you need to learn how to manage your boss.
From the Coach's Corner, here are related management tips:
Human Resources: 4 Reasons Why New Managers Fail — Best practices guarantee success for new managers. Not to over-simplify, but there are often four reasons why new managers are unsuccessful – ineffective communication, failure to develop trusting relationships, weak results, and a failure to delegate. As a new manager or small business owner you'll quickly learn that labor costs will amount to 50 percent or more of your expenses.
Management: How Office Sports Pools Risk Legal Snake Pits — Office sports pools can be fun and bring smiles to your company's team members. However, such pools don't always boost office morale. There are five ways they can also lead you into legal snake pits.
Management — 4 Mindsets for Leadership in Performance Reviews — Are you nervous at the thought of giving employee-performance reviews? You're not alone. Your employees aren't exactly thrilled, either. Typically, employees aren't convinced they can get valid feedback. If they've experienced poor managers, they likely dread the performance-review process or are skeptical of the outcome.
HR Management – 8 Best Practices in Employee Delegation — Avoid frustration in delegation. Save yourself time and develop your staff for the welfare of your organization. Delegation is a fundamental driver of organizational growth. Managers who are effective in delegation show leadership. They know they'll be more effective in management and that they'll develop their employees.
13 Management Tips to Solve Employee Absenteeism — Absenteeism causes migraines for a lot of bosses. Obviously, your company will make healthier profits, if you don't have an absenteeism problem.
"People don't care how much you know until they know how much you care."
-Theodore Roosevelt
__________
Author Terry Corbell has written innumerable online business-enhancement articles, and is a business-performance consultant and profit professional. Click here to see his management services. For a complimentary chat about your business situation or to schedule him as a speaker, consultant or author, please

contact Terry

.




Photo courtesy of Ambro at www.freedigitalphotos.net