Perhaps you're struggling in a job search. You're ambitious but underemployed, or worse – unemployed.
You're not alone. Millions of professionals are trying to solve similar puzzles.
The good news is that you can rebrand yourself for a rewarding career. That is if you lay a foundation for liftoff with the right tools and fuel to turbo charge your career blastoff.

The Saturn V Rocket launch of December 7, 1972 – NASA

It's important to understand the mindsets of employers. In this improved economy, many companies still have the same dilemma – they're struggling to reinvent themselves to create profits. Of course, the businesses need to plan strategically to build a foundation for their sustainability.
Meantime, executives are picky. They want people who understand and implement their vision for growth. They only want to hire people who will be a good fit in their cultures – employees who will help propel them to become profitable.
Before hiring a person, they look for emotional intelligence. They research an applicant on the Internet. They read blogs and research social media. They require applicants to audition and take tests. You get the idea, right?
All of this means you must be proficient in career guerilla warfare – AKA self promotion – in order to stand out.
Here's how to rebrand you:
1. Make sure you're ready to rebrand.
Lay the proper foundations. Decide on what you want to do in your next career. That requires some thoughtful reflection and footwork – you must plan for your career change.
Concurrently, develop the best-possible elevator pitch and a great resume, and learn land your dream job with style and substance.
2. Develop a reputation as an expert.
Read and study applicable thought leadership. Sign up for white papers, reports, newsletters, and webinars. Stay up-to-date on current events, and read business sections in Sunday newspapers and business-pages about people who earn promotions. Follow successful people in your profession on social media.
Get published as a guest blogger. What's even better, launch a professionally looking blog. It can be done cheaply. With any luck in using the right keywords, employers will find you. If you get an interview, share links to your blog with the interviewer. Blogs can be good platforms to demonstrate expertise, knowledge and organizational skills. In other words, have a presence in the room before an interview.
On media Web sites, comment on articles. E-mail the reporters who have a niche or beat to let them know you're available to provide comments if they write stories in your profession or field. (If you need to review them, see the 25 best practices for better business writing.)
3. Review and enhance your social media.
You should have a professional presence on Google+, Facebook, LinkedIn and Twitter. But be careful what you share.
Employers want to know how you can help them grow and make a dollar. Mention your experience but be forward-looking. Emphasize an image of where you're going – not what you've done. Help readers to visualize what you can become and the results they can expect from your performance.
Maintain a delicate balance: Keep your self-promotion factual but not ostentatious by using trite adjectives, such as calling yourself as an "expert." (As for Twitter, when you're ready, implement the  7 tips to tweet your way to a great new job – seriously.)
4. Find a need to fill.
Know your target audience for your new capabilities. Research prospective employers that will benefit, if they hire you.  Determine their strengths and weaknesses. Know their marketplace. Again, find a need to fill.
As in tip No. 2, try to get published in publications that are probably read by the decision-makers.
5. Start networking.
Take a risk where others can see you. Go to association, chamber of commerce and LinkedIn meetings. Meet with people. Make friends by listening – make the discussions about them. Offer good ideas. Be part of the solutions. Volunteer to help.
Keep your dignity. Ask for suggestions, but never ask someone to help you find a job.
Note to ambitious young professionals: As a young person studying broadcast journalism in college, I learned an important lesson: Many executives love people who listen, and they love to share their vision and to opine.
How did I learn this? I'd telephone broadcasting executives asking them to meet for their advice on my career studies. Guess what? I got job offers at the end of the meetings.
After graduating, when I was stuck I continued the practice. I'd get great counsel, and sometimes I'd get a job offer on-the-spot.
As for interfacing with others, appearances count. Consider that in 98 percent of all conversations, there are opportunities to say one or more of these three phrases:
Please
Thank you
You're welcome
That goes for everyone — including with the receptionists at prospective employers — thoughtfulness is very important for rebranding.
Conclusion
True, these rebranding steps represent a lot of footwork. But they work and you're worth it. By now, you've concluded that rebranding is a long race – a marathon. So keep it fun and good luck.
Oh, and after you land your dream position, continue to market yourself. This will ensure you don't have to start from scratch in your next job search. It will also help to land promotions.
From the Coach's Corner, more relevant tips:
5 Tips to Shine in Your Online Job Application — To sail through the human resources filtering system, here are five online-application tips.
HR – Interviewers Give Higher Marks to Applicants Interviewed Early in the Day — Study has implications for HR professionals and job hunters, alike   Interviewers often mistakenly give higher ratings to job job seekers – whom they interview early in the day – at the expense of other applicants. That's one of the conclusions from research of 10 years of data from more than 9,000 MBA interviews.
Career Strategies: How to Get a C-Level Job — If you're climbing the corporate ladder and have designs on a C-level job, a noted Stanford University professor has some excellent advice.
I thought I wanted a career, turns out I just wanted pay checks.
__________
Author Terry Corbell has written innumerable online business-enhancement articles, and is a business-performance consultant and profit professional.

Click here to see his management services

. For a complimentary chat about your business situation or to schedule him as a speaker, consultant or author, please

contact Terry

.


If you are unemployed, you are probably feeling desperate. Being out-of-work is one of the top five ego-destroying emotions.
Your lifestyle is threatened. You are reevaluating your spending, where you shop and studiously comparing prices on private-label food products.
But it's time to get and stay busy. Looking for work is a full-time job.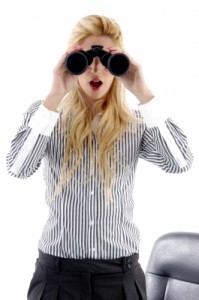 Here are 15 strategies:
1. Lean into your pain from being laid-off or being under-employed. Understand grieving is part of the process for growth and it takes time to heal. The three stages of healing: Shock-denial, anger-depression, and understanding-acceptance.
2. Get out of the house daily. Do your homework and cold call companies to make an appointment where you'd like to work. Continue to exercise and perform community service. All three will increase your morale.
The reward of high morale, alone, is worth it. Again, budget some time for volunteer work — you'll be amazed by the people you'll meet and the opportunities that will unfold. It's guaranteed to make you smile.
3. Assess your strengths and weaknesses. Be sure to analyze your interpersonal skills, too. Employers prefer teamwork and soft skills.
4. Market yourself effectively. By building on your strengths, you will be prepared to tell prospective employers how they will benefit from hiring you. They want to hear how you will save them time and money while helping them to make a dollar. For that you need a great elevator pitch.
5. Polish your resume. Your contact information should be at the top of the page and then followed by a realistic objective, and a summary of why you're qualified. Think like a recruiter – why should someone hire you? Employers want to know your skills, experience, and successes. Mention specific achievements that would be important to your prospective employer. Subdued, easy-to-read font on white or off-white, good quality bond paper is preferable.
6. Hone your career-management skills. Make a list of people to see and include your public officials at all levels. They are great centers of influence and are cognizant about economic-development efforts. Personally visit each office to make an appointment.
One technique that worked very well for me as a young job seeker: Seek the opinion of managers about your career two levels above your skill level. They are not intimidated by great skills and your potential worth to their company. At the end of the appointment, ask for referrals to other executives. But if they hire you, they likely will take you with them up the employment ladder.
7. Be open-minded and consider options, including abroad. If you are mobile, consider working in a foreign country. In this age of globalization, future employers will be impressed that you know how to conduct yourself in a foreign country.
8. Consider a new field. The best available jobs include information technology, medical and even retail sectors. And great employers can never get enough good salespeople. If you need a career change, here are 10 steps for a career makeover.
9. Make it easy to contact you. Be mobile with as much digital capability as you can. While out and about, take advantage of wireless e-mails at coffee houses and libraries, but be security-minded. Don't use a device on WIFI that contains your sensitive personal information. If you can budget it, a broadband device from your cell phone service is best if you expect to send e-mails and resumes. Otherwise, a smartphone is OK in a pinch. Forward calls to your cell phone.
10. Use the Internet. Get online – not to search job boards, but to go on offense. Applying at job boards is probably a waste of time. The competition is too great and it's too easy to be screened out. If you find an ideal job opening and you're required to apply on the company's site, here are five tips to shine in your online job application.
Create an edge by building a Web site, blogging, and leveraging social networks from LinkedIn to Twitter. (Here are seven tips to tweet your way to a great new job.)
11. Consider temporary staffing services or freelancing. Avoid collecting unemployment. Take work either at a temporary service or freelancing gig – you will be better off emotionally. If you perform well, it's probable that one of the companies where you're assigned will hire you away from the staffing company. All the company has to do is pay a "liquidation fee" to the staffing firm.
12. Accept any opportunity until you get the right job. The only exception, of course, is when you're skilled in a high-demand occupation. Look for the positives, and how you can parlay a job into a better situation at your prospective employer. If you're resourceful, you'll attract options you never thought possible.
Remember standing in line at the unemployment office will only put you in a position to network with other unemployed folks. Taking what appears to be only a temporary job enables you to network, build your resume, maintain your work ethic, strengthening your self confidence, and best of all – earning a paycheck.
13. Get a mentor. Find someone who has the success you want for personalized one-on-one strategies.
14. Body language. When you land the big interview, remember the employer thinks you've got the necessary tools. It is your opportunity to assure the company that you will solve its needs and that you'll fit into the culture. You only have a few seconds to make a favorable first impression with a warm voice, direct answers, a smile, and good body language. To err in being too formal is preferred over being too casual. Sit erect, feet on the floor, comfortable hand-placement in your lap, and maintain good eye contact.
15. Attitude of gratitude. The best time to schedule an interview is the first earliest available appointment — preferably right after the company opens for business. Why? Interviewers give higher marks to applicants interviewed early in the day.
When you get an interview, a well-written thank you letter will help you stand out in a crowd. Write anyone who helps you. Mail a thank you letter immediately after each interview so that the employer hears from you the next business day. Mention a specific topic from the interview and include a bonafide compliment for the company. Reiterate the benefits of hiring you. Thank the interviewer for her or his consideration. Prevent buyer's remorse by reassuring the reader you will provide the necessary results the company expects.
If you have not heard from the employer, it is businesslike to make a follow-up telephone call in five business days. Your odds will be enhanced once the company has had five positive contacts or interactions with you.
Conclusion
Being unemployed is not easy, but as long as you make an effort to stay productive and keep open to new opportunities, you will be fine – you might even come out stronger.
The moral: Layoffs are really stepping stones as opportunities for personal and professional growth.
From the Coach's Corner, to improve your selling ability to employers, here's related reading:
"Fall seven times, stand up eight."
-Japanese Proverb
 __________
Author Terry Corbell has written innumerable online business-enhancement articles, and is a business-performance consultant and profit professional. Click here to see his management services. For a complimentary chat about your business situation or to schedule him as a speaker, consultant or author, please contact Terry.
Photo courtesy of imagerymajestic at www.freedigitalphotos.net