Question: Which sports star has created the most-positive buzz on social media since 2011?
(Some hints: He was an outstanding college football star, played with success briefly in the NFL, but teams won't hire him. Instead, he's worked for ESPN as an analyst for the SEC Network.)
Answer: Tim Tebow.
With more than 3.6 million highly devoted Twitter followers, he's a great case study in creating buzz. That's ironic since he's no longer in sports. He does great deeds through his charitable foundation, timtebowfoundation.org.
Think back to 2010 and the furor over the CBS decision to allow a certain commercial in its 2010 Super Bowl broadcast. The commercial featured then-college football star Tebow and his mother for an organization called the Focus on the Family in an anti-abortion appeal.
                          Tim Tebow as a Denver Bronco

Mr. Tebow's awards included the Heisman Trophy, the Maxwell Award as the nation's top football player, the Davey O'Brien Award as the best quarterback in the U.S., and the James E. Sullivan Award as the nation's most outstanding amateur athlete in any sport.
But many advertising professionals questioned the feasibility of giving him endorsement opportunities.
In response to an article at AdAge.com about whether such an endorsement would hurt Mr. Tebow's potential for getting future endorsements as a pro, I wrote:
"…it will largely depend on his success on and off the field. The Tiger Woods' situation has created a void in this sector. If he stays true to his values in words, deeds and play on the field, he'll be in demand.
Perhaps relatively few in the abortion-rights groups are likely to watch football or buy products preferred by fans. But religious conservatives usually do.
Identify with a winner
More importantly, most people identify with a winner. And Mr. Tebow was the architect of a half-dozen 4th-quarter victories for the Denver Broncos guiding them unexpectedly to the playoffs in 2011. But he was deemed expendable when the Broncos signed Peyton Manning, and it wasn't a right situation for him for either the New York Jets or the New England Patriots.
Mr. Tebow is ostensibly a very special young man in that he knows he is and for what he stands – and a great football player with a winning smile. In the main, core values and acting with conviction are what ultimately matter to mainstream Americans."
A Tebow testimonial might not work for you. It's important to pick the right people to be your centers of influence to create an online buzz.
OK, so you don't own a large company and can't afford to pay a pro football star to record videos to endorse your products. So what can you do?
Two adages
Two adages come to mind.
Firstly, start with a famous quote by the nation's 26th president, Theodore Roosevelt:  "Do what you can, with what you have, where you are."
In other words, focus on making the most of your assets.
Secondly, there's another old saying I learned from a family friend and employer, Andy Andrews, as a kid growing up in Palm Springs. He hired me as a bus boy at the Palm Springs Tennis Club.  He also used to treat us to tickets to spring training games to watch the then-California Angels.
In one game, I was stunned to see Willie Mays drop three fly balls in the high desert sky – meaning it was very bright sunshine and hard to spot fly balls. It was quite an event for me as an impressionable young man because the centerfielder was at his peak. Baseball fans continually argued whether he was as good or better than Mickey Mantle.
And I couldn't wait to tell friends at school about I saw. That was probably buzz the Say-Hey kid could do without. During the excitement, Mr. Andrews said to me: "It isn't what you know that counts, it's who you know."
For generating business, it was an admonition I never forgot. Sports figures have traditionally been in demand as spokespersons. And we certainly know Mr. Tebow, who creates more buzz than any other sports star.
Options
So what if you don't know a Tim Tebow to provide the most influence for you? Who can be a candidate to be your advocate for creating buzz in a word-of-mouth campaign?
In keeping with President Roosevelt's advice look for a popular but respected blogger to be your advocate.
If you have salespeople, consider what Best Buy pioneered in doing. The chain encourages its customer service people to blog about products after trying them out. You can do this in your company by providing incentives, such as a 15 percent discount on products.
Also, look for prominent people in your community to provide testimonials. You'd be surprised if you just approach them and ask.
Loyal customers often will gladly provide word-of-mouth testimonials.
On your Web site you can enable social networking platforms.
Oh, and remember the Federal Trade Commission requirement for bloggers to disclose whether they've received an financial benefit for their blogs.
This is not a substitute for paid marketing but it's a valuable, inexpensive option to create buzz.
From the Coach's Corner, here are more tips:
UCLA Psychologists Tell What Triggers People to Share on Social Media — Buzz. Marketers, senior managers, business owners, and consultants crave it for revenue. Career-minded individuals engaged in self-promotion also want it. Another term for buzz is the "salesperson effect." For the first time, we learn how ideas are spread, what messages go viral on social media, and how to predict it. 
A Lesson in Great E-mail Marketing Using Social Media, Videos — Dog lovers would love a promotion by Orvis. Actually, you don't have to own a dog to appreciate the digital marketing by the firm. Orvis is a nationwide high-end purveyor of men's and women's clothing, products for the home and travel, and of course you can buy gifts for your dog. 
8 Tips to Optimize Sales with Social Media, But Beware of a Red Flag — How and why social media should be part of your marketing and human-resources recruiting mix. Here are eight tips, but they come with a caveat.   It's time-consuming, but social media should be part of your marketing and human-resources recruiting mix. 
How to Best Profit: Word-of-Mouth Advertising, Customer Service –To increase your sales revenue with word-of-mouth advertising, here are 10 tips.
"While it may be true that the best advertising is word-of-mouth, never lose sight of the fact it also can be the worst advertising."

-Jef I. Richards
__________
Author Terry Corbell has written innumerable online business-enhancement articles, and is a business-performance consultant and profit professional. 

Click here to see his management services

. For a complimentary chat about your business situation or to schedule him as a speaker, consultant or author, please 

contact Terry

.



When was the last time you explored options for improving your word-of-mouth opportunities? Here's a hint: Customer service is the No. 1 key to good word-of-mouth advertising and repeat business.
My firm's research shows that consumers usually respond favorably to marketing after receiving five positive messages. Conversely, they will divorce your company if they have five or fewer unfavorable experiences.
So we're talking about performance and delivery. If your company fails to meet a customer's expectations, it's important to respond instantly with empathy and problem-solving skills.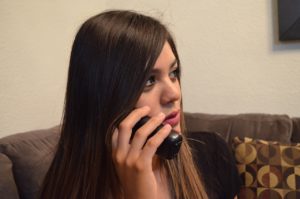 If customer-retention is an issue, it's worth noting why: Customers start patronizing your competitors 70 percent of the time because they feel taken for granted. Most won't warn you.
And if customers feel your service is horrible, they'll vehemently complain and tell acquaintances about their unhappiness for years.
You might recall how Verizon learned a lesson in understanding customers from customer criticism on social media.
In the eyes of many consumers, customer service has developed a split personality. A boss is usually adamant about customer service being paramount. But the employees don't seem to get the message.
It appears companies place too much importance on sales as a profit center while treating customer service as a cost center.
Naturally, it's important to look at business processes and understand the emerging dynamic in consumerism. Thanks to the Internet, consumers are in charge. They can easily obtain competing information about products and services, and they blog about their experiences.
Your employees need to realize that consumers are serious about demanding service. Only then, will you be ready to develop and implement customer-service strategies for higher profits.
For your business to stand out to earn more word-of-mouth opportunies, here are ten reminders:
1. First impressions
Value perceptions about your customer service start within seconds of the first contact. In order of priority: Consumers psychologically evaluate your company by the quality of your people, your company image, product or service utility, convenience factors and price.
Last impressions count, too.
2. Dialogue techniques
Develop unique, value-selling propositions. You'll want to establish a dialogue, but never start by asking a closed-ended question, such as: "Can I help you?"
Great salespeople know an 80 /20 ratio of listening vs. speaking yields the best results. Use an open-ended question to entice the customer into talking.
When the customer leaves – whether making a purchase or not – it's vital to thank the customer and close with a statement to prevent buyer's remorse.
But never close with this trite, over-used phrase: "Have a nice day." Upon hearing that phrase 15 times a day, I'm tempted to respond: "Thanks, but I've made other plans."
My two questions are:
How boring do you want your company to be in the eyes of your customers?
Why would you want diminish your chances by 50 percent to make a sale?
3. Attitude gratitude and service
Look for opportunities to show a positive attitude. Never end meetings with customers or employees until you consider saying the magic words, "thank you."
In 98 percent of conversations, if you think about it, these events translate into golden opportunities to bond with others. That goes for emails, texting, letters and faxes, too.
4. Centers of Influence
Some customers are Centers of Influence – their emphatic word-of-mouth advertising provides the prospect for a competitive edge. It's then possible to kick sales to the next level with new cross-sell and up-sell opportunities.
5. Event factor 
In the mind of a consumers, even the smallest of purchases represent an event  their lives – sometimes a celebration. That means the bigger the purchase a customer makes, the bigger the event.
So be attentive before, during and after the sale.
6. Surprises
Consumers don't appreciate negative surprises. They expect seamless service. When several steps are needed in the sale process, proactively keep the customer apprised with status reports with e-mails, texting or telephone calls.
7. Commitments
Keep all promises. And you've heard the adage: "Under promise and over deliver."
8. Common courtesies
Never miss an opportunity to say please, thank you, and the person's name. If you're talking to someone older than you, use the person's last name, preceded by Mr., Ms. or Mrs. And in your e-mails and notes, use a 19th century salutation, "Dear…"
Candidly, I make it a practice to use formal greetings the first five times I meet a prospect or customer. I have had multiple clients for many years and I still greet them or refer to them in front of their employees as "Mr." 50 percent of the time.
And guess what, they still appreciate it. It also reminds them how I value them and it is an for me when I interact with them.
9. Referrals
The most-opportune time to ask for referrals is when a customer compliments you or your business.
Never ask: "Can you refer me to anyone?"
Instead, ask an open-ended question, such as: "What are the names of people just like you…?"
Remember good salespersons never let a customer do what the salespersons should be doing – by themselves and for themselves.
10. Complaints
True, customers are not always right. But when they are, many companies forget it costs more to attract new business than it does to keep customers happy. If you get a complaint, the first response should be empathy.
The second response should be appreciation. Encourage your employees to be resourceful in solving the problem. Give them adequate authority to act.
Some calls from unhappy customers shouldn't end with this annoying question: "If there anything else I can help you with?" Besides it's poor grammar.
From the Coach's Corner, here are editor's picks for related strategies:
8 Strategies to Enhance Your Customer Service Image — Poor customer service is a salient reason why consumers aren't loyal to businesses. True, today's consumers are very demanding. It's worth noting they're demanding because they constantly encounter poor customer service.
HR Management: 3 Values to Deliver Top Customer Service — The three values needed to achieve top customer service are easy-to-understand but arduous to achieve. But if your human resources program adopts and implements these values, you'll achieve enviable organizational effectiveness – a high performance culture – for strong revenue.
How Companies Get Creative in Customer Service for Great PR — A very informative blog on Website Magazine highlights five companies that are creative in providing a positive customer experience.
Best Practices to Get Positive Customer Reviews on Amazon — Amazon has become the e-commerce destination where prospective customers can discover and buy anything they want. Here are four best-practices to attract great reviews.
Psychological Pricing Tips to Sell More Products, Services — Depending on your products or services, psychological pricing is based on the idea that certain prices are more appealing. Here are six options.
"It is not the employer who pays the wages. Employers only handle the money. It is the customer who pays the wages."
-Henry Ford
__________
Author Terry Corbell has written innumerable online business-enhancement articles, and is a business-performance consultant and profit professional.

Click here to see his management services

. For a complimentary chat about your business situation or to schedule him as a speaker, consultant or author, please

contact Terry

.