Trade shows are an excellent vehicle to scale your business. If managed correctly, they're cost-effective and provide you valuable face time with a targeted audience.
Additionally, they're great Centers of Influence to connect with suppliers, strategic partners and other sources for referrals.
All of this is true, if you're diligent and avoid wasting money and time.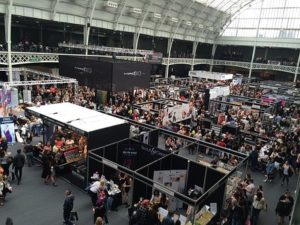 Here are eight strategies:
1. Pick the right venue
Only consider trade shows where your ideal decision-makers are likely to attend. You can make educated decisions with research.
Surf online for shows in your sector. Learn about the bigger expos at Trade Show News Network.
Get your customers' opinions. Look for exhibitor information on brochures and Web sites. Take note of the participants.
Ask trade show organizers for all pertinent details. See if the shows will give you a list of trade show registrants and their e-mail addresses.
2. Implement advance marketing
Your first sales steps should take place before the trade shows. Contact the registrants in advance of the trade show.
Provide your value proposition, your booth location and an incentive to visit you such as a drawing for a nice prize. If possible, schedule meetings.
"The more dependent we become on technology, the more important face-to-face interactions become."

-Marc Pomerleau
3. Have a creative booth
Your signage, branding and products or services should be easily visible for attendees walking in the aisle. You can have a large banner made at your local print shop or office big-box store.
4. Have plenty of handouts
You should be prepared to engage attendees within 30 seconds, as you give your handouts. Attendees appreciate free goodies. Make sure your name, Web site and contact information is on them.
If you anticipate selling at expos, have sales order forms and a credit card reader.
5. Be assertive
Don't wait for trade-show attendees to approach you. Be friendly and greet people who walk by your booth.
6. Have productive dialogues
You'll only have a few seconds to make a favorable first impression. So mention your value proposition in 10 seconds. Ask open-ended questions to get enough information from your prospects.
Don't waste time on people who aren't likely prospects. But be very polite as you end the conversation.
7. Staff your booth correctly
Your staff should be comprised solely with marketing or salespeople. Bring enough staff so you can leave the booth and scope out other booths – your competitors, other products and vendors.
You and your staff should wear the most-comfortable shoes for walking and standing long hours. Eat a good breakfast, drink lots of water, have breath mints and take breaks.
8. Follow up with your prospects
Budget adequate time so you can follow up right away on your leads. A good trade show will provide you with a list of the attendees. Send an e-mail to each person.
From the Coach's Corner, related strategies:
Insights for Exhibiting Success at Trade Shows — Insights include: Attendees at trade shows would rather chat with marketing and sales staff as opposed to managers.
Best 11 Tips for a Super Elevator Pitch — Whether you're looking for a job or more customers for your business, one skill you definitely need is a great elevator pitch. Here are 11 tips.
Sales Strategy When Tempted to Bad Mouth Competitors — Imagine you're making a presentation and you feel pressure to make the sale. Suddenly you're asked about your competition. Bad mouthing competition is not a viable option.
Want More Business? Build Trust with Consumers…Here's How — With consumers trying to cope with information overload – you will increase B2C sales with long-term customer loyalty – if you build trust by using best practices. It may be an obvious approach, but it's confirmed by a study that shows 84 percent of the respondents declared trust must be warranted before they buy.
Strategies, Precautions When Expanding into a New Market — So you see opportunities by expanding into a new market. Whether you're expanding across town or into a different region, there are risks to anticipate in alleviating any uncertainty. Even it doesn't seem risky, due diligence is required and certain precautions are imperative for success.
"The more dependent we become on technology, the more important face-to-face interactions become."
-Marc Pomerleau
__________
Author Terry Corbell has written innumerable online business-enhancement articles, and is a business-performance consultant and profit professional. Click here to see his management services. For a complimentary chat about your business situation or to schedule him as a speaker, consultant or author, please 

contact Terry

.