It's never to early to get ready ASAP for Q4 online sales.
MerchantTribe.com reports shoppers start early and are buying more items daily in the holiday shopping season.
Why? A study of e-commerce released in 2012 covering from November 24 to December 24, 2011, discloses some secrets you might need to know.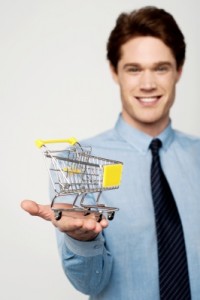 But the size of their shopping carts soon decrease significantly.
That's the conclusion from studying data from merchants using MerchantTribe shopping cart software – for books, clothing, electronics, software, and sporting goods.
"We were surprised by the significant change in how much is spent per-order over the season," said Marcus McConnell, founder of MerchantTribe.
"That seemed to defy the conventional wisdom that shoppers are as influenced by price at the beginning of the season than at the end," explained Mr. McConnell.
"Perhaps shoppers purchase gifts for more important recipients first. Or maybe they wait for harder to shop for friends and family members and they've exhausted their budgets," he added.
He provides another important conclusion: "Either way, they become more cost conscious the closer to Christmas they shop."
More details from the study:
Customers placed more online orders as the season progressed, peaking on December 20.
Merchants made the highest amount of revenue per day shortly after Thanksgiving.
Customers spent significantly more per online order at the beginning of the season than at the end.
Conversion rates rose throughout the season, but dropped off around December 20.
To attract more cost-conscious buyers late in the selling season, Mr. McConnell's suggests:
Bundle your sale items.
On minimum orders, offer discount shipping rates.
Create late-breaking affordable groups.
Because conversion rates increase when shoppers stop comparing prices, but conversions decrease about December 20, consider increasing shipping rates to offset the smaller orders.
For more, Website Magazine published a informative article: Merchant's Marketing Guide to Christmas in July. It provides excellent reminders about promotions, keywords, e-mail, social media and mobile advertising.
From the Coach's Corner, here are related resources:
Checklist: Black Friday, Cyber Monday Sales Success — In order to celebrate your Cyber Monday sales, you must first create a happy buying environment. That means reviewing  your store and Web site to attract prospects and to create happy customers. If you've prepared your merchandise and cleaned your store, you're half done in creating happy customers.
How Small Businesses Can Capitalize on Cyber Strategies for Profit — Yes, it's become important for small businesses to capitalize on cyber strategies for profit. Small and even regional retailers should be cognizant of three realities.
5 Strategies to Sell More from Your Web Site — To paraphrase a line from the movie, "Field of Dreams," it's not always true that if you build a Web site, people will buy. These five tips work.
Web Site 'Priming' – 6 Tips That Will Help You Succeed — If you want to increase your odds for Internet success, you might consider priming your Web site. Priming is a method to motivate users to make decisions when they visit your site. I gather the term was coined by the inventor of a testing tool that enables Web-site owners to obtain reactions to their sites.
Convert More Prospects with 10 Best Marketing Tips (Even on a Tight Budget) — So you've got a pile of business cards from prospects, but you haven't converted them? Great sales stem from great marketing. You can't grow crops until you plant the right seeds. That's the purpose of marketing.
"E-commerce businesses, even e-commerce specialists, have yet to realize that the WWW is first and foremost an emotional experience. Few websites reflect this important priority."
-Grant Fairley
__________
Author Terry Corbell has written innumerable online business-enhancement articles, and is a business-performance consultant and profit professional. 

Click here to see his management services

. For a complimentary chat about your business situation or to schedule him as a speaker, consultant or author, please

contact Terry

.




Photo courtesy stockimages www.freedigitalphotos.net
Oct. 22, 2010
Almost two-thirds of respondents in an Internet marketing study forecast healthy double-digit percentage increases this holiday season, according to a Website Magazine report on the Shop.org 2010 eHoliday Study.
This year 63.3 percent anticipate 15 percent or higher increases in sales. That compares to 45.8 percent of responding marketers last year.
BIGresearch conducted the study for Shop.org.
Website Magazine reported other salient data:   
40 percent of online retailers will begin holiday marketing by Halloween, and another 40 percent will begin by November 1 
84.5 percent will offer free shipping at some point during the holiday season
72.5 percent have increased their Facebook presence for the holidays
54.9 percent have enhanced or invested in product pages for cross-selling during the holidays
54.9 percent have optimized site search features to maximize holiday sales
52.9 percent have invested in customer ratings and reviews platforms in advance of the holidays
43.1 percent will increase their presence on Twitter this holiday season
The magazine also reports 32.2 percent of shoppers will shop online.
Here's why:
35.1 percent – 24-hour convenience
33.1 percent – easy price comparisons
30.8 percent – lack of crowds
So, consider what your competitors might be planning, and strategize what's best for you.
For other marketing insights, you might wish to review this site's Marketing/Sales and Tech business-coaching columns. You'll find more than 130.