Marketers from fast food to cars are struggling to understand an important demographic – 59 million young adults, aged 23 to 36, according to a published report. Other observers believe there are 80 million Millennials, but in a slightly narrower age group.
Either way, companies are obsessed with targeting Millennials for good reasons.
They include:
1. To create opportunities for immediate sales in a large demographic
2. Attracting customers – when they're young and starting families –for a shot at their lifetime repeat business
3. Centers of influence – they're persuasive with their younger relatives, and their older family members who don't understand technology
In this digital age, innovative Millennials have a new philosophy. They know this is an era in which they can get rich easier with ideas compared to their parents or grandparents. Why? Traditional obstacles to success are gone. That includes accessing capital.
Technologies for Millennials have become commercially viable more quickly in the 21st century compared to the experiences of baby boomers in past decades.
Savvy real estate salespeople know that Millennials want their own homes, but with certain caveats –houses that can be customized to fit their lifestyles. (See Tips for Real Estate Marketing Success – to Mature, Millennial Buyers).
Fast Food
"McDonald's Has a Millennial Problem," according to Maureen Morrison in her article at Adage.com. Adage is a must-read for marketing professionals.
She explained that the fast food giant is aware that it fails to "it doesn't even rank among the demographic's top 10 restaurant chains." That's why the hamburger chain is worried about its image and introduced its menu item called, "McWrap."
The McWrap is McDonald's answer to Subway – a chain that McDonald's ostensibly fears more than any other. McDonald's thinks a bigger menu with options to customize a meal will cannibalize sales from Subway. (Remember the Millennials' real-estate preferences?)
"Millennials are indeed going to burger chains, but they are going less often," wrote Ms. Morrison. "The hamburger category, which includes McDonald's, Wendy's and Burger King, still receives 29 percent of all Millennials' quick-service visits…"
She also writes that since 2007, hamburger chains are 16 percent less popular with Millennials.
"The means of reaching Millennials might be higher-quality products and lots of choice," explained Ms. Morrison.
She also indicated Millennials are concerned about social responsibility and healthy lifestyles.
"Gatorade outperforms with people under 24, with 57 percent grabbing the sports drink at least once a month," added Ms. Morrison.
For the restaurant sector in targeted Millennials, she gave five recommendations:
Fresh and organic food
Variety and customizable products
Social change
Products with sustainability in environmental farming practices
Social-savvy brands
Cars
In their purchases of new cars, there are new trends in Millennials' preferences:
Japanese vehicles aren't as popular
Detroit cars are increasingly favored
Two South Korean cars, Hyundai and Kia, are appealing
The trends are evident in data published by two research firms: R.L. Polk and Edmunds.com.
In 2012, Millennials bought 36.8 percent of new vehicles from Detroit manufacturers – Chrysler, Ford and General Motors. That's a higher percentage than before.
Since 2008, Honda, Nissan and Toyota sales to illennials dropped from 50.6 percent to 42.9 percent. Detroit's improved, fuel-efficient small cars are part of the reasons. (Does quality and fuel-efficient ring a bell?)
The other reason for the sales decreases in Japanese cars – young car buyers have also been drawn to Hyundai and Kia. Ten percent of young buyers switched to the South Korean brands.
One factor: Both Hyundai and Kia have been extending credit to millennials who are just getting started in their careers.
In conclusion, it's important to learn how to profit from these emerging human behaviors. Use these insights into Millennials to help you to change with the times and to generate new sales.
From the Coach's Corner, related articles:
Checklist for Branding, Selling Your Biz as Green — Consumers love environmentally sensitive businesses. You might think it's a slam dunk for businesses to market themselves as green. Well, yes and no. There are precautions to take. They include educating your audience on your eco practices.
SEO vs. Blogging: Which Is Best for Your Marketing Budget? — To blog, or not to blog – that is the question. With apologies for paraphrasing the famous opening line in William Shakespeare's play, Hamlet, it seems apropos in debating the merits of blogging vis-à-vis hiring search-engine optimization (SEO) experts.
5 Action Steps to Get Top Results From Your Marketing Plan — Why do seemingly great marketing plans fail to yield the desired results? Well, one reason: Such plans don't turn the ideas into reality because they're not action-oriented. What counts is the scheduled specific footwork, and then tracking the results. There's a second reason, quality of execution. Here's how.
What are the Secrets for Success in Advertising? Creating 5 Perceptions — Authoritative evidence links advertising quality and execution to making the cash register ring, and it shows creative counts more than the media plan.
Nostalgia isn't what it used to be.
__________
Author Terry Corbell has written innumerable online business-enhancement articles, and is also a business-performance consultant and profit professional. Click here to see his management services. For a complimentary chat about your business situation or to schedule him as a speaker, consultant or author, please contact Terry.




Whether you're an ad agency, real estate professional or private home seller, you might consider past trends in marketing property. That is if you want to avoid the financial pain of your property sitting unsold on the market for too long.
Marketing pros know you must know the answer to the most important question: How do you catch the eyes of buyers and pique their interests?
There are certain keywords to use in advertising a home to discriminating buyers, according to a 2013 study by the publication, Real Estate Marketing Insider.

There are certain keywords to use in advertising a home to discriminating buyers, according to a 2013 study by the publication, Real Estate Marketing Insider.
Reporter Mary Umberger analyzed real estate listings nationwide. She considered how long properties sat on the market, and then compared the branding of those listings. She then analyzed the copywriting that helped sell properties sooner than later.
She concluded there are a number of copywriting tactics to employ, especially to attract mature homebuyers.
Effective keywords
In order of priority to sell homes more quickly, the top keywords:
1. Beautiful. No matter what part of the country, the term "beautiful" proved to be No.1.
2. Warm. Particularly, in the suburbs, "warm" is a top motivating word to use. Naturally, the word doesn't make reference to the temperature. It's designed to describe the house as cozy and homey.
3. Luxury. A house is an expensive investment, so tap into buyers' emotions. Whatever the home's features are, the word "luxury" is a great influencer when used in the right context. 
Use these terms consistently – every time you communicate with buyers – from copywriting to all conversations. 
18 to 35 year-old buyers
Young homebuyers have a different value system. They often consider themselves to be terminally unique. They want a home to reflect their individual life styles. That means distinctive "smart" homes to fit their personal images, according to a 2013 study by Better Homes and Gardens.
"It's critical that real estate professionals understand what embodies a quintessential home for the Millennial generation, which vastly differs from the traditional norms of generations before them," said Sherry Chris, president and CEO of Better Homes and Gardens Real Estate LLC.
"These survey findings allow our brand to continue to best serve the next generation of homebuyers and find homes that can or do appeal to their lifestyles and unique spirit," she added. "Understanding technologies to communicate with this generation is now only one piece of the puzzle for agents; 'smart' technological capabilities must now be ingrained into the home itself."
Therefore, Millennials tend to ignore luxury houses. They want to live in something they consider unique. So, they'll work to upgrade less-expensive houses, if they feel they can transform them into being unique.
Seventy-seven percent want homes that are essential and purposeful – technological capabilities vis-à-vis the luxury amenities in their parents' homes. Eighty-two percent cherish a maverick approach – doing their own home improvements instead of borrowing money from their parents.
Millennials aren't narcissistic about curb appeal
More findings:
30 percent prefer a fixer-upper
47 percent prefer doing their own home maintenance
72 percent think they're capable than their parents to fix problems
43 percent would customize each room to suit their lifestyle values and would turn their living rooms into a home theatre
56 percent think curb appeal is less important than home-technological amenities
59 percent would rather have extra space in their kitchen for a TV, as opposed to a second oven, and they seek to be entertained in every room of their home
41 percent would be more likely to brag to a friend about a home-automation system over a newly renovated kitchen
Most sought-after technology – energy efficient washer and dryer (57 percent), security system (48 percent), and smart thermostat (44 percent)
Finally, if you're a not a real estate professional, see the 5 Marketing Tips for Non Pros to Make Extra Money in Real Estate.
From the Coach's Corner, additionally there are five value perceptions that motivate quality prospects to buy from you.
My firm's research reveals: 
What clients think of you, and your employees – 52 percent. The key characteristics are integrity, judgment, friendliness, knowledge, empathy and value.  
Image of Company – 15 percent. They are concerned about the image of your company in the community. They want to be proud of you.  
Quality of Product or Service Utility – 13 percent. The client is subconsciously asking the question – "What will this do for me?"  
Convenience –12 percent. Clients like easy accessibility to do business with you. That includes your Web site, telephoning you, and the convenience of communication with you.  
Price – 8 percent. Price is important, but it's the least concern among the five value-perceptions.
Marketing should be fun. If you don't have a sense of humor, you probably won't make any cents.
__________
Author Terry Corbell has written innumerable online business-enhancement articles, and is a business-performance consultant and profit professional. 

Click here to see his management services

. For a complimentary chat about your business situation or to schedule him as a speaker, consultant or author, please 

contact Terry

.


Despite the 21st century's widespread age differences in the workplace, at least one thing hasn't changed – many attitudes of workers are similar. For example, employees are often most-interested in company stability, according to a 2010 study by Robert Half.
Sadly, for many companies, that might also be why 40 percent of respondents were apt to shop around in seeking a new job.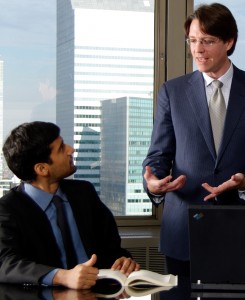 "Tere has been considerable focus on the differences among various generations, but our research confirms many similarities," said Max Messmer, chairman and CEO of Robert Half International.
"Understanding the values shared by nearly all employees, particularly in light of changing economic conditions, can help companies enhance their recruitment and retention efforts," he explained
The study involved more than 1,400 people working fulltime in North America.
The respondents were either college graduates or are in school. Just over 500 were hiring managers.
The demographics included baby boomers, aged 46 to 64; Generation X, 32 to 45; and Generation Y, 21 to 31.
Among the three generations, the study reveals five similarities:
Job security was preferred over working for a community-minded firm or even for a shorter commute
Salary, company stability and benefits were the most salient
Most-prized benefits – healthcare and dental coverage, vacation time and matching 401 (k) plans
The Great Recession is the main reason for those planning to work past 65
Diversity in work experience is believed to be beneficial
Here are the generational differences:
Following the downturn, many planned to job hunt. The breakdown included 36 percent of Generation Ys, 30 percent of Generation Xs, and 24 percent of baby boomers.
Among the Generation X, 38 percent planned to upgrade skills and 33 percent percent planned to stay with their employers.
For the respondents planning to work past 65, 54 percent were baby boomers, 46 percent were Generation X, and 39 percent were Generation Y.
34 percent of Generation X and 27 percent of baby boomers managed to add to their retirement nest eggs since the beginning of the downturn.
Many were concerned about differences in coworker work ethics and balancing career with their lives. That's 54 percent of baby boomers, 45 percent of Generation X, and 35 percent of Generation Y.
"Many employees, particularly Gen Y professionals, are biding their time in their current employment situations and plan to make a move when they feel the economy is on firmer footing," said Brett Good, a Robert Half International district president. "Now is the time for employers to take action and outline career paths within their company for strong performers. Compensation reviews also should be conducted to ensure that pay is competitive."
Well said.
If you want, you can get a copy of the study.
From the Coach's Corner, more HR resources:
"Never put off the work till tomorrow what you can put off today."
-CiteHR.com
__________
Author Terry Corbell has written innumerable online business-enhancement articles, and is a business-performance consultant and profit professional. Click here to see his management services. For a complimentary chat about your business situation or to schedule him as a speaker, consultant or author, please contact Terry.