Just like your finances, human resources and other aspects of your business, your Web site should be continuously monitored for red flags and to be sure it's not out-of date.
Yes, it's time-consuming and expensive, but any problems should be solved to maximize revenue.
The trick is to do it right, cost-effectively.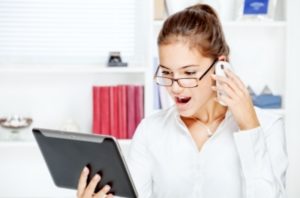 Here eight red flags:
1. Your traffic is slowing down
There are many indicators why your visitors' rate is down. Don't be lulled into complacency.
For instance,  the vast majority of Web sites experience a decline in summer months, so companies have a tendency look the other way.
But it's likely you have issues. All Web sites develop issues whether it's summer or not.
Solution: Many red flags can be spotted by simply reviewing your visitors' data, which contains valuable and insightful information.
It's not just a matter of the number of unique visitors and cumulative visits.
Here's an overview:
— Determine which pages are popular and analyze the content of each
— View the number of hits
— Check out the bandwidth used by visitors
— Consider the time-spent on your site by the average user
— Note the high bounce rates, especially starting on your home page
— Look at the visitors' locations, referring sites, browsers and operator systems (including mobile users)
— Review your HTTP status codes (e.g. there are about 12 possible internal errors to review)
2. Weak conversion into sales
Even if your rate of visitors is positive, poor sales can be a concern. It's important to learn why you're not converting sales.
Solution: Look at your Google Analytic data to see where the visitors leave. You can also start usability testing with usertesting.com and use testing tools at Visual Website Optimizer. (Note: These are unpaid recommendations.)
You might need a simple page redesign or even a site rehab. After your home page, look at your product listing page and shopping cart. Retailers continually complain about visitors who start to buy products but abruptly abandon the shopping cart.
3. Download speed
Your site should download in seven seconds or less. Not only do your visitors get impatient, but Google especially won't like a slow download speed and will penalize your site's ranking.
Solution: You can shrink your image files. Next, optimize your content and browser caching.
4. Unnecessary challenges to update your site or add content
If it's too difficult to update your site, you probably need a content management system.
Solution: You would benefit from easy-to-understand functionality and use of interfacing. The goal should be for a minimum of coding. Your visitors will appreciate simplicity.
5. A mobile Web site
Increasingly, visitors are using smartphones, tablets and other mobile devices. Worse, a mobile-ready site is critical for connecting with Millennials.
Solution: Make sure your site is responsive to such users with a specific mobile strategy.
6. Opt-in/sign ups
You have a considerable investment in your site. It's a problem if you can't capitalize on visitors. Loyal followers are a good thing.
Solution: Above the fold on each page — preferably in the upper right — insert an opt-in for visitors to put their e-mail addresses so you can contact them or forward content to them.
7. Out-of date content
Brick and mortar retailers know to refresh their window displays and endcaps to entice shoppers. If your site isn't fresh, you'll miss opportunities for growth. Quality of content is king on Google, but the search engine's crawlers also take note of content change.
Solution: One quick fix is to paraphrase your content. Another is to update your key-search words and phrases for enhanced organic search results.
Even better, update your buttons, total redesign your site, including your e-commerce process. Get knowledgeable close friends and family to use your shopping cart for all products to check usability and to prevent buyers' remorse. Then, monitor the visitor results.
Finally, if your site needs to be totally re-worked, you will find it more cost-effective to buy a site template. Terrific-looking, cost-effective templates are available at Creative Market and Envato. (These are also unsolicited recommendations.)
8. Social Media
Do you have social media links on your site for your visitors to share your content? If not, get busy.
Solution: Depending on your sales objectives, you need to insert social media buttons above the fold. At the minimum, retailers need Facebook, Instagram, Pinterest, and Twitter links.
Bloggers usually need Facebook, Google+, LinkedIn, StumbleUpon, and Twitter.
From the Coach's Corner, related information:
Worried Your Web Site Losing Visitors? Best Practices to Fix it — If your site's visitor numbers are falling, there are five possible reasons. The key is to know what's wrong before you start applying solutions. It used to be that Web-site owners only had to worry about losing traffic in the summer.
Web Site 'Priming' – 6 Tips That Will Help You Succeed — If you want to increase your odds for Internet success, you might consider priming your Web site. Priming is a method to motivate users to make decisions when they visit your site.
Download Speed Matters for WordPress Web Sites – 5 Tips — Actually, download speed matters on all Web sites. Even if your WordPress Web site has compelling content with graphics and pictures, image and user convenience are equally important. So your site's download speed matters – a lot.
11 Tips for the Best Business Mobile Web Site — If you operate a retail business, it's increasingly important for your Web site to be easy-to-use for mobile users. The use of smartphones and tablets is skyrocketing, especially among Millennials — young adults aged 32 and under.
5 Factors to Get Peak Google Results for Your Web Site – Study — What do top Web sites have in common? Successful sites produce a high number of Facebook and Twitter messages, but the sites minimize the volume of ads on its pages according to an authoritative study.
"Domain names and websites are Internet real estate."
-Marc Ostrofsky
__________
Author Terry Corbell has written innumerable online business-enhancement articles, and is a business-performance consultant and profit professional. 

Click here to see his management services

.

For a complimentary chat about your business situation or to schedule him as a speaker, consultant or author, please 

contact Terry

.




Photo courtesy of marin at www.freedigitalphotos.net
Do you know when you marginalize others?


If you're having communication problems with someone important in your career or life, chances are one or both of you will profit from tips in honest communication.
This is also true if you want to get a job.
Savvy employers know poor communication skills hamper efficiency and productivity.
Whatever the situation, it's important to understand why communication is working or not.
Enter speaking Eric Stone, a former New York City stage and television actor, who operates Speakers and Artists International, Inc. (www.publicspeakingconnection.com) in Beverly Hills, Calif.
He says there are three levels of depth in communication, or what he also calls "levels of truth."
Level one – tone and meaning
"The first level is what people say or what is heard through voice tone and immediate translation of the tone into meaning," asserts Mr. Stone. "It is the most simple and, in a sense, most superficial level of interaction."
How can it be superficial?
"If you actually asked someone to repeat to you what you just said every time you uttered something to them, you'd be very entertained and astounded as to how little was actually understood – and we're only at level one," he says.
Level two – attitude
Mr. Stone describes the second level as the mood or attitude with which people speak.
"You could also say the mood that arises from the feelings and emotions that are present while the exchange is happening," he says. "The mood and attitude is behind the words. Think of it as a frequency or vibration within the tone of voice that emanates from the speaking."
So, in a disagreement, keep your voice low. Avoid pointing fingers and using labels, which marginalize others.
Level three – judging others
"The third level is the intentions behind the speaking, tone and mood, which act as the fundamental motivation and direction of the communication," Mr. Stone explains.
He says people begin judging others as soon as they say hello.
"It means we hear the words or general tone someone is using and we start interpreting what we think it means right away," he notes. "If speakers and listeners alike could focus more on intentions and less on words themselves or the moods behind them, they would improve their effectiveness dramatically."
Really?
"Once you take the time to see through and past words and moods, you begin to get people's intentions," says the coach. "You end up seeing more and hearing more about what is being communicated. It's a quite comfortable process that will help you relax."
He says "intentions are the keys to the kingdom of effortless natural communication and expression."
An example:
"Children, when not stressed out, demonstrate it superbly," he says. "Even when you play-act with them, they watch your intentions like little hawks and that's how they figure you out if your play-acting is not seamless."
Mr. Stone says people run "conscious and unconscious scripts" in their brains.
"Those get revealed through subtle body language, actions, and facial expressions are far less contained in words being spoken," he says. "Even though unconscious motives are harder to spot, a keen eye, ear and intuitive attunement to frequency focused on intentions behind words and attitudes, will reveal a great deal."
As an example, he says a touch you receive from a person gives you clues, such as: "I like you, I want to control you, I welcome you, I'm counting on you, and a score of other intentional motives."
Hmm. When I touch my beloved Alaskan Husky, Theodore, I hope he knows how much I care about him. When he devotedly lays at my feet while I work, he certainly knows my intentions when I head for the small kitchen in my office — dog treats!
From the Coach's Corner, more from Mr. Stone:
Public Speaking Tips – for Speeches in Accepting Awards, Honors — So you're about to be honored for your pro bono work, volunteerism, or for creating a foundation to fund scholarships for education. But you get stage fright or don't know how to most-effectively frame your acceptance speech? Join the crowd. A lot of people have difficulty in public speaking.
Maximize Your Speaking with the Power of Pauses — Have you ever noticed why some people succeed as powerful public speakers? One salient reason is they know how to use the power of pauses.
Communication – You Can Train Yourself to Stop Stressing — It's OK to be nervous before giving a speech or when you're entering an important round of negotiations. Feeling pressure is one thing but allowing it to morph into stress and tension is another. When you allow this to happen, in a sense, you're giving away your personal power, which inhibits your performance.
"The single biggest problem in communication is the illusion that it has taken place."

-George Bernard Shaw
__________
Author Terry Corbell has written innumerable online business-enhancement articles, and is a business-performance consultant and profit professional.
Click here to see his management services
. For a complimentary chat about your business situation or to schedule him as a speaker, consultant or author, please
contact Terry
.


Get out the black balloons for Facebook?
Facebook has finally climbed above its IPO price of 2014. Investors finally see what they want from Facebook — a focus on monetizing mobile.
However, its user-rate and consumer satisfaction ratings have been dropping, according to two authoritative published reports.
One reason for Facebook's decline appears to be the popularity of Google's social network, Google+.
There are other reasons – this business-news portal has been critical of Facebook, but more on that later.
The two reports show:
— Facebook may be the world's largest social network, but its number of users began dropping in the first half of 2012. About the time of a report (Facebook Falls as Use on Social Site Drops), by Capstone Investments, Facebook's share price dropped nearly nine percent in two days.
— A report (Facebook down, Google+ up with customers) indicates Facebook's consumer satisfaction score has dropped in 2012 by eight percent. That's from a survey of 70,000 consumers by the American Consumer Satisfaction Index and Foresee, an analytics company.
According to a Capstone analyst, Rory Maher, the report on Facebook's user-decline shows two developments:
— The number of U.S. users declined 1.1 percent.
— Worldwide in Q2, the social network showed little growth or a decrease in 14 countries where it had at least a 50 percent market share.
"This could be an issue for Facebook growth since we estimate that outside of Southeast Asia and some countries in Latin America, most markets are approaching 50 percent penetration," the report quoted Mr. Maher.
ForeSee says Facebook's consumer-satisfaction decrease was ostensibly prompted by increasing privacy concerns and dissatisfaction with its Timeline feature.
"Facebook and Google+ are competing on two critical fronts: customer experience and market penetration," said ForeSee's President and CEO Larry Freed. "Google+ handily wins the former, and Facebook handily wins the latter, for now."
The American Customer Satisfaction Index ranked Facebook with a 61 – among the lowest of 230 ranked companies. On the other hand, a news release said Google+ won a 78 score because of its mobile product and sans any advertising.
The average for all social media companies was a 69. Twitter held a 64 and LinkedIn followed at 63. These mediocre scores confirms a warning published in this Biz Coach column: Despite Hoopla over Social Media, Web Searchers Stay Longer.
Facebook's demise is not a surprise – note these articles:
Is Facebook Approaching the End of Its Product Life Cycle? Ostensibly, Yes. — If you're a prospective Facebook stakeholder looking to profit from the social-networking site – as an investor or major advertiser – beware of all the Facebook hype. Facebook appears to be approaching the end of its product life cycle.
Aside from Privacy, Security Issues — Facebook is a Threat 2 Ways — Facebook is well-known for its privacy and security issues. I've written multiple articles about social media and how it can harm businesses, especially when employees are not trained about using it on your company's computers.
Still, some companies can make money via social media, and it teaches businesses valuable lessons in understanding customers.
From the Coach's Corner, for additional columns about Facebook, see:
"Our head of social media is the customer."
–McDonald's
__________
Author Terry Corbell has written innumerable online business-enhancement articles, and is a business-performance consultant and profit professional. Click here to see his management services. For a complimentary chat about your business situation or to schedule him as a speaker, consultant or author, please contact Terry.