Plus, see several career tips in the Coach's Corner


Updated Sept. 3, 2018-
The first Monday in September "is dedicated to the social and economic achievements of American workers," says the U.S. Dept. of Labor (DOL) Web site.
New York City celebrated the first Labor Day holiday back on Sept. 5, 1882. During the ensuing 12 years, 23 other states began observing Labor Day.
On June 28, 1894, it was made a national holiday by Congress.
"It constitutes a yearly national tribute to the contributions workers have made to the strength, prosperity, and well-being of our country," adds the DOL.
However, as has been well-documented, there was not a basis for celebration of Labor Day as a holiday this century until 2017.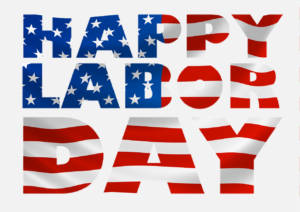 Reasons to celebrate
There are valid reasons for American workers to celebrate Labor Day.
The economy is on a roll.
Despite the increasing trend of automation, American prospects for productive laboring have improved dramatically.
Wall Street is soaring, which has skyrocketed for nearly two years. As a result, Americans' 401(k) retirement savings plans sponsored by employers have skyrocketed.
Economic reports indicate the optimism among business leaders and consumers has improved dramatically.
This week, the Commerce Department just revised the nation's Q2 gross domestic product jumped to 4.2 percent. That's four times higher than the eight-year average under the Obama Administration of 1 percent even when the economy had nowhere to go but sky-high.
Economic improvement is fortunately evident in jobs reports. The Labor Department reported manufacturers are again hiring workers.
The overall unemployment rate is 3.9 percent and this week it's forecast by leading economist Peter Morici to drop to 3.8 percent. The weakest hiring is in government jobs, which is a goal of the Trump Administration.
Reviewing recent history
Until President Trump entered the White House, study after study showed most jobs added since the Great Recession were low paying – even though the majority of lost jobs were at family wage levels.
Ironically, a liberal organization, the National Employment Law Project, released its largely ignored findings in the middle of the 2012 presidential campaign.
"The overarching message here is we don't just have a jobs deficit; we have a 'good jobs' deficit," said Annette Bernhardt, the study's author.
The report considered 366 occupations listed by the DOL. Jobs paying $13.84 to $21.13 per hour – considered decent wages – were among the 60 percent of lost jobs. But they only constituted 22 percent of the new jobs.
Moreover, the jobs paying $7.69 to $13.83 per hour were part of the 21 percent of lost jobs. But they only accounted for 58 percent of the gain in new jobs. The median pay of the 58 percent of new jobs was only $10.97 an hour – not hardly a family wage level.
The study showed most of those jobs were filled by seasoned workers because they couldn't find jobs that paid them as well before the recovery began.
Admittedly, the high unemployment rate stems partly from deficient worker skills and education. But the sour economy weighed heavily on the unemployed.
According to a Harvard study, there was another issue to solve: Government spending caused companies to cut back.
Then, there was pointed criticism at the Obama Administration.
"The economy has created only about 6 million new jobs during the Bush-Obama years, whereas the comparable figure during the Reagan-Clinton period was about 40 million," wrote globally known economist Peter Morici, Ph.D. in July of 2015.
"…the real unemployment rate among U.S. citizens and permanent residents is at least 18 percent," Dr. Morici wrote.
"The reluctance of both Presidents Bush and Obama to confront Chinese protectionism and currency manipulation and open up offshore oil for development have created a huge trade deficit that sends consumer demand, growth and jobs abroad," he stated.
He pointed out the jobs picture was bleak as the result of Obama Administration policies.
"New business regulations, more burdensome than are necessary to accomplish legitimate consumer protection and environmental objectives, exacerbate these problems," explained Dr. Morici.
He's a business professor emeritus at the University of Maryland, national columnist and six-time winner of the MarketWatch best forecaster award. (The Biz Coach publishes Dr. Morici's economic analyses and his economic forecasts.)
Happy days are here again
Fortunately, however, that's all being changed by the Trump White House.
America has a president who is using his bully pulpit.
He's adamantly criticized the Chinese currency manipulations, and has pushed for domestic government reforms and American jobs.
American workers have reasons to celebrate.
"The labor market still has lots of excess capacity among young people stuck in low level jobs in restaurants and other service businesses," says Dr. Morici. "Many of those positions hardly require the skills of a college education or provide high school graduates with a decent career track."
There's more.
"Now, expanding sales opportunities and a tight labor market are forcing employers to get more realistic and practical when hiring for better paying positions," he adds. "Recruiters are abandoning requirements for specific technical degrees and specialized job experience. That's helping self-taught software engineers get placed at Intel and high school graduates land entry level managerial positions at Bank of America."
Happy Labor Day, America!
From the Coach's Corner, if you're one looking for a job, here are some proven ideas:
Career Strategies: How to Get a C-Level Job — If you're climbing the corporate ladder and have designs on a C-level job, a noted Stanford University professor has some excellent advice. 
Discouraged in Job Hunting? Powerful Tips for the Best Job — Whether unemployed or under-employed, a person needs two things: A sense of hope and the right tools to negotiate a job. Here are both.
Stand Out: Get a Job Interview with a Great Resume — More and more job seekers complain they don't get acknowledgment when they apply for positions with prospective employers. It's disappointing, especially if you've done your best to stand out in a crowd when jobs are scarce.
5 Tips to Shine in Your Online Job Application — To sail through the human resources filtering system, here are five online-application tips: 1. Put social media to work for you. Make certain your social media – Google+, Facebook, LinkedIn, and Twitter – are current, professional and show maturity. Be careful what you publish – always keep in mind your career goals.


"A part-time worker is fully employed, half the time. In other words, they are part-time unemployees."

-Jarod Kintz
 __________
Author Terry Corbell has written innumerable online business-enhancement articles, and is a business-performance consultant and profit professional. 

Click here to see his management services

. For a complimentary chat about your business situation or to schedule him as a speaker, consultant or author, please 

contact Terry

.


Aug. 20, 2011


Frankly, I don't understand the brouhaha over the Obama family's vacation, decadent or otherwise. Critics who called on President Obama to cancel his Martha Vineyard vacation have been misguided.
Aren't they over-reacting?
True, the timing of his vacation could have been better. Much of the country is suffering. World markets are in chaos. A check of history does reveal other presidents have canceled vacations during similar crises.
The well-to-do location also raised eyebrows of consternation. For one thing, Martha's Vineyard does not have racial diversity. Even the Tea Party has more racial diversity. More noteworthy, nor does Martha's Vineyard have economic diversity. The average American cannot afford the $50,000 per week price tag of Mr. Obama's favorite vacation retreat – not to mention the huge amounts of money paid for security.
In contrast, President Clinton went camping in Wyoming, President Reagan went home to split firewood, and President Roosevelt served hot dogs to the Queen of England. Those symbols of leadership inspired Americans during critical times.
The feeling of President Obama's critics is that he advocates certain principles, but his actions speak differently. I concur.
By now, you realize the headline and lead paragraphs in this piece are facetious.
No, I'm not a Republican. Nor am I a Democrat. As a Biz Coach columnist, count me also as an average American with a Cherokee Indian heritage, an Independent and a champion of the underdog — someone who is deeply worried about the direction of this country.
The spending is out of control. The risk of a double-dip recession is quite high. So what do we get now? We get an ill-advised bus-PR gimmick with only hints about a new jobs plan.
Yes, Mr. Obama's bus tour has really taken us Americans for a ride — an abysmal, bumpy ride. As a former columnist at Belo Web sites and one who supported his small-business platfom during his campaign —  a Biz Coach column followed by a press release — I feel betrayed.
Incompetent economic policies
Actually, since his inauguration, President Obama has been leading us astray. Instead of focusing on the faltering economy, he gave us a dysfunctional health law, which has been one of the reasons small business has not hired workers. He advocated a plan to confiscate your retirement funds. And don't forget about his unproductive environmental policy in Cap and Trade.
As a result, a recent Gallup Poll indicates Mr. Obama has a 26-percent rating for his handling of the economy. Americans aren't confident about his policies with good reason – the policies and Americans aren't working.
His rhetoric has suggested he will deliver an effective policy to create jobs and to ease the onerously high unemployment rate. He's been wrapping himself in the American flag – issuing an ultimatum to opponents to support his secret jobs plan. He implies opponents of his ineffective policies are unpatriotic. Sure.
His bus tour was another indicator of incompetence – the type of economic-policy ilk that Americans suffered under President Carter. To state Mr. Obama is providing leadership is in reality an oxymoron. His so-called leadership is leading us down the wrong road.
The two Darth-Vader looking black buses cost $1.1 million – each – from Prevost, a Quebec-based manufacturer. Reportedly, the Secret Service made the purchase. If I were Canadian, I'd expect my government not to miss a chance to buy Canadian. Likewise, as a U.S. citizen concerned about jobs, I expect this administration to buy American.
Yes, it's true all White House vehicles are black. However, instead of being a source for optimism, the black-colored buses are a reminder – the black mirrors the economy and morale of most Americans.
Obama behavior fails to match goals
For a president who claims he's concerned about jobs for American workers, he's committed a terrible PR gaffe – economically, environmentally and patriotically.
To send a message about job creation, appropriate action is indicated. But it's not happening. No one will convince me that American bus manufacturers are incompetent. There's at least one American bus manufacturer that's able to meet security requirements to protect a U.S. president.
In fact, a cursory search on Google reveals three interesting American bus manufacturers:
Warren Buffett's Berkshire Hathaway owns Forest River, a bus builder in Elkhart, Indiana – in business since 1903. Mr. Buffett just might have the resources to build such a bus.
General Motors Ventures LLC is investing $6 million in Proterra Inc., a well-known manufacturer of zero-emission buses. Locations: Golden, Colorado and Greenville, South Carolina.
How about American Coach in Decatur, Indiana?  Talk about a missed opportunity for PR. American Coach's line of products: American Revolution, American Eagle, American Tradition and American Heritage. Any of the names would have been a PR coup of epic proportions.
(Note: If you work for a U.S. bus manufacturer excluded in this column, my apologies for my oversight. Please let me know. I'll gladly add you to this list.)
One final example of Mr. Obama's tone deafness: Not only did he miss an opportunity to put Americans to work building his buses, he missed another golden opportunity to show the No. 1 symbol of patriotism — the American flag.
There were no American flags anywhere on his buses. None.
So, I disagree with the critics of Mr. Obama's vacations. I now believe he should enjoy long, decadent respites. When he's not working, Americans are better off. They have a better chance of getting back to work.
From the Coach's Corner, you might also wish to read Does the Federal Reserve Understand Small Business?  Here's a menu of other public policy columns.
"A major source of objection to a free economy is precisely that group thinks they ought to want. Underlying most arguments against the free market is a lack of belief in freedom itself."
-Milton Friedman
__________
Author Terry Corbell has written innumerable online business-enhancement articles, and is a business-performance consultant and profit professional. Click here to see his management services. For a complimentary chat about your business situation or to schedule him as a speaker, consultant or author, please 

contact Terry

.

Are you one of the countless baby boomers who is relying on Social Security before you reach retirement age? You're not alone. The dearth of jobs has prompted many Americans to accept lower Social Security payments at the age of 62. This means Social Security is forecast to start paying out more in benefits than it receives starting in 2017.
The government believes 15 million people are jobless. That's only an estimate. It doesn't include the high number of self-employed people desperately taking independent contractor projects because they can't find jobs, or the under-employed taking temporary jobs.
These numbers also hurt job creation. Higher unemployment rates charged to business by government is a disincentive, too.
After having worked through 6 major economic downturns, my analysis of the data and the trends is that the real unemployment rate is about 25 percent. That's depression-like, not recession-like numbers.
A study proves it's getting worse for American workers. The Center for Labor Market Studies at Northeastern University in Boston sums up the problem in its study's subtitle – "A Truly Great Depression Among the Nation's Low Income Workers Amidst Full Employment Among the Most Affluent."
For the nation to catch up, most experts believe 100,000 new jobs need to be created every 30 days. But veteran pragmatists know it won't happen. Count me as one of those.
The job drought is not a new phenomenon in the sense that it's been years in the making. The federal government began tracking the number of unemployed in 1948.
Job losses
Many jobs have not and will not return. Not to over-simplify, institutional investors own increasing numbers of companies. Largely, they extract profits by slashing payrolls and encouraging offshoring of jobs in Latin America and Asia where labor is cheaper.
Since 2000, automation is responsible for cutting 5.6 million jobs.
After each recession since 1970, job-growth rates have decreased. Published reports indicate that even before the Great Recession, it was less than one percent a year and was only 2.4 percent in the 1990s and 1980s, according to the Labor Department figures.
Based on trends following recessions, I'm in agreement with economists who forecast it will be at least five years before the unemployment rate returns to more palatable levels – hence, the term, jobless recovery. Even then, I'm not sure it will happen.
Consumer spending
Historically, consumer spending has been a key ingredient for economic recovery. But that won't happen unless there's a fundamental economic change.
This also means the tax revenue pie for governments at all levels will remain flat.
For good reason, Americans have returned to 1930's money values. They're becoming tight-fisted with their money and are demanding government accountability.
The housing bubble resulted in a high volume of excise taxes, but the high rate of foreclosures alters that scenario.
Big lender behavior
Talk to anyone who checks credit for consumers or small businesses. The aggregate level of bad credit is huge – largely caused by the predatory behavior of big lenders. They've nearly destroyed the livelihoods of small businesses with mega interest rate hikes for bogus reasons.
Small business has historically has been the main job-creation engine, but no more.
Small businesses do not have the financial firepower expand and create jobs. New credit card legislation does nothing to correct the injustices.
Instead of focusing on helping business, government at every level, is hindering the economic climate. Economic and political freedoms are being stolen each day by bad government policy (see this portal's Public Policy section).
The largest employer in many communities is government. Public-sector agencies are still growing, while spending and taxing at ever-increasing levels. For the common good of all Americans, change is needed.
Businesses and consumers can no longer afford the status quo in taxes. Government must reform.
From the Coach's Corner, here is the essence of the 2010 credit card law:
Credit card companies cannot increase the rate in the first year until the introductory rate expires. The banks must give 45 days notice to change the rate.
Unless two months past due, rates can't be changed.
The original interest rate must be granted once payments are on time for six months.
The fine print will be easier to grasp.
Activation and annual fees can't exceed 25 percent of the credit limit in the first year; and will be unlimited after 12 months.
Credit card statements must be sent three weeks in advance.
Transactions can't take place over the credit limit unless the cardholder agrees.
The "universal fault" nonsense (if you were late one day on one payment, the other credit card companies jacked up your rate) is stopped and interest rates on existing balances must stay the same (see No.1).
Companies can't give students or anyone under 21 a car unless she/he has a co-signer or the autonomous ability to pay statements. Schools have to make public any credit-card marketing deals, and companies cannot stage publicity or giveaway events on or near campuses.
"Government is not reason; it is not eloquent; it is force. Like fire, it is a dangerous servant and a fearful master."

-George Washington
_________
Author Terry Corbell has written innumerable online business-enhancement articles, and is a business-performance consultant and profit professional. Click here to see his management services. For a complimentary chat about your business situation or to schedule him as a speaker, consultant or author, please contact Terry.