Plus, see several career tips in the Coach's Corner


Updated Sept. 3, 2018-
The first Monday in September "is dedicated to the social and economic achievements of American workers," says the U.S. Dept. of Labor (DOL) Web site.
New York City celebrated the first Labor Day holiday back on Sept. 5, 1882. During the ensuing 12 years, 23 other states began observing Labor Day.
On June 28, 1894, it was made a national holiday by Congress.
"It constitutes a yearly national tribute to the contributions workers have made to the strength, prosperity, and well-being of our country," adds the DOL.
However, as has been well-documented, there was not a basis for celebration of Labor Day as a holiday this century until 2017.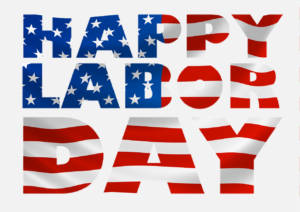 Reasons to celebrate
There are valid reasons for American workers to celebrate Labor Day.
The economy is on a roll.
Despite the increasing trend of automation, American prospects for productive laboring have improved dramatically.
Wall Street is soaring, which has skyrocketed for nearly two years. As a result, Americans' 401(k) retirement savings plans sponsored by employers have skyrocketed.
Economic reports indicate the optimism among business leaders and consumers has improved dramatically.
This week, the Commerce Department just revised the nation's Q2 gross domestic product jumped to 4.2 percent. That's four times higher than the eight-year average under the Obama Administration of 1 percent even when the economy had nowhere to go but sky-high.
Economic improvement is fortunately evident in jobs reports. The Labor Department reported manufacturers are again hiring workers.
The overall unemployment rate is 3.9 percent and this week it's forecast by leading economist Peter Morici to drop to 3.8 percent. The weakest hiring is in government jobs, which is a goal of the Trump Administration.
Reviewing recent history
Until President Trump entered the White House, study after study showed most jobs added since the Great Recession were low paying – even though the majority of lost jobs were at family wage levels.
Ironically, a liberal organization, the National Employment Law Project, released its largely ignored findings in the middle of the 2012 presidential campaign.
"The overarching message here is we don't just have a jobs deficit; we have a 'good jobs' deficit," said Annette Bernhardt, the study's author.
The report considered 366 occupations listed by the DOL. Jobs paying $13.84 to $21.13 per hour – considered decent wages – were among the 60 percent of lost jobs. But they only constituted 22 percent of the new jobs.
Moreover, the jobs paying $7.69 to $13.83 per hour were part of the 21 percent of lost jobs. But they only accounted for 58 percent of the gain in new jobs. The median pay of the 58 percent of new jobs was only $10.97 an hour – not hardly a family wage level.
The study showed most of those jobs were filled by seasoned workers because they couldn't find jobs that paid them as well before the recovery began.
Admittedly, the high unemployment rate stems partly from deficient worker skills and education. But the sour economy weighed heavily on the unemployed.
According to a Harvard study, there was another issue to solve: Government spending caused companies to cut back.
Then, there was pointed criticism at the Obama Administration.
"The economy has created only about 6 million new jobs during the Bush-Obama years, whereas the comparable figure during the Reagan-Clinton period was about 40 million," wrote globally known economist Peter Morici, Ph.D. in July of 2015.
"…the real unemployment rate among U.S. citizens and permanent residents is at least 18 percent," Dr. Morici wrote.
"The reluctance of both Presidents Bush and Obama to confront Chinese protectionism and currency manipulation and open up offshore oil for development have created a huge trade deficit that sends consumer demand, growth and jobs abroad," he stated.
He pointed out the jobs picture was bleak as the result of Obama Administration policies.
"New business regulations, more burdensome than are necessary to accomplish legitimate consumer protection and environmental objectives, exacerbate these problems," explained Dr. Morici.
He's a business professor emeritus at the University of Maryland, national columnist and six-time winner of the MarketWatch best forecaster award. (The Biz Coach publishes Dr. Morici's economic analyses and his economic forecasts.)
Happy days are here again
Fortunately, however, that's all being changed by the Trump White House.
America has a president who is using his bully pulpit.
He's adamantly criticized the Chinese currency manipulations, and has pushed for domestic government reforms and American jobs.
American workers have reasons to celebrate.
"The labor market still has lots of excess capacity among young people stuck in low level jobs in restaurants and other service businesses," says Dr. Morici. "Many of those positions hardly require the skills of a college education or provide high school graduates with a decent career track."
There's more.
"Now, expanding sales opportunities and a tight labor market are forcing employers to get more realistic and practical when hiring for better paying positions," he adds. "Recruiters are abandoning requirements for specific technical degrees and specialized job experience. That's helping self-taught software engineers get placed at Intel and high school graduates land entry level managerial positions at Bank of America."
Happy Labor Day, America!
From the Coach's Corner, if you're one looking for a job, here are some proven ideas:
Career Strategies: How to Get a C-Level Job — If you're climbing the corporate ladder and have designs on a C-level job, a noted Stanford University professor has some excellent advice. 
Discouraged in Job Hunting? Powerful Tips for the Best Job — Whether unemployed or under-employed, a person needs two things: A sense of hope and the right tools to negotiate a job. Here are both.
Stand Out: Get a Job Interview with a Great Resume — More and more job seekers complain they don't get acknowledgment when they apply for positions with prospective employers. It's disappointing, especially if you've done your best to stand out in a crowd when jobs are scarce.
5 Tips to Shine in Your Online Job Application — To sail through the human resources filtering system, here are five online-application tips: 1. Put social media to work for you. Make certain your social media – Google+, Facebook, LinkedIn, and Twitter – are current, professional and show maturity. Be careful what you publish – always keep in mind your career goals.


"A part-time worker is fully employed, half the time. In other words, they are part-time unemployees."

-Jarod Kintz
 __________
Author Terry Corbell has written innumerable online business-enhancement articles, and is a business-performance consultant and profit professional. 

Click here to see his management services

. For a complimentary chat about your business situation or to schedule him as a speaker, consultant or author, please 

contact Terry

.