Thanksgiving is a great time to spend with family and to give thanks, but have you thought of it as a way to deepen your business relationships? 
It seems everyone sends Christmas or holiday cards at the end of the year. It's an excellent practice. But they can get overlooked in the crowd of cards by your intended recipients.  
Thanksgiving is the perfect opportunity to thank people whom you deem special.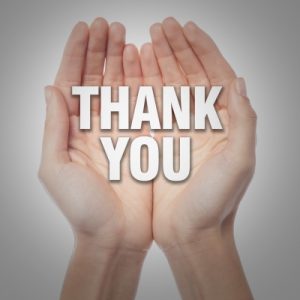 The trick is to do it professionally without giving them an implied sales pitch, and suggesting the possibility that in the end your recipient is paying for it.  
Be careful. Some clients don't like to receive gifts if they sense the price of the price of the gifts increases the cost of your products and services. 
Remember people buy from people for emotional reasons. You'll want to cement your relationships, not remind people that you want their money.  
Your expressions of gratitude don't have to be expensive. But the importance of a relationship will determine the priority of your spending.
Of course, the choice of gift depends on well you know the person. 
Here is a potpourri of ideas: 
Pre-Thanksgiving dinner
Host a dinner at a choice restaurant or other setting. It reminds special associates how important they are to you. 
It also makes for a great opportunity for people to get to know each other better. Deep relationships make a difference in business. 
The trick is to do it professionally without giving them an implied sales pitch, and suggesting the possibility that in the end your recipient is paying for it. 
Make a charitable donation
Perfect for the meaning of Thanksgiving, learn your client's favorite causes and charities and make a donation. Consider whether to make the donation in your client's names. 
Personalized gifts
One of my favorites for small clients is a marble paperweight with the person's business card engraved on top of it. Any engraving shop can do it for you inexpensively. 
Another is a quality pen and pencil with the person's name. For a person with a nice office, I like to buy fountain pens with the client's name engraved on it. 
Gift basket
A gift basket with bread and fruit from a local organic farm creates smiles. 
Order custom designed cards
Go beyond the ordinary and hire a designer to create a special card. Make it relevant to your recipient. Choose either a humorous, modern or traditional motif. 
Handwritten notes
With every gift include a handwritten note and mention something poignant that your client will appreciate.  
In lieu of gifts
A handwritten note is also very thoughtful if budget is a concern. 
From the Coach's Corner, here more tips:
For Profits, 10 German Business Etiquette Tips Apply in the U.S. — Baby boomers can recall it was a cultural, social-changing event – and quite a shock in 1961 – when President John F. Kennedy appeared hatless at his frigid outdoor inauguration. Hats were considered the business norm, and to removed when entering a building or when introduced to a lady. 
Tips for Dining Etiquette with Your Boss or Anchor Client — Whatever the important business occasion, it's helpful to hold your meeting away from the tense hustle and bustle of a corporate setting. The right ambience for deal making is often an opulent restaurant with sumptuous food. 
Why Your Customers Stay or Leave – Insights from Study — Despite all the emphasis on speed in customer service, it's not the salient factor in keeping customers happy. A study confirms that the power of emotion is most important, according to a January 2013 published report in QSRweb.com. 
Tips for Building Long-Term Client Relationships with Effective Meetings — How are you faring with your clients? Not sure? To be certain you're doing well, you must ask yourself three key questions: Do clients thank you on a regular basis? Do they pay your invoices promptly? Do they respond well to your recommendations? 
"The essence of all beautiful art, all great art, is gratitude."
-Friedrich Nietzsche
 __________
Author Terry Corbell has written innumerable online business-enhancement articles, and is a business-performance consultant and profit professional. 

Click here to see his management services

. For a complimentary chat about your business situation or to schedule him as a speaker, consultant or author, please 

contact Terry

.




Photo courtesy of stockimages at www.freedigitalphotos.net