HR – 5 Best Practices to Manage Flexible Work Scheduling


Are you considering flexible work schedules? Hmm. Flexible work scheduling is more difficult for management. You don't have control of the employee's whereabouts and it affects communications.
It isn't addressed by the Fair Labor Standards Act. Questions abound over the alternatives to the tradition of working from 9 to 5 for 40 hours per week.
For instance, how will everyone communicate? What if the employee fails to perform or spends the day sleeping? How can you manage without seeing the employee?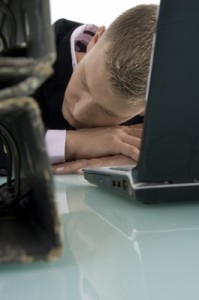 You can alleviate your concerns with five best practices:
1. Be sure of your culture
You must have a culture conducive for flexible work scheduling. Cultural attitudes start at the top – management. Lead by example. Bosses must set the tenor for being responsive and fully transparent.
It's important for good management. You must be fully aware of your employees' activities. Employees should be aware of yours, too.
There should be no surprises about expectations. You should have reasons to be confident about your staff.
This means being cautious about employees who are furtive in their behaviors. For monitoring, they should stay on your radar most of the time.
You shouldn't have to be unnecessarily hassled – having to follow them around.
If anything, managers should be available as coaches. So check to see if you have a coaching culture. When managers become coaches, you get a higher-performing workforce. A coaching culture optimizes talent management.
2. Communication should be a priority
Fully use your technology to stay in contact. You'll know whether an employee is online, offline or in meetings. For flexible work scheduling, managers must be especially effective in communication.
There should be no surprises about expectations. You should have reasons to be confident about your staff.
3. Prioritize performance vis-à-vis not busy work
Structure your compensation so that it lets employees know their performance is valued. Don't be misled by employees who only emphasize the number of hours they work instead of performance.
Merely working long hours is not nearly important as the results of their work. Good managers carefully avoid errors in evaluations and salary reviews. Efficiency is key, not disingenuous talk.
4. Be flexible but assume nothing
Be careful about your assumptions. Be consistent in how you monitor employees in their various projects. Evaluate their productivity. Not all abilities are equal. Monitor how employees work and from where they work.
Your resourcing should be flexible. Not all projects are the same. So continuously monitor your staff members.
But avoid micromanagement. Micromanaging violates best practices in management.
5. Recruit ideal employees
Not every individual, of course, is ideally suited for a flexible work schedule. You must hire people who enthusiastically share your vision.
Attitude is vital – hence, honesty and integrity. Focus on the persons' work ethics, not their skills. You must be able to trust their performance.
Look for people who have the emotional makeup to being committed and who will care for the welfare of your company. You'll increase your odds for profits by hiring the right personality traits.
From the Coach's Corner, here are related tips in human resources:
Hiring Impact An Impact Person Starts with with Screening Resumes — 5 Tips — If you want to hire an impact person, your hiring process is really important. The place to start is using best practices in screening resumes. The wrong hires result in costly turnover — a waste of money and time. Before you start interviewing, the place to start is your screening of resumes. Don't take shortcuts.
Check Your Motives before Hiring Sales Employees – 11 Tips — With many companies desperately in the hunt for sales revenue, it might surprise you to learn that their predicaments are often self-imposed. Why? They hire the wrong sales employees. Such hiring insights are confirmed in an academic study. Whether intentional or not, companies are settling for mediocrity or they're using the wrong metrics in hiring.
HR Trends in Talent Management Using Technology — Despite all the talk about the use of technology in talent management, the majority of human resources departments are behind the curve. Why? A study shows 72 percent of HR departments reveal they're not using such tools.
HR – Do you Partner with IT for Top Online Recruiting? —  If you're talented in recruiting the best talent, talented applicants will appreciate your talent. That underscores the need to partner with information technology in online recruiting. Given the importance of recruiting, it's shocking to hear steady complaints from talented people about the ineffective online processes when they apply for a position.
Critical HR Recruiting Strategies for Business Profit — By developing strategic recruiting plans, human resources professionals will make significant contributions to the bottom-line profit goals of their employers. So, it's imperative to innovate in your recruiting processes and market your strategies to senior management and hiring managers.
"The first sign of a nervous breakdown is when you start thinking your work is terribly important."
-Milo Bloom
__________
Author Terry Corbell has written innumerable online business-enhancement articles, and is a business-performance consultant and profit professional. Click here to see his management services. For a complimentary chat about your business situation or to schedule him as a speaker, consultant or author, please contact Terry.




Photo courtesy of imagerymajestic at www.freedigitalphotos.net