Many entrepreneurs are so busy putting out fires, they fail to take care of business in two ways. They fail to plan strategically and they don't make marketing a priority each day.
Ironic isn't it? Every entrepreneur wants to get ahead.
If they haven't identified their best growth opportunities, they're missing opportunities for growth in business development, product innovation or diversifying.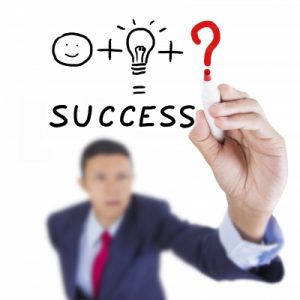 To compete, entrepreneurs either need to be strategically planning or rethinking their strategic plans – a clear, concise growth strategy.
There are multiple reasons for a strategic plan and its six key elements.
So it's important to develop foresight and focus – a vision for action.
Firstly, be aware of the typical inter-related red flags:
1. You're working harder, not smarter
Perhaps you've noticed you're working longer hours but not seeing an increase in your return on investment in time, energy and money. This, of course, means you're not growing.
For profits, entrepreneurs must learn how to manage their financials and performance. This also means it's vital to know what drives profit. There are four drivers.
2. Little or no revenue growth
Your financials confirm revenue is stagnant. You must know what months, weeks, days and hours are weak in sales. What you need are solutions for a financial turnaround.
… entrepreneurs either need to be strategically planning or rethinking their strategic plans – a clear, concise growth strategy.
3. Profit margins are tight
You must know the actual costs of selling your products and services. Leverage technology to cover your costs. For higher profit margins, minimize your markdowns and optimize your prices.
4. Burnout has set in
Most entrepreneurs have periods of burnout. If you're suffering from burnout you can't afford not to get more sleep, rest for your mind, exercise and adequate time with your family.
In other words for top performance, reduce stress and plan to work happier.
5. You and your associates are discouraged
If discouragement has reared its ugly head, you're probably on a treadmill going nowhere. Don't procrastinate.
Focus on the positive and give yourself a morale boost. Get busy identifying the issues and take appropriate action.
6. You can't pinpoint areas of growth
It's likely you don't have any growth if you can't identify the areas in which your company is growing. If that's the case develop your instincts with competitive intelligence.
7. Cash flow is weak
If you're unable to pay your bills and obligations, it's because of poor cash flow. Your receivables are probably slow and your prices might be too low.
Poor cash flow means your image can also suffer with vendors or with customers. So learn how to creatively manage your cash flow.
8. Competitors are stealing business from you
If you're working hard but losing sales to your competition, something's amiss. Your prospects perceive more value from your competitors.
Start fixing it by measuring your brand's personality.
9. Your products and services are no longer relevant for customers
It might be that your products or services aren't meeting the needs of prospective customers. If your sales skills are sharp but you're not selling well, customers don't need what you're selling.
To become an innovative leader, it's vital to continually evaluating your organization and strategizing for success. Then, become an innovative leader.
10. You don't have enough repeat business from loyal customers
For growth, turn your customers into fans for maximum referrals. That starts with customer retention. Implement strategies for maximum customer loyalty and profits.
From the Coach's Corner, here are related strategies:
11 Management Strategies for a Successful Turnaround — When it comes to management strategies for a successful turnaround, a quote by financial-world wizard Warren Buffett is apropos. "Risk comes from not knowing what you're doing," Mr. Buffett said. My response: "Touché." It's all about capital mobility created by effective management.
Finance Checklist for Strategic Planning, Growth — Strategic planning in finance for growth means avoiding trendy fads. Instead, it requires an ongoing down-to-earth approach in order to create value. Here are seven steps.
To Realize Your Business Vision, 8 Best Practices for Setting Goals — Whatever your situation, to realize your vision, focusing on the right details is a skill conducive for strategically setting goals. Here are eight best practices.
Don't let Minimum Wage Mandates Ruin Your Business — Your cash flow, credit access, pricing and profit margins are all directly or indirectly at-risk with the proposed mandates to increase the minimum wage. Workers should be paid well, if they're good performers.
Risk Management – Making Best Decisions, Using Right Tactics — To prevent a crisis from interfering with the continuity of your business, you must strategically plan to manage any potential risks. That means avoiding the classic mistakes routinely made by companies, and making the right decisions for proactive measures to minimize any dangers.  But how can you best manage risk?
"Many receive advice, only the wise profit from it."
-Harper Lee
__________
Author Terry Corbell has written innumerable online business-enhancement articles, and is a business-performance consultant and profit professional. Click here to see his management services. For a complimentary chat about your business situation or to schedule him as a speaker, consultant or author, please contact Terry.
Photo courtesy of pakorn at www.freedigitalphotos.net