Many companies periodically need extra help. They get rush orders. Employees get sick. There are seasonal demands.
You must be certain to build your team with members who have values aligned with your culture. How do you predict who will be the best employees for you?
Whether you have seasonal peaks, special projects, sick workers or an unforeseen jump in business, a temporary help service might be your solution.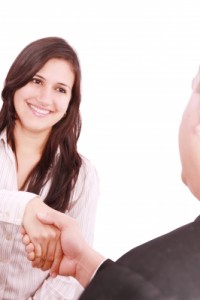 Temporary workers can give you great insight into whether they'll fit into your culture. You can use them on a probationary status.
You'll know their attributes and capabilities before hiring them full-time.
That means you'll be more likely to avoid costly mistakes.
So used properly, temporary workers can help you.
Here's how:
1. Communicate with your temporary help service
Tell your service about your plan to use it as a temp-to-hire opportunity. Provide a good job description. Define the needs of your culture.
Before you know it, the staffing firm will come up with the ideal person. Firsthand, you'll get to see the person perform the job duties.
It will only cost you a liquidation fee – the price to the temporary help firm for losing an employee. The cost for many employees is far less than what you'd pay a headhunter.
2. Paint a picture
Let the temporary help firm and employees know what will be expected. Do your best in giving directions, explaining project deadlines, and your preferred methods of communication.
3. Onboard with style
Make your temps feel welcome with inclusionary steps. Include them in emails and other communication as well as all events – including lunches and staff meetings.
"When I'm hiring a cook for one of my restaurants, and I want to see what they can do, I usually ask them to make me an omelette."

-Bobby Flay
4. Seek insights from your staff
Don't overlook your staff's judgment about the temps. Pair the temps with your company's best veterans and ask them how the temps perform and relate to coworkers.
5. Make the sale
While you're evaluating the temps, keep in mind they're assessing you and your culture as an employer. They want to decide how well your employees work with them, too.
If you decide you like the persons' work, remember it's an opportunity for you to shine.
Make sure the temps know all the factors – the intangible and tangible aspects – that might influence them. Factors probably mean your salary structure, benefits, work-life balances, community involvement and business stability.
6. Exercise due diligence
Don't assume the temporary help service has fully vetted their temps. Even if your temps perform well, do your own background checks
From the Coach's Corner, here are related HR strategies:
Write Better Job Descriptions to Attract Best Talent – 16 Tips — To inspire the best candidates to apply for your opening, there are at least 16 strategies to incorporate in your job description.
Risk Management in Hiring: Pre-Employment Screening Tips — Here are two questions about hiring: 1) what's the biggest mistake companies make in hiring employees; and 2) what's the biggest legal obstacle employers face in hiring? Here's what to do about background screening.
Welcoming New Hires the Right Way Enhances Your Culture — What is your plan for welcoming new employees? If you don't plan well, you risk alienating your new employees, your organization's culture and ultimately hurting your business performance.
Get the Maximum Benefit from Your Part-Time Employees — Are you getting the most benefit from your part-time employees? Many employers are so focused on putting out fires and taking care of their full-time staff members, they inadvertently overlook their part-time employees.
Critical HR Recruiting Strategies for Business Profit — By developing strategic recruiting plans, human resources professionals will make significant contributions to the bottom-line profit goals of their employers. So, it's imperative to innovate in your recruiting processes and market your strategies to senior management and hiring managers.
"When I'm hiring a cook for one of my restaurants, and I want to see what they can do, I usually ask them to make me an omelette."
-Bobby Flay
__________
Author Terry Corbell has written innumerable online business-enhancement articles, and is a business-performance consultant and profit professional. Click here to see his management services. For a complimentary chat about your business situation or to schedule him as a speaker, consultant or author, please contact Terry.
Courtesy stockimages at www.freedigitalphotoimages.net