March 6, 2016 –
The passing of former First Lady Nancy Reagan today, pictured in her official White House photograph, is both sad and poignant for me. She was 94.
From my formative years as a broadcast journalist, I have very fond memories of my two encounters with her as she campaigned for her husband, Ronald Reagan, in 1977 for the presidency.
Thanks to her, I'm reminded about a lesson to avoid fear, negotiate well in strategy and to persevere.
Her husband, former Calif. Gov. Reagan, had just narrowly lost his convention bid for the 1976 Republican presidential nomination. It was a tense, dramatic battle with President Gerald Ford following the Watergate-scandal years.
Three years before she became one of the most-influential first ladies in American history, my impressions of Mrs. Reagan  were formed when I encountered her as news director for an all-news radio station and later for a television news operation, Both were in Palm Springs.
On each occasion, she visited the town to raise funds for Mr. Reagan's upcoming bid for the 1980 presidential election. Palm Springs had a lot of wealthy potential donors. It was a playground of movie stars and business moguls.
Late-night meeting
The second encounter was when I participated in a late-night press availability by her presidential-candidate husband at Palm Springs Airport with my KPLM-TV cameraman.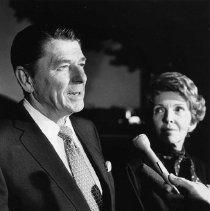 What struck me was that Mr. Reagan seemed tired as he took questions. I'll never forget her loving, admiring gaze at him as he spoke. He seemed to feed on her love and energy.
Clearly, she was his devoted partner.
In our first encounter, Mrs. Reagan came to town and scheduled a news conference for 1:30 in the afternoon at a private residence. As news director of K/GUY Newsradio, I was most anxious to attend.
I had been hired from a Dick Clark-owned radio station, KPRO, to build the K/GUY Newsradio operation on a shoestring budget. My job was to build ratings to generate revenue. So being first and the most accurate in news coverage was paramount.
Challenges
As a poorly financed news operation, the station owner had filed for bankruptcy. This meant we had portable tape-recorder and other equipment issues. Therefore, we had to be very resourceful to capture the trust of listeners.
The station's financial issues were compounded by the competitiveness in the market. Competing sales and journalists constantly badmouthed us.
We were in a tense ratings battle, but listeners responded well. Ninety percent of the men in the region listened to us but we were weak among women listeners, for which we took corrective action.
In TSL, time-spent listening, the average person listened for 90 minutes, which was outstanding for either an all-news or music-radio station. We garnered an astronomic 14-share of the audience, which I wanted to protect.
It would be humiliating if we couldn't cover a major story involving Mrs. Reagan because of our unreliable equipment. It would hurt our image in the community.
It would also give bragging rights to competing news operations. I couldn't let that happen. I had been working 12-hour days to build our listener ratings vs. heavy competition.
I envisioned the potentially embarrassing results from her news conference. If we failed to attend, I envisioned our competitors chortling about us all the way back to their studios. Then, they would brag on the air how they beat us, I was determined to not let that happen.
But there was no way I wanted to be embarrassed facing Mrs. Reagan in-person without a reliable tape recorder. Fortunately, our telephone and studio equipment were in great shape. So, I got an idea.
The sales pitch – negotiations
I called the residence where Mrs. Reagan was staying and asked to speak with her. My plan was to propose doing a telephone interview, record our conversation, and to immediately commence airing stories at the conclusion of the news conference.
But Mrs. Reagan's press secretary, a young woman, was appalled by my audacity: "How dare you insult the next First Lady of the United States by not attending her press conference!"
Over and over again for several minutes, I groveled as I tried to reason with her.  She wouldn't listen.
Suddenly, I heard a man's voice on the phone: "This is Mr. Reagan's press secretary. Who is this?"
"I'm Terry Corbell, news director of K/GUY Newsradio, the only all-news radio station in this market. I'm terribly embarrassed but we're unable to attend Mrs. Reagan's press conference. "
I knew it was important to show professionalism in covering their campaign.
"We really want to report on her visit. How about if I interview her on the phone. I promise to embargo the stories until 2 p.m. after the news conference. Then, the stories with her voice will be rotated on our air every 30 minutes," I proposed.
Then I offered another value proposition – additional benefits – for him to consider.
"As the freelance correspondent in this area for KNX Newsradio in Los Angeles and for NBC/NIS, I promise she will get outstanding nationwide coverage," I said, as sweat poured off my brow.
(I knew I didn't have to tell him the legendary KNX was and is the radio news authority in the nation's second-largest market, and the then-NBC/NIS network had dozens of all-news radio stations from California to New York.)
Major coup
Without hesitating, he answered: "Just a minute."
Suddenly, the anticipated miracle.
"Hello, this is Nancy Reagan," she said in her familiar, dignified tone of voice.
"Mrs. Reagan, we'd like to hear what you want to say today to the people of Palm Springs. Then, we'd like to ask you some questions," I responded. "May I record you?"
She patiently answered all my questions. She gave me enough comments on multiple issues to last us every day for the rest of the week. That was a major coup.
So at 2 p.m. — with a swagger — we confidently blasted away on-the-air: "…in an exclusive interview, Nancy Reagan tells K/GUY Newsradio…"
Celebration continues
Then, I pitched the Nancy Reagan story to KNX and NBC. The station and network readily agreed to accept my reports.
At 2:15, I was interrupted by a phone call from a very angry caller: "This is _______!!" (The news director at our chief competitor.)
"How in the hell did you get an interview with Nancy Reagan?? You weren't even there!!" he bitterly exclaimed and demanding an answer.
Apparently, after the press conference he drove back to his station to write his story. He must have been laughing over what he thought was our failure to show up for the important press conference. For his added amusement, he tuned into K/GUY. But he got the shock of his career as he listened to Mrs. Reagan before he even got out of his car.
I was surprised by his anger, but I didn't hesitate.
"Exclusive reports – that's the K/GUY Newsradio approaching to winning," I retorted. (Couldn't help myself. We had a track record of developing exclusive stories. It was fun to be feared.)
As I promised Mr. Reagan's press secretary, we aired Mrs. Reagan's opinions that day every 30 minutes. In addition, we had enough exclusive stories for the rest of the week, and we milked it. All the while, I chortled almost nonstop.
Decades later, not to be gauche, the event still brings a smile to my face – Mrs. Reagan's patience and wisdom to accept our interview prior to her news conference to benefit her husband, and how my courage had turned our lemon into pure gold.
No surprise to me that she was so admired, and I'm eternally grateful for the experience.
The moral: It's an inside job. If you feel good about you're doing, you'll succeed. So, don't succumb to fear, do your best in negotiations, and never give up.
From the Coach's Corner, editor's picks for additional reading:
5 Attributes of Leadership Are Needed Now — With all the dysfunction in the economy and the debate over healthcare, Seattle Consultant business-performance consultant Terry Corbell calls for leadership. He says the late President Ford, whom he covered as a journalist, left a remarkable legacy of leadership with healthy attributes for businesspeople and public officials to emulate.
Terror – 2 Democrat Presidents Provide Lessons for Obama — Presidents Franklin Roosevelt and John F. Kennedy, both Democrats, won wide respect for their handling of monster threats to America. Plus, both presidents did not hesitate to identify the enemies, call them out on their lies, and to take decisive action. Why President Obama's political correctness threatens America's free-enterprise system.
How to Grow Your EI for Leadership Success — Emotional intelligence (EI) is important for communication and leadership. A person who has EI is able to evaluate, understand, and control emotions.
7 Thought Leadership Tactics for Strong Performance — For a company to achieve strong performance, its culture and employees must be aligned with business strategy to provide value. But more and more, it seems employees can't even articulate business strategy. Therefore, management must identify and communicate effective programs that are aligned with employee behavior in order to blaze new paths and fuel business growth.
"My life really began when I married my husband."
-Nancy Reagan
__________
Author Terry Corbell has written innumerable online business-enhancement articles, and is a business-performance consultant and profit professional. Click here to see his management services. For a complimentary chat about your business situation or to schedule him as a speaker, consultant or author, please 

contact Terry

.