On overseas trips, business travelers feel anxiety for a myriad of reasons.
The reasons for stress can include fear about missing a flight, losing luggage, traveling to unknown territory, being aware about logistics and mobility upon arrival, losing documents, meeting new business prospects, or losing devices.
So it helps to take steps to alleviate stress.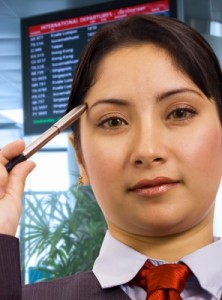 Tips include:
1. Strategically pack your carry-on.
In your carry-on, make sure you have at least one suit and pack copies of your travel documents. This will alleviate any stress if your luggage is lost.
2. In your baggage, pack the larger pieces first.
If you fold your clothes, pack the largest items first with as few folds as possible. Stack them to fit as many items as you can.
Pack your suit jacket so the inside of it is facing outward. Your slacks should be folded into three quarters along the seams.
Then, put your folded garments in separate bags and remove the air before sealing the bags before putting them in your luggage. Upon arrival, hang them up right away.
3. Insert your devices and cables in plastic bags.
The plastic bags containing your devices should be packed separately and inserted last in your luggage. This will help you go faster through airport security.
4. Investigate your hotel's amenities.
Before leaving on your trip, the trick is to create an office away from home. You'll need to know what the hotel offers in free amenities and work-related capabilities such as a business center, printers, fax machines or WIFI.
Use the hotel's concierge to learn about discounts and other opportunities you'll want to know about.
5. Pre-order room service.
If you have a hectic schedule and to avoid having to wait unnecessarily for meals, look for hotels that will allow you to pre-order room service. The most efficient hotels can even provide you with an estimated delivery time.
6. Research hand gestures.
When conducting business overseas, avoid heartache by knowing the culture's hand gestures. What is acceptable in America might not be in the country you're visiting.
7. Be careful with your verbiage.
Some words in the U.S. have different meanings in other countries. So do your homework.
8. Investigate reviews by other travelers.
Prevent grief by thoroughly checking reviews of all possible sources. That would be hotel and restaurant Web sites but also social media and travel-booking Web sites.
9. Use an airport lounge.
Instead of being miserable at an airport, patronize an airport lounge that can alleviate your stress. Perhaps your credit card provides access to lounges.
If it doesn't, you can usually buy a day pass. Frequent global travelers usually obtain annual priority passes for a few hundred dollars.
10. In a hectic airport, look for the shortest line which is likely on your left.
Most people tend to enter the lines on their right. So when you enter the airport, look to your left, too, before deciding on which line to enter.
11. On your flight, inquire about free items.
Airlines don't always publicize free items or services, so check with your flight attendant. But pick a good time to ask when the attendant isn't swamped.
12. If you're dissatisfied with your airline seat, ask to change.
Do what you can to enjoy your long flight. If the plane has an open seat that you might prefer, be sure to ask your flight attendant about it.
13. If you fear missing your connecting flight, talk with your flight attendant.
To make certain you make it on time for your connecting flight, mention your concern to your flight attendant. In this way, the flight attendant can arrange to notify the ground operations at the airport to delay the subsequent flight.
14. Leverage Google Maps.
Google Maps is reliable about locales and traffic information.
From the Coach's Corner, a related thought: Think safety. Be cautious. For example, if you're uneasy in your lodging, change it. End your evenings early. Don't stay out late unless you're sure it's safe.
Additional business-travel strategies:
13 of the Best Business Travel Tips — Jet lag, bad hotel beds, and lost luggage – just a few of the miseries of business travel. But travel is vital to manage operations, close sales and to build relationships.
Before You Travel Abroad, Take 6 Financial Precautions Today — Whether you're traveling to a foreign country for business or pleasure — there are at least six steps you should take. You need to do more than just making sure that your passport is current, planning your itinerary or deciding what to pack.
To avoid the Agony of Lost Luggage: 6 Precautions –You've confidently waited at the airport's carousel for your luggage. But it wasn't there. Your hands began to perspire as you became more apprehensive. Next came the migraine. If an airline has ever lost your luggage, you know how aggravating it is. It's a major inconvenience. Here's how to prevent it.
Travel — How to Avoid Foreign Currency-Exchange Fees — When traveling abroad for vacation or business, foreign currency-exchange fees can get costly for thrifty-minded people. There are steps you can take to avoid extra fees in exchanging currency. The pitfalls to avoid range from using airport exchange tables to using credit cards that surcharge the purchase of products and services.
11 Travel Tips – Save Money, Prevent against Cyber Theft, Fraud — The most vulnerable travelers are businesspeople. That's because they have to use Internet and e-mail. They're in danger expressly from vulnerabilities, such as from wirelessly accessible passports to using WIFI.
"Chance favors only the prepared mind."
– Louis Pasteur
__________
Author Terry Corbell has written innumerable online business-enhancement articles, and is a business-performance consultant and profit professional. Click here to see his management services. For a complimentary chat about your business situation or to schedule him as a speaker, consultant or author, please contact Terry.
Photo courtesy of Stuart Miles at www.freedigitalphotos.net