Every now and then, one of my pleasures is watching online television, especially the nostalgic black and white versions of the Perry Mason TV series. It was a wildly popular, revolutionary CBS program based on the books by Erle Stanley Gardner.
Now, it's fun to see how southern California looked in the late 1950s to 1960s – the buildings, streets and, of course, the cars. One of my favorite cars was Perry Mason's 1958 Cadillac convertible.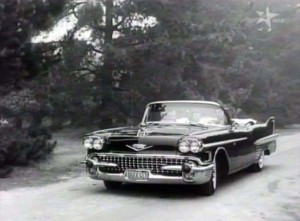 As an elementary school-age youngster, it was great delectation to watch the Saturday night drama as we enjoyed Raymond Burr et al as we munched on popcorn or roasted peanuts.
And it was my first inkling that I would later enjoy critical thinking and thought processes. As a gauche pre-teen, I liked to brag: "Hey, I wrote the script."
More often than not, I could predict who the villain would turn out to be — by simply paying attention to the actors throughout the program.
Then, I compared them in the closing minutes with the actors shown sitting in the courtroom watching DA Hamilton Burger duke it out with Perry Mason.
You see, the criminal usually turned out to be the person who was not shown in the scenes just prior to Perry Mason's miraculous courtroom revelation. I kept my secret of how I predicted success from my family for years until they no longer cared.
Online acceptance
The series is now a popular online CBS offering. Decades later, I've also discovered that I'm not alone in my baby-boomer acceptance of commercials in the online programs, according to a research firm, comScore.
A report dated April 1, 2010 contained good news for advertisers and it proved to be timeless.
That's comScore's "Viewers Indicate Higher Tolerance for Advertising Messaging while Watching Online TV Episodes."
Really? So even in this age of instant gratification in which consumers expect fast, free products and services, there's acceptance of the concept that online TV has to be somehow financed. Either we pay for the program or we watch the inserted commercials.
"As cross-platform TV viewing becomes more widely adopted, it is important to understand the driving forces behind this shift in consumer behavior if we are to effectively monetize this emerging medium," says Tania Yuki of comScore.
"While some analysts have suggested that the shift to online video reflects a consumer desire to view fewer ads, our research suggests that in many cases online TV viewers actually have a higher tolerance for advertising messages than they are currently receiving," she explains. "This finding, of course, suggests there's advertising revenue being left on the table and that media companies have not yet extracted full value out of the online medium."
Respondents included a cross-section
Viewers of TV only – 65 percent
Viewers of TV and online – 29 percent
Viewers of online only – 6 percent
Ms. Yuki concludes viewers of online TV programs would tolerate commercials.
The norm is four commercials minutes an hour, but she says the data shows they would accept six to seven minutes per hour.
Motivations for online TV viewing
74 percent indicated convenience for their schedule.
70 percent cited the convenience of being able to stop and play the programs.
67 percent enjoyed the luxury of fewer commercials than TV.
To read more of the data, see the press release.
As for the old black white Perry Mason series on CBS with commercials, they're still online.
From the Coach's Corner, here are related articles on videos:
Best Practices to Ace Your Low-Budget Online Video Conference — When a visual, live discussion is needed, video conferencing is more effective than telephone calls. They are a great strategy and provide savings in time and money for professionals separated by geography. In human resources, video conferencing is a great tool for job interviews and is seamlessly scaleable but relatively easy to conduct even for training with learning labs and breakout sessions.
Tips: Do it Yourself Videos are OK, but Get Help if You Aren't a Pro — Videos, as a marketing tool, are great because they enable prospects to actually see your business from their computers. You can be seen as hospitable. Videos can help your prospects feel like guests.
"Video games and computers have become babysitters for kids."
-Taylor Kitsch
__________
Author Terry Corbell has written innumerable online business-enhancement articles, and is a business-performance consultant and profit professional. Click here to see his management services. For a complimentary chat about your business situation or to schedule him as a speaker, consultant or author, please

 

contact Terry

.