When a visual, live discussion is needed, video conferencing is more effective than telephone calls. They are a great strategy and provide savings in time and money for professionals separated by geography.
In human resources, video conferencing is a great tool for job interviews and is seamlessly scalable but relatively easy to conduct even for training with learning labs and breakout sessions.
Unless you're video conferencing to share great news with family and friends, precautions are needed to put on your best face.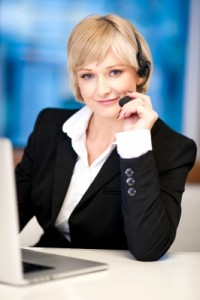 For professionals to look their best — in sectors from business and media relations to government — there are several factors to keep in mind for low-budget conferencing.
Here are six affordable best practices:
1. Make lighting a priority. Proper lighting has always been important for television and filmmaking. That's true in today's video conferencing to look your best.
Unless you have a high-tech conference room, improve on your simple overhead lighting. Important conferences call for good lighting. Otherwise, you won't look well as a result of shadows under your eyes.
Place your camera in front of soft lights — on your left and right. You'll also need a soft light behind you.
2. Capitalize on your best angle for good eye contact. So place the web cam on a tripod at eye level. A tripod at the right height will create a favorable impression because your conferees won't be looking down at you.
If you're using the camera in your notebook computer, do some planning. Place it on a solid box, platform or even hardcover books. This will avoid the risk of you being viewed from a poor angle — your audience looking up your nose.
For a good headshot, your camera angle should include your shoulders to the top of your head.
3. Make a good impression by looking your best. From my work as an on-air journalist and client spokesperson, I can tell you that small, fine designs and stripes can be disconcerting because they can appear to move or crawl on camera. So can solid red accessories.
A white shirt can be too bright for the camera. Dark, solid- colored business attire with appropriate contrasting accessories work best.
Not to be condescending, check your teeth, makeup and hair. The higher the stakes for you, less skin is recommended.
Make sure your room temperature is comfortable, especially if you get nervous on camera. You want to be viewed as competent, not nervously perspiring. Further, it doesn't look professional if your audience watches you taking off a jacket or sweater.
Use a comfortable chair and make certain it doesn't make distracting sounds.
If there's a slightest chance you'll have to stand or move away from the camera, completely dress the part you want to convey — from your head to your toes.     
4. Check your background. What will your conferees see behind you? You want it to be conducive for a professional appearance.
If you really want to hit a homerun, create a backdrop strategy used by television stations on their sets. Create a wall or large surface with your company name, logo and colors. Use a friend or colleague as a mini-focus group. Do a practice video with them to make sure your backdrop is strategically placed creates a positive on-camera impression.
5. Prevent interruptions. Again, think like a broadcaster — as though you're a mini TV studio. Put a warning on your office door — an on-air sign, if you will.
If you're video conferencing from your home and if you have children or pets, make provisions to prevent noises or interruptions.
6. Anticipate other possible distractions to your viewer. Practice your presentation. No matter how many people are involved in the conference, treat it as a personal, one-to-one communication with good eye contact. If it's possible you'll have to refer to notes, make sure they're readily accessible and easy to read.
Audio comprises 50 percent of a video. Good audio is crucial. Make certain your room has good acoustics. What ever mike you use, make sure it's good quality and working well, and that it's placed the right distance from you.
For a friendly and professional conference, smile whenever appropriate and don't frown or squint at the camera.
From the Coach's Corner, editor's picks:
Tips: Do it Yourself Videos are OK, but Get Help if You Aren't a Pro — Videos, as a marketing tool, are great because they enable prospects to actually see your business from their computers. You can be seen as hospitable. Videos can help your prospects feel like guests. 
Need a Game-changer? Try a Good Video for More Credibility — Whether you're an event planner or if you want to make your business more credible, here's why good videos should be part of your marketing mix. 
Web Publishers: Videos Continue Surge in Popularity — Including advertisements, here are the results of studies regarding online video viewing and usage. 
Learn to Give a Speech Like a Business Pro with 8 Tips — When it's time to give a speech, do you tremble with abject fear? Do you break out in a cold sweat? Getting terrified and tongue-tied is not a fun experience. It's OK to be nervous before giving a speech in public or speaking in a meeting at work. 
7 Steps to Become Great at Thinking on Your Feet — Have you ever been at a loss for words? For example, when asked a question, have you been tongue tied in a sales presentation, while speaking at an event, in negotiations, during an interview or a staff meeting? Getting tongue-tied is not a fun experience. 
"Nothing is more despicable than a professional talker who uses his words as a quack uses his remedies."
-Francois Fenelon
__________
Author Terry Corbell has written innumerable online business-enhancement articles, and is a business-performance consultant and profit professional. Click here to see his management services. For a complimentary chat about your business situation or to schedule him as a speaker, consultant or author, please contact Terry. 
Photo courtesy of stockimages at www.freedigitalphotos.net