Updated March 30, 2018 –


"If you want something new, you have to stop doing something old," Peter Drucker once admonished us.
At the author of 39 books, the late Dr. Drucker, of course, was the world's premier business philosopher.
But not every Republican and business have heeded his simple advice.
Firstly, let's consider business. With the long decline of former market stalwarts General Electric, General Motors and Proctor & Gamble, you might think the companies would have been quick to change.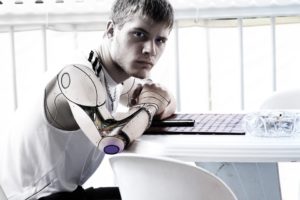 For instance, during the Digital Age we've been seeing the emergence of artificial intelligence and robotics.
You might also think GE and GM would have been leaders in both. But no, they haven't.
Meantime, the companies have fallen further behind the market capitalization of many other companies.
Indeed, stocks have jumped significantly after the election of Donald Trump.
Certainly, the psychology of his policies on pro-growth tax reform, eliminating onerous business regulations and rebuilding the infrastructure along with strong earnings have motivated investors.
So much has been written about the growth of the stock market and U.S. economy during the era of Trumponomics. Three percent growth has returned in the gross domestic product.
The economy seems poised to achieve the high levels we haven't enjoyed since President Reagan's tenure in the 1980s.
Profits growth has propelled stock market gains. The S&P 500 continues to trade at around 25 times earnings.
Positive forecasts
The U.S. economic forecasts are mostly positive. Ditto for the global economies.
So many analysts believe corporate earnings will continue to grow in double-digit percentages for the near future.
Of course, this means the aggregate price to earnings ratio will be around 18. Concurrently, investors will likely continue to be bullish on stocks. It'll be a fait accompli after tax reform and a corporate-tax cut.
Inflation has been almost unbelievably low but is increasing. The Federal Reserve will hike interest rates and contract its balance sheet.
So, as technology has greatly impacted business, intellectual property has become increasingly important.
Bricks and mortar are less important in the Digital Age. Amazon has become a dominant factor in B2C and B2B sales. Online banking is prevalent. Car dealer showrooms are affected by the Internet.
All of this means lower operational costs, which is why big businesses are making bigger profits.
Economic red flag
But despite the improvements brought by Trumponomics, there is an economic red flag. The GOP-dominated U.S. Senate and House of Representatives seem unaware of Dr. Drucker's common-sense warning.
Literally, with the exception of tax reform they've accomplished very little.
Republicans must deliver on their mandate for other reforms in healthcare, business regulations and federal spending.
If not, the nation's electorate might vote for the return of President Obama's socialistic policies and culture of entitlements.
Already, entitlements – food stamps, Medicaid, and Section 8 housing subsidies for physically fit adults without small children as well as Social Security disability benefits – consume nearly 60 percent of federal revenue.
Unless there's a new cultural approach, it will only get worse.
Federal debt
With such recipients eligible to vote, the federal debt is unsustainable. It is more than $21 trillion.
For the time-being, the nation's economy must grow to offset such problems. President Trump's economic leadership will prove to be effective long-term, if Republicans stop blinking on the important issues.
Short of that and sans the psychology of Trumponomics, voters will react predictably. Then, everybody will lose. The nation's culture must change.
So, Republicans remember: "If you want something new, you have to stop doing something old."
From the Coach's Corner, related articles:
To Become Relevant, What GOP Majority Must Do For SMEs — The U.S. economy is blossoming, despite the inept Congress. Small and medium-sized enterprises haven't received their deserved nourishing fertilizer. Here's what the Republican majority must do or face consequences.
On 9/11, America's Economic Preparedness Worse than Ever — Unfortunately, today is the 16th anniversary of that tragic day, and hurricanes have devastated America. But America's fiscal ability to deal with such crises is worse than ever. Here's what Congress must do.
Flag Day Irony: Hateful Political Rhetoric Threatens America — A tragic event obliterated an historic day in America – Flag Day on Wednesday, June 14, 2017. It had to do with hateful politics.
Why President Trump's Growth Budget, Reforms Matter — Deficit-spending and the resulting massive debt severely damages America's economic prospects and hurts each American. But a disciplined approach will make America great again — by shrinking the national debt and implementing other needed reforms.
How Bad Policy and Journalists Hinder Economic Prosperity — The nation's economy will strongly improve if we capitalize on lessons in common-sense economic-growth policies from two late presidents.
"Culture eats strategy for breakfast."
-Peter Drucker
__________
Author Terry Corbell has written innumerable online business-enhancement articles, and is a business-performance consultant and profit professional. Click here to see his management services. For a complimentary chat about your business situation or to schedule him as a speaker, consultant or author, please contact Terry.