Memorial Day is a holiday to remember the armed forces' men and women and why they died to protect our freedoms. Given Honest Abe's thoughts in his Gettysburg Address, here are clues about what Honest Abe would say today.


Updated May 29, 2017 –

Some positive news was implied in a Rasmussen Report headline, "Respect for Memorial Day Reaches New High."
As a holiday, when many Americans enjoy barbecues in the backyard and retailers stage sales to lure shoppers, Memorial Day may mark the unofficial start of summer.
But the intended meaning goes far deeper.
Memorial Day is a day for remembrance – remembering the men and women who died while serving in the U.S. Armed Forces to protect our freedoms – from economic to political.
It was originally known as Decoration Day following the Civil War.
The horrors of the war were fresh in the minds of the American people, and the principles of President Abraham Lincoln were recognized and honored.
Gettysburg Address
On Nov. 19, 1863, President Lincoln gave perhaps one of the best-known speeches in American history – the Gettysburg Address:
"…It is rather for us to be here dedicated to the great task remaining before us – that from these honored dead we take increased devotion to that cause for which they gave the last full measure of devotion – that we here highly resolve that these dead shall not have died in vain – that this nation, under God, shall have a new birth of freedom – and that government of the people, by the people, for the people, shall not perish from the earth."
The name, Memorial Day, didn't become widely used until after World War II. Federal law mandated it become official in 1967.
The Uniform Monday Holiday Act was passed on June 28, 1968. Effective in 1971, Memorial Day and three other holidays were shifted to specific Mondays, which meant Americans would have a three-day holiday weekends.
Unfortunately, the switch has led to an indifferent observance of the solemn day when American flags are supposed to be quickly raised to the top of the flag pole then soberly lowered to half-staff.
At noon – for the rest of the day – it's to be repositioned at the top of the staff.
So what would Abraham Lincoln, arguably the most-respected president ever in American history say about trends today?
President Obama channeled President Lincoln
It's been well documented that Abraham Lincoln is the political idol of former President Barack Obama. Mr. Obama has even tried to emulate President Lincoln, at least, in one way.
In imitating the structure of the Gettysburg Address starting in January 2011, Mr. Obama has ostensibly started to pattern his speeches after Honest Abe's.
So it's apropos to anticipate what the 16th president would say about the status of American patriotism today on Memorial Day now that more than one million Americans have given their lives.
Other than President Obama copying President Lincoln's speech structure, the two presidents from Illinois have something else in common.
Each had polarizing results from their presidencies – Mr. Lincoln in saving the nation in the Civil War and Mr. Obama in 21st century far-left policies.
Have their results led to suitable respect for their sacrifices protecting our "government of the people, by the people, for the people?"
The answer is yes for the former and no for the latter. Why? An explanation follows below.
Popularity of Memorial Day
Ostensibly, it was very heartening when the respected Rasmussen Poll showed an all-time high popularity for the Memorial Day holiday.
After all, unlike all the major polling organizations – from the NBC/Wall Street Journal poll to the ABC News/Washington Post poll – there were only three accurate polls that forecast a big Donald Trump win over Hillary Clinton in the 2016 presidential election.
The only accurate polls: The USC Dornsife/Los Angeles Times Poll, trends in Google search results, and Rasmussen Reports.com.
Unfortunately, Rasmussen Reports shows only 49 percent of American adults consider "Memorial Day as one of the nation's most import holidays."
Respect for patriotic Americans who serve in the military was a key issue for the Trump campaign. Countless American military-service members have died to protect our freedoms as a democracy.
In many ways, economic and political freedoms were trampled under Mr. Obama's presidency.
"Power does not corrupt men; fools, however, if they get into a position of power, corrupt power."

-George Bernard Shaw
One of the world's most-trusted and largest news reporting services warned about censorship imposed by the Obama Administration.
It was the organization's second warning in 2014. Ignoring the public's right to know is a serious accusation, especially from the Associated Press (Trusted News Organization Blasts Obama Administration over Continuing Censorship).
And the trend has continued as Mr. Obama and Mrs. Clinton have refused to accept the election results.
They have disingenuously tried to claim the high road while refusing to respect the wishes of American voters by continually trolling and criticizing the Trump presidency for his immigration stance, terrorism, and other patriotic issues such as his economic policies to reduce the nation's massive debt.
After succeeding President George Bush, Mr. Obama's far-left policies exploded the debt by more than $10 trillion. And it's still climbing.
U.S. Debt Clock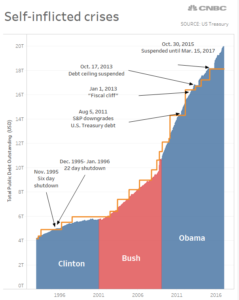 This means each American is saddled with $260,382 in federal debt. If it isn't eliminated, America will fall to her knees.
Meantime, Mrs. Clinton has continued to claim numerous excuses for her loss (All of Hillary Clinton's 'but for' excuses – The Washington Post).
However, the truth is she lost because 63 million Americans wanted change after her huge scandal list exploded.
Chilling similarities
Despite the what the mainstream media would have us believe, the stench of her scandals and the Obama Administration's IRS scandal and dubious ties to the White House have been reminiscent of the same type of events in the Watergate scandal that also started in President Nixon's first term.
The Republican break-in of the Democratic Party office at the Watergate Hotel was characterized as the work of just a few people.
Thanks to Deepthroat and the relentless investigation by two young Washington Post journalists, we gradually learned about hush money to the thieves, the stone-walling, lies, ties to the White House and other details of the cover up.
We learned about Mr. Nixon's enemies' list and his desire to use the IRS to further his goals. An article of impeachment resulted from his desired use of the IRS to target his enemies.
Genetic liberals and many Democrats disagree, but the facts are indisputable. The IRS scandal deepened by the day, and its deplorable events paralleled Watergate.
Starting in 2008, conservative and Tea Party groups were prevented from tax-exempt status but liberal groups weren't. Some of the conservative organizations were threatened even though they already had received their tax-exempt status.
False claims
During the presidential election year, in March 2012, then-IRS Commissioner Douglas Shulman told a House committee there was "absolutely no targeting."
But Lois Lerner, the person in charge of the IRS office overseeing tax-exempt organizations, knew about the outrageous behavior of her employees in June 2011.
The scandalous IRS behavior continued another 11 months – until 2012 – the IRS was still developing tax-exempt guidelines.
This means the illicit activity continued for at least three months after Mr. Shulman's misleading testimony before Congress. Worse, Mr. Shulman never returned to Congress to voluntarily correct his false statements.
In May 2013, in a House Oversight and Government Reform Committee hearing televised by C-SPAN, Mr. Shulman appeared indifferent to concerns by Rep. John Mica (R-FL) that the targeted victims were gagged for political reasons by the IRS for 27 months.
Mr. Shulman denied there had been any concerns about about the suppression of political beliefs.
Then, Rep. Jim Jordan (R-Ohio) told him 132 members of Congress wrote him such issues. To the nonchalant Mr. Shulman, Rep. Jordan told him there were 42 major news stories on Google.
It was also revealed Mr. Shulman had an extraordinary high number of meetings at the White House in 2010 and 2011 – 118 visits – an average of more than once per week.  Rep. Gerald Connolly (D-VA) reminded Mr. Shulman he was under oath.
In denying he conspired with administration officials, Mr. Shulman claimed he only visited the White House for "the Easter egg roll" with his children and for other miscellaneous reasons.
The IRS also targeted other conservative groups – from religious organizations like the Rev. Billy Graham's to patriotic groups that educated Americans on the Constitution and the Bill of Rights.
Nixon-like enemies' list
Then, we learned more about Mr. Obama's campaign enemies' list, which included a businessman.
He was attacked with a tax audit and his company was hit with a Department of Labor audit after the Obama campaign Web site disingenuously defamed his integrity — along with seven others — for being a Romney donor.
The audits cleared him, but he was stuck with $80,000 in legal and accounting fees.
An Obama Administration employee falsely besmirched the reputation of a Koch Industries. It's no secret those businesspeople oppose Obama Administration policies.
Sounding a lot like President Nixon and his officials in Watergate who were later imprisoned, Ms. Lerner denied any wrongdoing in her appearance before Congress.
Then she had the audacity to plead the Fifth Amendment – refusing to answer any questions about her role.
It's an outrage that she used a Constitutional right that many Americans were denied by her 900 IRS employees.
Smoking gun
With the appearance of a smoking gun in an Obama campaign-IRS conspiracy to deny conservative fundraising in order to defeat Mitt Romney in the 2012 election, Mr. Obama met with anti-Tea Party IRS Union President Colleen Kelley just prior to the IRS attacks on the conservative groups.
More disingenuous behavior in the taxpayers' White House: They put the person who oversaw the IRS tax-exempt division, Sarah Hall Ingram, in charge of implementing the highly controversial ObamaCare.
(Even some of Mr. Obama's key union supporters demanded "repeal or complete reform" of ObamaCare.)
But even in the far-left bastion of the Huffington Post, in May 2013 Howard Fineman wrote:
"With two winning presidential campaigns built on successful grassroots fundraising, with a former White House counsel (in 2010-11) who is one of the Democrats' leading experts on campaign law (Bob Bauer), with former top campaign officials having been ensconced as staffers in the White House . . . it's hard to imagine that the Obama inner circle was oblivious to the issue of what the IRS was doing in Cincinnati."
In case it isn't obvious to you, the IRS scandal is about restricting freedoms – discouraging donations to conservative-minded opponents – to lower the level of free speech in a presidential campaign to steal an election.
So with the unpatriotic trends, what would President Lincoln say today?
You know the answer.
Honest Abe believed in good government of the people, by the people, and for the people. And that the heroic men and women who have died to protect our freedoms deserve better — much better.
From the Coach's Corner, editor's public-policy picks:
5 Attributes of Leadership Are Needed Now — With all the dysfunction in the economy and the debate over healthcare, Seattle Consultant Terry Corbell calls for leadership. He says the late President Ford, whom he covered as a journalist, leaves a remarkable legacy of leadership with healthy attributes for businesspeople and public officials to emulate.
Betrayal of Israel, an Obama Legacy — For many supporters in the two terms of President Obama, his administration's Middle East policy and treatment of Israel seemed well-balanced and positive. But his betrayal of Israel on the eve of Hanukkah shows the truth.
President Obama Never Listened to Steve Jobs on Economy — Toward the end of his life, Apple co-founder Steve Jobs – widely recognized as a genius – warned President Barack Obama about his public policies.
2 Democrat Presidents Provide Lessons for Obama in Terrorism — Presidents Franklin Roosevelt and John F. Kennedy, both Democrats, won wide respect for their handling of monster threats to America. Plus, both presidents did not hesitate to identify the enemies, call them out on their lies, and to take decisive action. Why President Obama's political correctness threatens America's free-enterprise system.
Downward Revision of GDP Should Set off Alarm Bells — To gauge the health of America's economy, the gross domestic product is, of course, an important indicator. It's been revised downward — again. What this means …
Urgent Plea for the Media and Nation's Leaders from a Wise Teenager — Here's a primer on how elected officials are destroying America's economy the future of young Americans — astute observations from a 19-year-old.
"Power does not corrupt men; fools, however, if they get into a position of power, corrupt power."
-George Bernard Shaw
__________
Author Terry Corbell has written innumerable online business-enhancement articles, and is a business-performance consultant and profit professional. 

Click here to see his management services

. For a complimentary chat about your business situation or to schedule him as a speaker, consultant or author, please 

contact Terry

.