One key element for a company's branding and sales that often gets short shrift is a great logo. Whether you're an entrepreneur entering a brave new world or an established company needing profits, a great logo helps ensure top-of-mind awareness.
A great logo can make the difference between winning and losing in a competitive marketplace.
To win with a world-class logo, here are the six key characteristics:
Uniqueness means telling your story.
Some companies, such as Intel, have been ingenious in creating a logo with sound — the famous Intel "bong."
The 2015 video explains the history of the Intel bong.
You want to stand out against your competition. Additionally, like Intel, create your own fonts to distinguish your logo from others.
And yes, you want a memorable logo, but the last thing you want is negative publicity and the expense of a lawsuit.
Keep it fresh.
Look into the future. Your logo needs to be timeless in the face of changing times.
It's not always possible – sometimes logos need to be fine-tuned because of developing trends. If you decide to update your logo be sure, though, to keep the same basic concept (customers long remember a great logo).
Simplicity works.
Don't get too cute. A logo needs to be simple to be memorable. Here's a trite phrase but apropos – "Less is more."
Simplicity is necessary so you can also use your logo as a favicon.  A favicon is shown in the address bar of every browser, and will help to level your playing field with bigger companies. (A favicon is briefly explained among the eight best practices in small business marketing.)
Be artistic for visual appeal.
Professionalism is important to avoid the look of being poorly planned. You want balance in color and fonts that don't clash with your objective.
A logo design should coincide with your targeting.
Style, fonts and colors might be appropriate for one industry and profession, they aren't suitable for others. A whimsical style is not suitable for professional service firms. And it must look good with your slogan.
It should be adaptable.
Flexibility is important. There are occasions when you'll to display your logo in different ways – whether it's for a black-and-white motif, a small logo on business cards or a large rendition on a sign at a store location.
From the Coach's Corner, here are more marketing tips:
Overview: Marketing Plan Essentials For Best Results — If you haven't completed a strong marketing plan to complement your business plan, you're missing salient benefits and your plan needs four specifics.
Strategies, Precautions When Expanding into a New Market — Whether you're expanding across town or a different region, there are risks to anticipate in alleviating any uncertainty.
Critical Essentials to Develop the Best Marketing Formula — There are critical essentials for marketing, which includes the right channels and developing the right message. That includes the right branding slogan and logo. Unless your targeting upscale consumers, many consumers prefer value marketing — not cute, which doesn't necessarily mean selling at a lower price than your competitors. Hyper-consumerism is history. Humor is great, but more importantly, traditional values with a purpose are in vogue.
14 Steps to Profit from Online Customer Reviews — For competitiveness and profits, businesses can't afford to ignore the potential of online reviews. They're a factor in revolutionizing commerce. Reviews are important because they influence prospective customers to buy from you. They're also beneficial in improving your Internet presence because search-engine crawlers consider them to be relevant.
How Mobile Strategies Are Most Effective with Cross-Channel Marketing — Businesses are increasingly using mobile apps to sell products, but the most successful know how best. They use cross-channel marketing tools.
"Your goal is not to make an image. It's to make a statement!"
– Tom Asacker
 __________
Author Terry Corbell has written innumerable online business-enhancement articles, and is a business-performance consultant and profit professional.

Click here to see his management services

. For a complimentary chat about your business situation or to schedule him as a speaker, consultant or author, please

contact Terry

.



Consumers love environmentally sensitive businesses. You might think it's a slam dunk for businesses to market themselves as green.
Well, yes and no. There are precautions to take. They include educating your audience on your eco practices.
Before you embark on a green marketing campaign, here's a checklist of basic questions to ask:
1. Are you really green? 
Merely supporting an employee carpool program doesn't constitute green a green business. There's certainly more to it.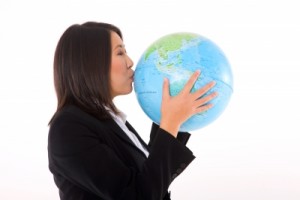 Think accuracy and transparency.
If your green-conscious customers find out you're giving lip service to being environmentally sensitive, you will be faced with a PR nightmare.
You will be accused of greenwashing – or lying in your marketing messages.
For instance, don't use too-narrow criteria to define your environmental practices, fail to provide proof, and don't provide misleading information.
2. Do you know what your customers really want? 
While it would seem to be an automatic assumption, not all customers care whether you're a green business. Some are more concerned about luxury or size.
It's good business to be green. But in your branding, be sure to touch all the concerns of your target audience instead of just focusing on what your green value propositions should be.
If your green-conscious customers find out you're giving lip service to being environmentally sensitive, you will be faced with a PR nightmare.
3. Do you use benefit statements to explain your feature  statements? 
Sometimes you have to super diligent in making your points; not all consumers will readily understand your messaging.
See to it they get it – your products and services are beneficial to their pocketbooks, families and the earth.
4. Are you a 100 percent green practitioner?
Don't miss any opportunity to use green practices.
Oh, and don't be mundane, trite or patronizing in your messages. Don't give it lip service. Be careful how you portray your environmental messaging.
5. Do you spread the message? 
Green practitioners who profit from being green should carry the environmental message to others. That means being vocal as a green advocate or engaging in environmental cause-related marketing.
Practice these principles and you'll be on your way.
From the Coach's Corner, here are more marketing strategies:
If Your Marketing Isn't Working, Consider the 14 Possibilities — There are many reasons for marketing failure of a campaign. Here are 14 of the more important reasons.
Why B2B Marketers Like Content Marketing – Study — B2B marketers ostensibly get a satisfying return on content marketing because that's the preferred choice for 82 percent of respondents in a survey.
10 Strategies to Shine and Make Ad Designing a Breeze -Designing simple banner ads without strategic planning no longer suffices. The click rates have declined significantly, especially in B2B. To shine in the clutter of Internet advertising, there are at least 10 tips to keep in mind. That's true in your mobile or Web site strategies.
You Risk Sales If You Don't Use This Mobile-Web Strategy — You know, of course, strong brand perceptions and emotional engagement drive sales. You also know your mobile-site strategy should be a priority, as a  result of the skyrocketing popularity of mobile devices. But here's a question: Is your mobile site actually hindering brand perception and emotional engagement?
11 Tips for the Best Business Mobile Web Site — If you operate a retail business, it's increasingly important for your Web site to be easy-to-use for mobile users. The use of smartphones and tablets is skyrocketing, especially among Millennials — young adults aged 32 and under. Studies also show the majority of mobile aficionados use their devices to access the Internet.
"I think the environment should be put in the category of our national security. Defense of our resources is just as important as defense abroad. Otherwise what is there to defend?"

-Robert Redford
__________
Author Terry Corbell has written innumerable online business-enhancement articles, and is a business-performance consultant and profit professional.

Click here to see his management services

. For a complimentary chat about your business situation or to schedule him as a speaker, consultant or author, please

contact Terry

.




Photo courtesy of Ambro www.freedigitalphotos.net


Past Super Bowl feats serve as terrific examples to inspire equally superb business performances to achieve profits.
Indeed, enthusiasm, execution and hard work deliver results. The moral? Anything is possible if you dream big, stay positive and work hard.
Good Marketing Captures Emotions
In a nationwide TNS Express Online Survey asked fans to pick their favorite Super Bowl moments.
Joe Namath, Super Bowl III

Three of the most-mentioned favorites:
Joe Namath's 1969 prediction that his New York Jets would beat the then-Baltimore Colts, which was a lesson in confidence and marketing puffery. You might recall he went on to sell tons of products –from hosiery to skin cream.
Hank Stram's colorful quote the following year, "Pump it in there, baby," was a lesson in coaching — mentoring.
The invincible "Steel Curtain" of the Pittsburg Steelers, which taught us lessons for protecting brand equity. Even non-Steeler fans could appreciate the team's defensive stars, including "Mean" Joe Greene, L.C. Greenwood and Jack Ham.
Lessons in Execution 
The aerial artistry of Terry Bradshaw's pass completions to Lynn Swann and John Stallworth were awe-inspiring.
The receivers were like graceful ballet dancers as they leaped to catch the ball. They were also tough and never fumbled — outstanding examples of mental strength and focus.
Role model for courage
My all-time favorite Super Bowl moments were in 1980 when the Steelers defeated the Los Angeles Rams in a highly entertaining game, 30-19.
Why? One player stood out even in a losing cause. One of the gutsiest performances ever.
The most inspiring player in that game was All-Pro Ram defensive end Jack Youngblood — he  played every down of the NFL Title Game and Super Bowl on a broken leg.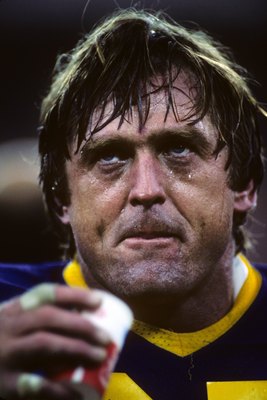 Jack Youngblood, Super Bowl XIV

Jack Youngblood is synonymous with stud. There was no self-doubt in his eyes. He remains as the consummate role model for grit and perseverance.
Lessons in Marketing Strategy
Reprise Media's "Super Bowl Search Marketing ScoreCard," measures how well advertisers capitalize on their Super Bowl advertising investments.
The technology firm, www.reprisemedia.com, helps companies increase their brand equity in online marketing.
The company contends that national advertisers fail to capitalize on their Super Bowl commercials by not taking enough precautionary steps in online marketing. That means focus on ad text, keyword selection, and landing page content.
Capitalize on advertising
Not to oversimplify, the company offers four basic reminders:
Make sure to include your Web site address in your advertising.
On search engines, bid on your company's name, products, services, and your spokespersons.
Ensure a common thread in all your advertising and repeat your value propositions and key phrases. Repetition of your key phrases will make easier for consumers to find you on the net.
Prevent buyers' remorse by making visitors feel rewarded. Offer to let them register to win a product and promote interaction with you.
Smaller advertisers, too, can benefit from Super Bowl-like performances by learning from successful national advertisers. You'll reach the best prospective customers with good credit or high net worth by advertising on local news outlets.
Cost-effective keys to online success include media outlets with strong journalistic standards. You'll also be amazed how economical their sites are, too, if you insert banner and rich media ads.
Don't forget to generate opportunities by submitting quality press releases to their news departments. It's also best to publish online press releases with relevant links to your site.
Branding in commercials
Super Bowl branding remains an important factor in fast food sales. Fast-food companies are prone to discount prices and focus on value meals.
However, as many consumers count their eating out at fast food restaurants as a dining-out treat, the companies with the strongest branding and customer service will win.
Value meals are a drag on earnings if sales volume is inadequate because customer service is not perceived as good.
Obviously, that's a concern in the fast food business, especially when a company does not have a visionary salesperson.
Beloved Wendy's founder Dave Thomas who was a leader in promoting child adoptions knew about quality, customer service and what his customers wanted. In fact, immediately after his passing Wendy's sales volume skyrocketed as customers flocked to Wendy's to pay tribute to him.
Whether the economy is strong or weak – 18 percent of customers will only buy the cheapest product or service – they're not likely to return unless you have the cheapest prices. So, you want your stores to succeed on repeat business by targeting the 82 percent who are concerned about price but are influenced by other factors.
A key ingredient is respect for the customer and showing an attitude of gratitude. The stores that have employees who excel in customer service and say thank you to customers are a catalyst for customer loyalty.
For value-conscious customers, price is important but their purchases are decided on emotion.
In order of importance, their five motivating perceptions to buy are:
What they think about your spokesperson and employees
Your company image
Product or service utility (is this good food?)
Convenience
Price
From the Coach's Corner, editor's picks for related reading:
Build a Strong Sales Foundation by Being Defense-Minded — Sports is a great lesson for sales growth — build a strong foundation by being defensive-minded. Protect your turf first. Here are five tips for sales domination in your hometown.
Football Lessons For Business Networking, Partnering — Nine key steps for companies to become stronger by teaming with others. By combining resources, companies succeed in meeting the needs of customers.
NFL Lessons: Get a Great Business Coach for Best Results — Even though it's a game, professional football is still a business and it provides lessons for all industries. Successful athletes and teams have one thing in common – they have great coaches to beat the competition.
20 High-Performance Lessons (from a Sports Legend) — Humor me, as I recall a great sports metaphor for business — the storied career of a legendary baseball player who used fear as a great motivator.
"Winning isn't getting ahead of others. It's getting ahead of yourself.

"
-Roger Staubach
__________
Author Terry Corbell has written innumerable online business-enhancement articles, and is also a business-performance consultant and profit professional. 

Click here to see his management services

. For a complimentary chat about your business situation or to schedule him as a speaker, consultant or author, please

contact Terry

.
Case study of two banks: Why one is history and the other is thriving


Like most businesses, you can look at the branding of a bank and forecast how it will fare.
Poor branding is often the tip of an iceberg – an indicator of management ineffectiveness and lack of discernment.
And for financial institutions, this is especially true. Conservative appearances and customer empathy are important when handling customers' money.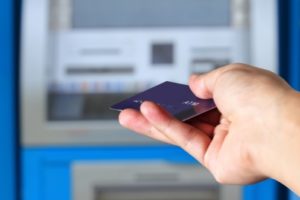 Consider a case study: Venture Bank in Lacey, WA in 2009 and First Citizens Bank & Trust in Raleigh, NC.
First Citizens bought Venture Bank's $874 million in assets and entered into a share-loss transaction for $715 million of the assets as regulators closed the Washington bank.
Venture Bank, with 18 branches, had $970 million in assets and total deposits of $903 million.
There are reasons why Venture Bank failed and First Citizens has succeeded.
With information from FDIC records and my observations, here's a brief history about Venture Bank:
Venture Bank had its origin as Lacey Bank in 1979 and changed its name to First Community Bank two years later.
First Community merged with Citizens First Bank in 1993 and bought Prairie Security Bank four years later. It acquired Harbor Bank of Gig Harbor in 2002.
First Community changed its name to Venture Bank in 2003.
In March, 2005, the bank made a questionable decision and sponsored a concert with The Ventures, a rock 'n' roll band, in a bid to promote the group into the Rock & Roll Hall of Fame.
In August of 2005, the bank bought Redmond National Bank and got a new CEO when it rehired Jim Arneson who had been the Redmond bank's president.
In May, 2007, Venture Bank publicized its record Q1 income of $3.2 million.
In March, 2007, Venture moved into its new $13 million headquarters in DuPont, just up the I-5 corridor. Not to be hyper-critical, but the reception area resembled a lavish, highly secured mausoleum.
The bank's holding company, Venture Financial Group Inc., announced plans for an initial public offering in July, 2007.
In February, 2008, Venture and the Tacoma Rainiers (the Seattle Mariners AAA farm club) signed a lucrative six-figure sponsorship package. (I love baseball, but I recall wondering about the justification for the large expenditure. It was great for the ball club, but its attendance was cannibalized by the Mariners only 28 miles away, which meant Venture Bank would never get a good ROI.)
Seven months later, in September, the IPO was withdrawn.
In Nov., 2008, Venture announced it was suffering from its worst quarterly loss ever.
Five months later in 2009, the FDIC told Venture Bank it needed $20 million more in assets.
Starting in early 2009, Venture's holding company revealed its SEC-required earnings reports were going to be late.
The accounting firm, Moss Adams, informed Venture of its withdrawal as the auditing firm.
Venture's eccentric marketing
As for the branding, Venture Bank's Web site also tells quite a revealing story: The bank was guilty of eccentric marketing.
The home page of one Venture Bank Web site, www.venturebankonline.com, contended that "SMALL IS POWERFUL." It showed pictures of a cayenne pepper, matchbook and dart frog. Under the pictures were these captions:
"Cayenne peppers are only 6 to 8 inches long but are known to pack a serious punch, up to 50,000 Scoville units of heat."
"Since 1892, when it was first patented, the common match has ignited the cook fires of the world, the fires of imagination and the fuses of powerful explosions."
 "One milligram of the poison dart frog's venom is enough to kill two African elephants."
But here's more. Even after state regulators shut down Venture Bank, a second Web site was still also online:  www.venture-bank.com, which used this branding slogan, "As Independent As You."
At best, this was a nebulous slogan in the eyes of bank customers.
The bank's home page did a poor job of reassuring visitors and customers that their welfare is important and that the bank will care for their money. Business owners and consumers do not want maverick bankers handling their money.
Ostensibly, Venture's eccentric Web site – complete with visuals of cayenne pepper, matchbook and dart frog –was the original site. But no one was aware of it to even pull the plug.
For me, as a former broadcast journalist, Venture Bank's situation – lavish headquarters and questionable sports-promotion investment – is reminiscent of when I reported on the S&L scandals and the Friday night seizures of failed financial institutions in the 1980s.
No one has accused Venture's management of scandalous behavior but the bank's appearances, over-spending, and resulting collapse brought back memories.
In particular as a former broadcast journalist in the 1980s, I recall the reporting the collapse of State Savings in Salt Lake City. The principal, J. William Oldenburg, was accused of abusing the thrift's assets.
To a larger degree than Venture Bank, he created unfavorable impressions, too. He drove a Rolls Royce and had been the flamboyant owner of the L.A. Express in the defunct United States Football League.
First-Citizens Bank 
Contrast Venture Bank's behavior with First Citizens Bank:
Visitors to www.venture-bank.com were directed to First Citizens' Web site, www.firstcitizens.com/venture, where a message from Chairman and CEO was posted:
"On behalf of First Citizens, we welcome you to our banking family. As a First Citizens client, you'll benefit from our 111 years of experience in the financial services industry, our commitment to exceptional service and our reputation for strength and stability. We're excited about serving our new communities and building a rewarding, long-term relationship with you."
Here's more of First Citizens' welcome to Venture customers:
"Sound business practices and stewardship of customer deposits are among the highest priorities of our bank. We have more than $14 billion in assets and more than a century of experience serving the financial needs of our clients. First Citizens Bank is nationally recognized for overall stability, security and high levels of customer satisfaction. We're proud to welcome you to our banking family and assure you that your money is safe with us."
So, in conclusion, my question is this:  As a banker, do you want to risk your institution by branding with cayenne peppers, matchbooks and dart frogs? No.
Show your customers you care most about their money, providing excellent customer service and using sound business practices. You'll enjoy stability and growth.
From the Coach's Corner, here related marketing strategies for financial institutions:
Small Banks, Credit Unions – 5 Brand-Building Tips for Trust — Small banks and credit unions, alike, share at least one commonality. They have to be successful in branding, especially in building trust. Here are five strategies.
How Credit Unions, Small Banks Can Compete with Big Banks — Big banks have a major trust gap with the average consumer, according to a study, which has created a marketing opportunity for credit unions and small banks.
How Financial Service Firms Can Easier Attract Millennials — Attracting customers under the age of 35 can be daunting for financial services. For long-term sustainability, financial planners need to increase their efforts to attract a younger crowd – Millennials.
How Credit Unions, Small Banks Can Compete with Big Banks — Big banks have a major trust gap with the average consumer, according to a study, which has created a marketing opportunity for credit unions and small banks.
Management — Big Banks Provide Lessons in Succession Planning — Many businesspeople are so focused on operating their businesses, they forget about human capital –their most important asset. Organizations from small to large should strategically make a succession plan.
"

Everyone rises to their level of incompetence."
-Dr. Lawrence J. Peter
__________
Author Terry Corbell has written innumerable online business-enhancement articles, and is a business-performance consultant and profit professional.

Click here to see his management services

. For a complimentary chat about your business situation or to schedule him as a speaker, consultant or author, please

contact Terry

.




Photo courtesy Naypong at www.freedigitalphotos.net